Shipping Dangerous Goods by Air (IATA)
Familiarize yourself with the IATA Dangerous Goods Regulations for the safe transport of dangerous goods by air
When you think about how catastrophic it can be when things go wrong on an aircraft, even near misses can be unnerving. For example, the Civil Aviation Safety Authority of Australia reports that undeclared dangerous goods described as "laundry products" nearly caused the loss of a passenger aircraft. These "laundry products" contained a mixture of a hydrogen peroxide solution (an oxidizer) and about 12 kg of a sodium-based orthosilicate-based mixture (a corrosive solid). Because the products were not labelled as dangerous goods or marked with the correct orientation markings, the package was loaded on its side, and the hydrogen peroxide solution leaked onto the corrosive solid. This resulted in a fire, the heat from which caused the floor to sag. Aircraft accident investigators later estimated that if the fire had continued for another 10–15 minutes, the aircraft could have broken in two.
In another near miss, a shipper sent dental supplies to a colleague by air. The dental supplies included an unmarked glass container of approximately 100 mL of mercury, a Class 8 dangerous good that is highly corrosive to aluminum. During transport, the glass container broke and leaked into the hold of the aircraft. If the leak had not been discovered and cleaned up, significant weaknesses in the skin of the aircraft could have occurred.
As you can see, the identification, packaging, and labelling of dangerous goods is crucial to the safety of all those involved in their transport. That's why this course was created to educate shippers on their responsibilities in ensuring the safe transport of dangerous goods by air.

SHIPPING DANGEROUS GOODS BY AIR (IATA) ONLINE COURSE OVERVIEW

This course was built with the objective to:
Familiarize you with the IATA Dangerous Goods Regulations
Teach you your responsibilities under national legislation
Instruct you in how to prepare, offer for transport, transport, inspect, and import a shipment of dangerous goods by air
Audience
This course is an entry level course designed for the beginner or anyone new to the regulations related to shipping dangerous goods by air. This course is also relevant to any individuals responsible for shipping dangerous goods, including packaging goods and preparing shipping documentation.
Presentation
The course is presented with voice-over narration and features photographs, diagrams, real-world examples, and exercises to enhance the educational experience.
Resources
A 76-page .pdf participant manual is available to print and reference while completing the online course. These print materials are also available after the training is completed and can be downloaded from your account home page. Your participant manual contains all slides presented in the course for your reference during and after taking the course. The print materials also contain all exercises contained in the course for you to complete as you follow along.
In addition to the print materials provided, it is recommended that students have or purchase a copy of the IATA Dangerous Goods Regulations before taking this course, as references are made to its various sections throughout.
SHIPPING DANGEROUS GOODS BY AIR (IATA) ONLINE COURSE TOPICS
The information in this course is presented in six parts:
Introduction
Identification
Packaging
Marking & Labelling
Documentation, Placarding, Loading, and Reporting
Limitations & Exceptions
The course covers the following topics:
Federal and International Regulations
It is crucial for shippers to understand the importance of dangerous goods regulations and how they apply to the transport of dangerous goods. This course covers some of these regulations, including the UN Recommendation, TDG Regulations, US DOT Reg. 49 CFR, IMDG Code, IATA Dangerous Goods Regulations, and more.
Use of the IATA Book
The IATA Dangerous Goods Regulations book helps shippers ensure their shipments are made safely and on time. The course covers the contents of the book—including its sections, appendices, index, and checklists—and the symbols used throughout the book.
Operator and State Variations
Some operators (airlines) and states (countries) have filed variations to the IATA Dangerous Goods Regulations. This course addresses these variations and how to ensure you are familiar with these additional restrictions before shipping dangerous goods.
Classification of Dangerous Goods
Proper classification is the first step in achieving compliance with the IATA Dangerous Goods Regulations, and shippers must properly identify/classify their dangerous goods in order to fulfill any other requirements, such as packaging, marking and labelling, documentation, and placarding. This course covers identification numbers, shipping names, hazard classes, and packing groups and how these are used to classify dangerous goods.
Using the Dangerous Goods List
The Dangerous Goods List is included in the IATA Dangerous Goods Regulations to assist in identifying and classifying hazardous products being offered for transported or transported. This course gives an in-depth look at the contents of each column contained within the Dangerous Goods List.
Packaging Requirements
If dangerous goods are to be shipped safely, shippers must select the appropriate packaging according to both the nature of the dangerous good itself and the means of transportation. This course covers the different types of packaging, responsibilities when assembling packaging, general requirements for packaging, and UN specification packaging.
Selecting a Packing Instruction
Packing instructions are important to ensure dangerous goods are packaged properly and can be shipped. This course teaches you how to identify the packing instructions for your dangerous goods, where to find the instructions, how to follow them, and the differences in packaging instructions for cargo or passenger aircraft.
Overpacks
Overpacks are often used to help make shipping of dangerous goods easier. This course covers the definition of and requirements for overpacks.
Marking and Labelling
Once a package has been selected and properly assembled, it must be marked and labelled to help identify its contents and any associated hazards. This course covers the differences between marks and labels, marking requirements, labelling requirements, and the shipper's responsibilities as they pertain to marking and labelling.
Shipping Documents
Proper documentation is required so that everyone involved in the shipping of dangerous goods can be prepared for what they will be handling and the hazards involved. This course covers the basic information required on each shipping document.
Placard Requirements
Many shipments, according to national regulations, require that placards are displayed on vehicles or the containers carrying the dangerous goods. This course covers what you need to know to ensure your shipment is properly placarded for when it touches down.
Loading
Loading and proper stowage of dangerous goods is essential to minimizing the hazards associated with transport. This course covers the requirements for inspecting loads and segregating incompatible dangerous goods.
Accidental Releases and Reporting
In the event of an incident involving dangerous goods, such as the accidental spill or release of a hazardous product, the incident must be communicated properly. This course introduces you to the reporting requirements under IATA.
Limitations and exceptions
The IATA Dangerous Goods Regulations contain many limitations and exceptions for shipping dangerous goods by air. This course covers excepted and limited quantities, consumer commodities, and other substances that require exemptions (such as dry ice) and how to package, label, document, and ship them properly.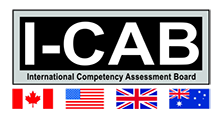 This content developer is recognized by the International Competency Assessment Board (I-CAB) for its expertise in this subject matter and is listed as a competency development resource for I-CAB assessment participants.
This course was created using standards that will allow playback on most internet capable devices with standard web browsing capabilities including Apple's iTouch, iPad, and iPhone, as well as most other smart phones and tablets including those with Android and Windows operating systems.
Duration
Average Completion Time
Completion times vary depending on the number of times the information is viewed prior to finishing the course. The average completion time is 4 hours.

Testing
Knowledge Assessment
Testing is conducted in this online course to reinforce the information presented. You are provided three opportunities to achieve a passing mark of 80% or greater.

Certificate
Certificate of Completion
Upon successful completion of this course, a certificate will be available to download and print. You can access your certificate through your online account.