WHMIS in the Workplace
Earn your WHMIS in the Workplace certificate upon successful completion of this course
WHMIS IN THE WORKPLACE ONLINE COURSE OVERVIEW
This online WHMIS training can be used as a refresher course that covers the essentials of the Workplace Hazardous Materials Information System. Though designed as a refresher for people with previous WHMIS training, this comprehensive course is also applicable to those who are new to WHMIS.

WHMIS IN THE WORKPLACE ONLINE COURSE TOPICS
WHMIS definition and responsibilities
The six classes of controlled products
WHMIS labels
Canadian material safety data sheets
International material safety data sheets
Implementing WHMIS in the workplace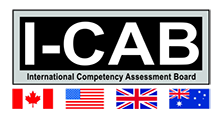 This content developer is recognized by the International Competency Assessment Board (I-CAB) for its expertise in this subject matter and is listed as a competency development resource for I-CAB assessment participants.
Duration
Average Completion Time
Completion times vary depending on the number of times the information is viewed prior to finishing the course. The average completion time is 60 minutes.

Testing
Knowledge Assessment
Testing is conducted in this online course to reinforce the information presented. You are provided three opportunities to achieve a passing mark of 80% or greater.

Certificate
Certificate of Completion
Upon successful completion of this course, a certificate will be available to download and print. You can access your certificate through your online account.

In February 2015, the Government of Canada officially announced the specifics of its gradual transition from the WHMIS hazard communication standard to the GHS (Globally Harmonized System) with projected complete adoption by December 2018.
GHS is a hazard communication standard developed by an international team of experts with the goal of establishing a global standard for classifying hazards and formatting labels and safety data sheets.
Until the transition is complete, employees will need training on both the WHMIS and GHS systems. After the transition period is over, material safety data sheets (MSDSs) and labels for products originating within and outside of Canada will be globally standardized to simplify education and training.
For more information, visit our WHMIS/GHS 2015 page or click here.