Online Training
Matrix Software
Let The Matrix Do The Work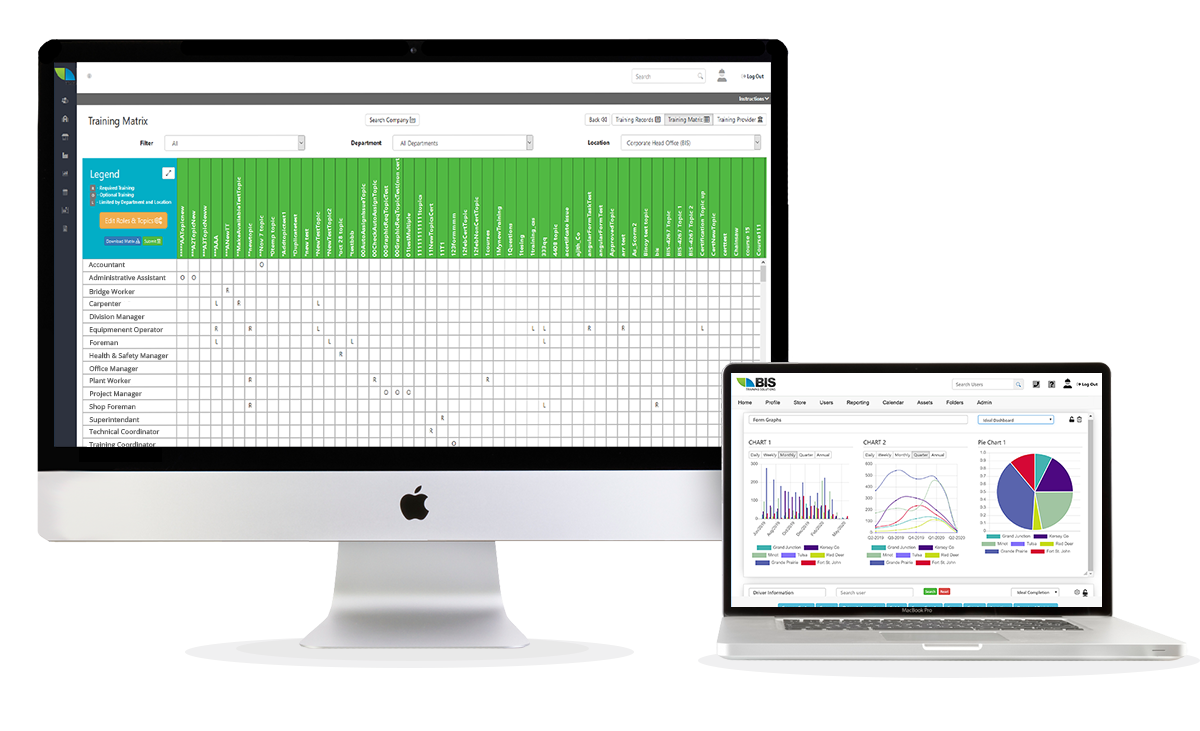 Map Out Your Training Requirements!
We get it. It can be tough to keep track and map out the training requirements for a large amount of employees, with a variety of roles, from several different locations. With a powerful Training Matrix tool, you can quickly and effectively tailor training for different roles and locations within your organization. Our system will create a training matrix unique to your company based on a list of your company's responsibilities (i.e. Carpenter) and a list of the required training topics (i.e. First Aid and Ground Disturbance 201). Simply click on the boxes where the role and needed training overlap to allocate training to roles. It's just that simple!
The training matrix makes it easy to assign a variety of items to employees including:
Training requirements are automatically assigned to the user based on their roles and location. If an employee changes either of these, the training matrix will automatically update and push the required training to their profile to make sure they are always ready to work, no matter where they are!
Robust reporting is a crucial aspect of your safety and training program. Being able to see at a quick glance where your employees' training status is will help you make sure you are prepared, every single time. The Training Matrix Summary shows a colour-coded report to see exactly what's expiring, or if you're good to go!
Focus on the full report, the Training Matrix Summary. That shows 'Satisfied, About to expire, and Gaps, all in one color-coded summary. Identify training gaps at a glance! Show an image of the summary report with call outs showing what they can see at a glance of the report**
Large organizations often find that the management & tracking of their employee's training challenging as they require huge investments of time and energy. Often this is because paper-based filing systems introduce human error and require manual verification. To overcome these challenges, the solution is to automate the entire process. But that leaves many organizations asking, "Where do we start?"
The answer is simple. To begin automation, create your company-specific training matrix by creating employee roles & training topics, then assigning role-specific learning requirements, such as assigning First Aid as a requirement for supervisor roles. You can even control training requirements that are based on employee location to account for regional safety regulation differences. Once set up, the system automatically delivers specified training requirements to employees based on their role and location.
The system also tracks employee files and automatically updates training requirements as training is completed. Managers can then see whose training is up to date and who needs additional training. As training is completed, certificate expiry dates and renewal notifications are automated to remind employees and their managers of any training that is either about to expire in 90 days or has already expired. The tracking is so detailed that, with just one click, you can download a gap analysis that identifies all potential compliance issues and missing training in an easy-to-follow Excel report.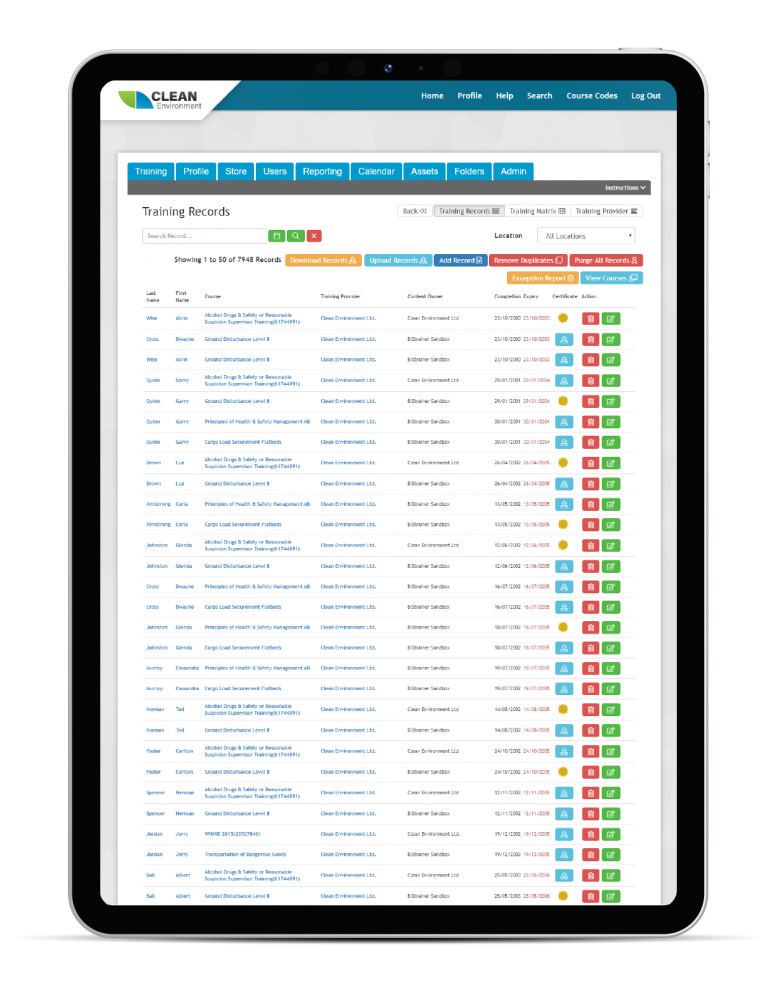 Advanced Logic in Training Requirement Mapping
(I would talk about all the Advanced logic here, not just locations, but you map out requirements by Role, Person, Region, City, Departments and Division)
Discuss the ability to create location specific matrices and highlight different regions in pictures (large image of North America with different call-outs for various training needs?)
It's no problem to set your training requirements by role and by location. Our system makes it easy to get granular and customize company training requirements by location and/or role. So even if, for instance, Operators in one location need Forklift training but not in other locations, our system can handle it.
You are even able to choose which exact courses you will accept for each training topic. You enter the training topic (e.g. Forklift Safety) then choose which training provider (e.g. XYZ Safety) and format (e.g. online) you will accept. Only training that meets these requirements will be accepted.
Automated notifications on expiring courses are sent to workers, manager, and system administrators so you can ensure everyone, regardless of department, region, or location, knows where they are in terms of compliance for their training requirements.
How clients can set up a certificaiton program of their very own, ability to combine areas of training etc.
This section will discuss how they can set up a certification program of their very own within the matrix.
Each level of training within the program with be automatically assigned when the previous level is completed. (The key here is the ability for certification to combine many areas of training in one certification program. So, a certification program can be one day, one month or a year in length, and it can include online, in class, virtual, coaching, competency and even hours of experience, all leading up to one master certification in any one area of expertise. We have to explain that visually and verbally in a powerful way. Get the 'concept of how powerful that can be for companies across.)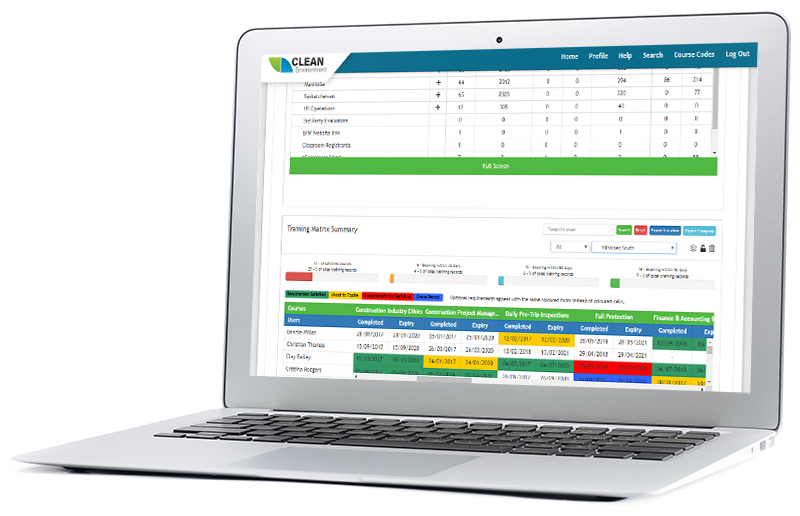 Auto-Assign Training
The Training Matrix not only allows training to be set as optional or required based on an employee's role and location, but also makes it possible to automatically assign training at given intervals or on expiration.
Gap Analysis
Using parameters set by the Training Matrix, a detailed gap analysis report is generated showing which regions, work sites, departments, and even individuals are behind in their training.
Classroom Link
Allow your employees to click training topics and be automatically redirected to a calendar showing available classroom training sessions that meet the training topic requirements.
Customize Options
Copy and paste company-specific roles and nomenclature, and upload hundreds of roles and training topics to your training matrix.
Easy-to-Follow Design
Virtually map and quickly identify training requirements across the entire organization using the easy-to-follow grid.
Global Access
Access your training matrix with almost any device from anywhere in the world using the latest cloud-based technology.
Some of the Great Companies Who Use the BIStrainer System
What Our Clients Are Saying
"I was extremely happy with the solution focused implementation team we worked with at BIS. They were always willing to work with us to overcome any of our unique challenges."




Amanda Mackenzie Manager, Learning and Development, CEDA
"Bistrainer has been so great to deal with! Their product is constantly evolving and improving. In 2.5 years we have been working with them our utilization has grown way beyond simple record keeping and now includes a rewards program and performance management. They are always willing to help you build a custom solution to make your life easier!"

John Kerr Operations Specialist, Caron Transportation Systems
We are extremely pleased with our relationship with BIS Training. Whenever we require support it is provided with virtually no lag time, which makes for happy clients and smooth uninterrupted service. The customized training portal option is a great sales tool for us to be able to offer our larger clients. The document management system is a welcome addition to this excellent offering of training management services.
Marcus Burn, NCSO Safety Consultant, COR Solutions
Partnering up with BIS to deliver online training to our clients was one of the best business decisions I've ever made. Their client service and support is unsurpassed, and they never stop innovating and improving their system.
Working with BIS is a great experience and an invaluable asset for our company and clients.


Kit Goldman President and Founder, Workplace Training Network Inc.