Online Safety Toolbox Talks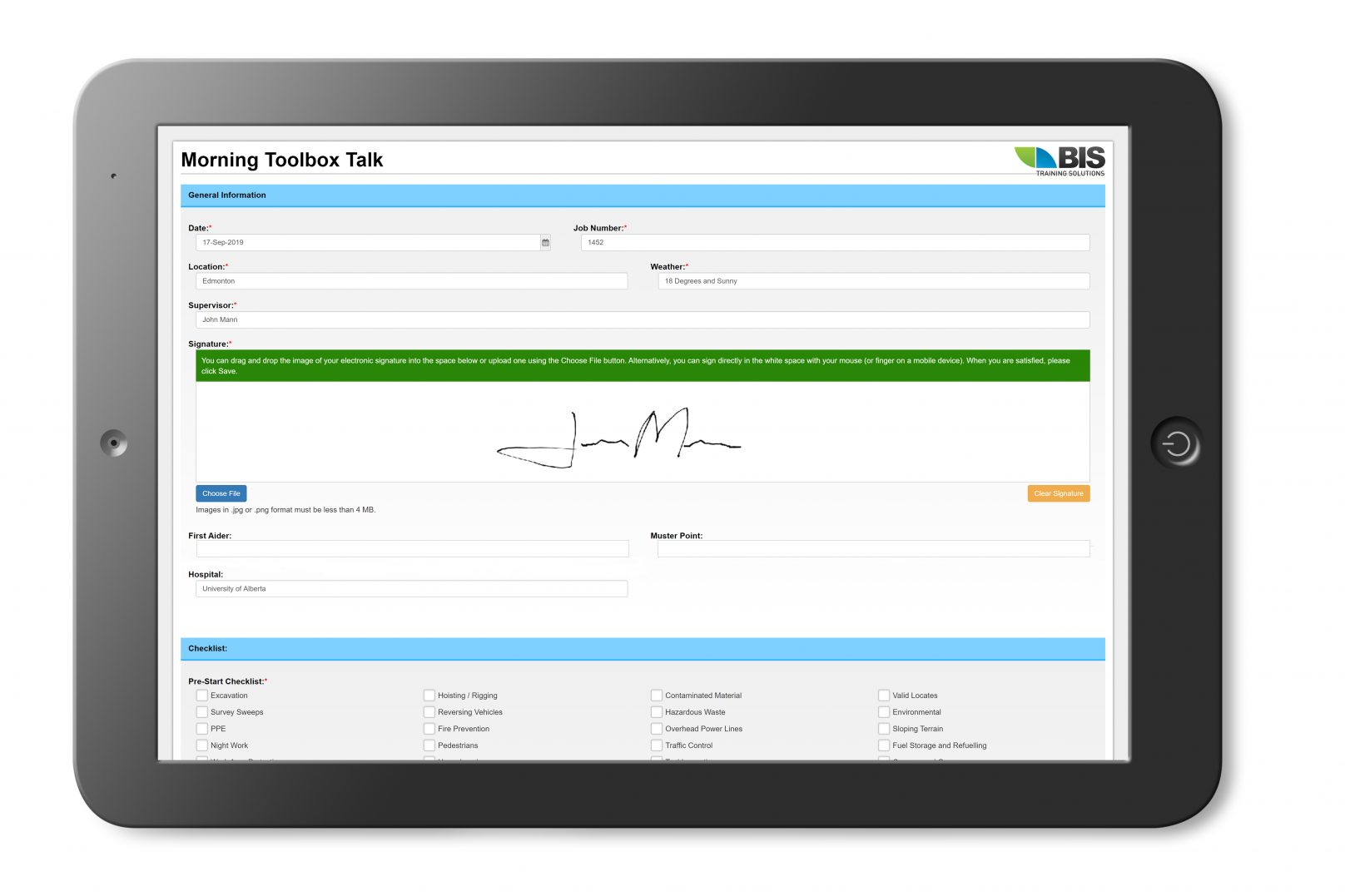 Toolbox talks are an important way to keep your team safe
Toolbox talks are ideal for:
Discussing a recent incident and how to prevent it from repeating
Keeping safety topics front of mind to start each day
Keeping workers informed about updated safety regulations
Assisting in changing the safety culture of your team
With a the digital Toolbox Talk forms available through BIStrainer, you can save time by preparing your talks within the forms, and using the attendance widget to track which team members were present for each toolbox talk.
Keep Records of Everyone Who Attended the Toolbox Talk
The Toolbox talk digital form can be customized to include an attendance widget which will allow you, and other site managers to keep complete records of all the workers who were present for any toolbox talk.
The attendance widget even allows workers to provide their signature into the digital form to prove that they were present.
Recording attendance can help keep your teams organized and ensure they are showing up for every safety talk.
Features of Online Toolbox Talks
Optimized for Phones & Tablets
Save Templates for Future Talks
How online toolbox talks can help your safety performance
Reduction in Workplace Incidents
Online toolbox talks are a great way to deliver the daily safety information your employees need.
Every industry is different and you can create custom toolbox talks that fit your worksite perfectly. Whether you are working in Oil & Gas, Construction, Transportation, Mining, or any other industry with safety requirements, Toolbox talks can be used to keep your team safe.
If you're looking to implement regular talks then choosing an online option can save you time in preparing and giving the same quality of presentations again and again. It also ensures that the information imparted is consistent and covers all of the important points.
Interactive features keep your workers engaged and there are tests that let you know how much of the information has been retained. If you are looking to give frequent toolbox talks on a large scale, then choosing an online option may prove to be extremely cost-effective in terms of both time and money.
Mobile Toolbox Talks with SafeTapp
ONLINE or OFFLINE
Your site manager will have access to their toolbox talk digital forms anytime, anywhere, even when they're offline. Daily toolbox talks are now easier than ever with the SafeTapp Mobile App. Workers can download the app for free from the App Store and Google Play.
Simply download the app to your tablet or smartphone, enter your login information and begin usingSafeTapp's exciting features.
Learn more
Start Every Day with Toolbox Talks, and Keep Your Team Safer
A great safety culture needs to be built and maintained. Daily online toolbox talks are a great place to start!