Safety Software Pricing
Choose the Features Most Suited to Your Company's Safety Needs
Choose the Features Most Suited to Your Company's Safety Needs
×
The pricing calculator below has been preset to display pricing for the PACKAGENAME package. To see pricing, add/remove features below and enter the number of employees.
Click to select the features you are interested in
Digital Folders$0.40/user/month
Upload company policies, procedures, manuals, and more to a secure, cloud-based folder for easy online access. Next, grant folder access by employee, company role, and/or location. With the proper access, folder contents can be securely viewed and signed-off on by one, some, or all employees.
Digital Forms$1.90/user/month
The creation of online and offline digital forms, including inspections, hazard assessments, competency validations, and onboarding documents, is easy using checkboxes, drop-down menus, likert scales, text fields, and logic rules that can do many things, such as dynamically reveal form fields based on answers provided or add training to their account. When completing forms, respondents can upload images, videos, and files, and even provide a digital signature.
Training Record Management$0.50/user/month
With the robust Training Record Management System, you and your employees can upload training records and certificates, regardless of training provider. Once uploaded and approved, the integrated training matrix can automatically assign courses, while the system sends alerts and delivers scheduled reports to help your employees and managers ensure all training is up to date.
Learning & Compliance Software$0.50/user/month*
By signing up for base-level access to our software, you get many great benefits including having access to our on-demand course library, rewards tracking system, driver compliance management feature, Excel reporting, and more!
Learning Management$1.50/user/month
Our learning management solution is not only SCORM compliant, but enables virtual proctoring, in-course document uploads, digital form integration, and competency management, as well as builds, delivers, manages, and reports on multi-level, multi-course certification programs!
Classroom Calendar$0.35/user/month
Take control of your classroom-based training by managing it all online with our powerful calendar tool that can manage enrollment, payment, inventory, and equipment, as well as hundreds of instructors, classrooms, and courses across multiple locations.
Equipment Management$0.35/user/month
The Equipment Management module simplifies preventative maintenance by centrally storing the location, operational status, hours of operation, and maintenance history of each unit. When used with digital forms, key tasks can be automated, including triggering inspections, maintenance tickets, repair and service requests and more!
Enter the number of employees
Corporate Training Account
Simply Need to Purchase and Assign Online Courses to Your Team?
A corporate client account gives you access to a custom-branded private portal that mirrors your company's website colours and branding. The system allows you to effortlessly create accounts for your employees and assign them safety training courses without the need to pre-buy any seats, and the best part, you only pay for courses that your employees complete.
Additional Services Offered by BIS Safety Software
Course Subscriptions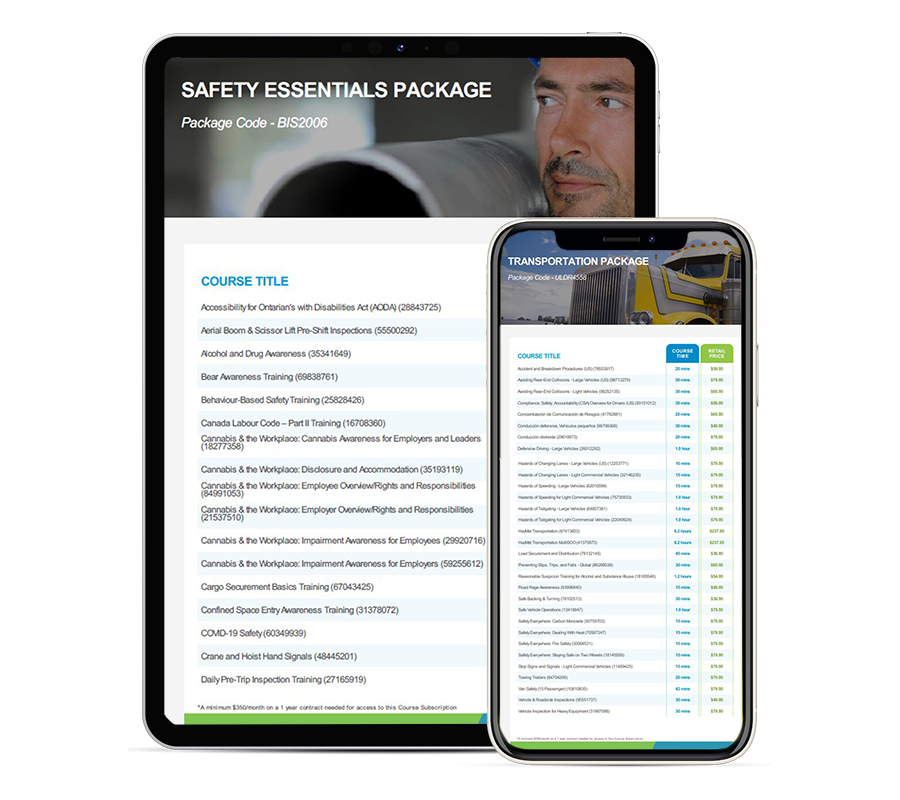 Course subscription packages are incredible value for companies with 100 or more employees who require regular safety training.
We currently have nine unique course subscription packages. Each subscription includes unlimited access to the courses within the subscription as well as access to the BIStrainer Learning Management Software and reporting functionality. All of these great courses and features are included for one low monthly user fee.
Course Subscription Packages include:
Safety Essentials Course Subscription
Regulatory Compliance Course Subscription
Premium Construction Course Subscription
Driver & Hazmat Course Subscription
Transportation Course Subscription
Complete Safety Course Subscription
Safety & Awareness Course Subsciption
Industrial Workplace Safety Subscription
Safety & HR Essentials Course Subscription
To view the pricing of each course subscription package and to view the complete lists of included courses, please visit the course subscription page by clicking the button below.
Online Safety Training
Once you know which software features will streamline your EHS program, you should identify what safety training programs and courses are needed by your team. There are three options for online courses:
Pay-as-You-Go/Corporate Account:
This is perfect for companies that need a few courses here and there. You can pick and choose what you need from the entire library and pay for only what you use.
Pre-Paid Codes: This is valuable when you need to purchase 50–100 seats or more. Simply reach out to our team with the specific details, and we can touch base with the content owner(s) for volume pricing discounts.
Course Subscription Packages: This is by far the best value. You pay a set amount per person, per month and have unlimited access to a full package of online safety training programs. See course packages below.
For pricing of individual online courses, please visit the online course page by clicking the button below.
Course Development
The Course Development team at BIS Safety Software is dedicated to creating high-quality and engaging training courses that suit the needs of each client.
Courses can include captivating motion graphics, high definition video, engrossing voice over, and much more. Our team can also create budget concious courses using high quality stock photography and scripts.
For course development pricing or to learn more, please contact us or visit the course development page by clicking the buttons below.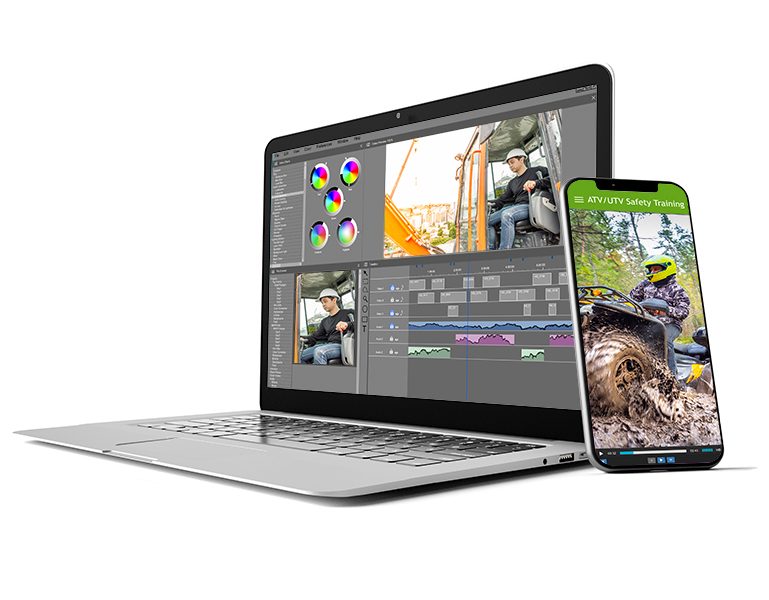 An Application Programming Interface (API) is a set of communication protocols designed to allow systems to interact with, update, and transfer data between one another. It can allow your payroll system to automatically update your BIS training and compliance system with new users in real time so when someone creates a new employee profile in your HR system, API sends a message to your compliance system to create an online learning account for that user. When an employee is removed from your HR system, his/her online account is automatically removed. API not only helps to keep the your training and compliance system up-to-date with your other HR programs, but it also enables the transfer of course completion data to your other systems for easy review and analysis.

We can setup API's and SSO's to integrate your current systems and make logging on simple and easy.

Single Sign-On (SSO) allows users to access your training and compliance system without logging in, as long as they have already logged into your intranet and had their identity authenticated. For example, if an employee logs into your company's intranet with his/her username and password, your system knows that user, so the training and compliance system will provide automatic access to his/her online account.

We can setup API's and SSO's to integrate your current systems and make logins simple and easy.

Virtual Proctoring technology lets you remotely supervise online courses, exams, and even form completions. Using facial detection and recognition technology, this software lets you not only verify the learner's identity, but also ensure that they're paying attention and following the session rules. Better still, this feature uses the capabilities already built into your web browsers and webcams; no additional software installs required!

Pricing: Starting at $5/completion

Worried about causing confusion among customers and employees by having one URL for your site and a different URL for your training and compliance system? Prevent the confusion by using your own custom branded URL to access your training and compliance system! If you are interested in this convenient, brand-friendly feature, contact us for more details; we would be happy to set it up for you!

Pricing: One-time startup fee of $950 and an annual $150 for maintenance.

We understand the importance of a united online presence. That's why you have the option to go with a fully customized, fully branded training and compliance system portal, with your logo, your company colours, your fonts, and more! Keep your online presence consistent and united, to reassure your employees and customers they're still dealing with your trusted business.

Pricing: A one time setup fee of $2,500

Providing professional telephone and email support is not only something that we do, but it is something that we excel at! We offer unlimited technical support to all system users to ensure that they get the most out of our learning and compliance software.

In addition, we provide on-boarding specialists for new clients to help them hit the ground running, and our team is always there to provide robust support to your system administrators and super users!

Regardless if you are using a phone, tablet, PC, or Mac computer, we are here to help.
Software for People Who Are Serious About Safety

Some Environment, Health, and Safety Systems lock you into a plan. With BIS, you choose the plan that is right for
you and if things change, no problem! Just let us know, and we will find a new plan that better suits your needs.