Learning Management
System (LMS)
Your online training deployment system
Learning Management
System (LMS)
Your online training deployment system
A Full Feature Learning Management System
A training deployment system with every feature you have come to expect from a Learning Management System, plus:
✔ Secure Cloud Hosting

✔ Mobile Compatibility

✔ Integrated Exam Engine

✔ API and SSO Integrations

✔ Enterprise Level Scalability

✔ Access to Advanced Reporting Tools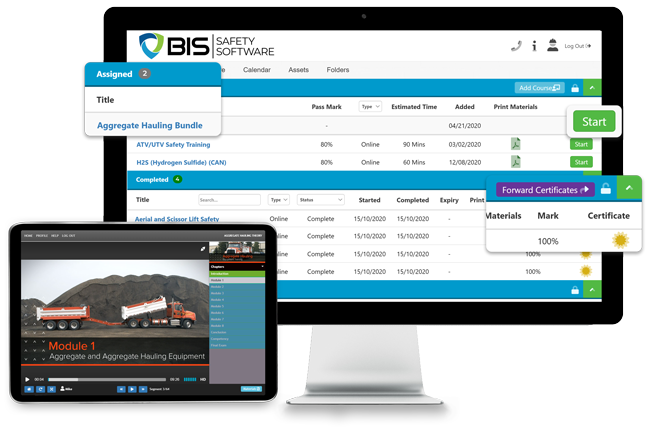 As part of BIStrainer's comprehensive suite of Learning & Compliance software, you have access to an enterprise-level learning management system (LMS Software) that includes a robust exam engine, full SCORM compatibility, an integrated eCommerce store, and a course permission management system.
What truly sets BIStrainer apart from traditional learning management software is that the built in course player is designed to do more than just play back a course. The system can ask for the student to upload historical training records right inside the course. It can also ask the student to fill out forms, upload paperwork, enter information that is passed to the right parts of the system, like 'Emergency Contact' information or 'Driver's documents'.
BIStrainer is designed for companies with strong safety training needs. Therefore, many of its supporting features strongly align with safety, making BIStrainer's LMS software the perfect fit for any company's safety program.
Download the FREE LMS Buyer's Guide

FREE LMS Buyer's Guide

Make a more informed buying decision, today!


contains over 18 pages of insights
outlines what to expect from pricing
a look at important features
a comparison chart to help you make the best choice for your company
Features
SCORM Compatibility
Playback for SCORM 1.2 and 2004 courses including advance programs with sequencing and navigation.

Training Matrix
Setup auto assignments of online courses based on company roles and historical training records.

Secure Exam Engine
Integrated exam engine for multiple choice, multi-select, true/false and fill in the choice type questions.

Certificate Generator
Automatically generate PDF and image based certificates with unique ID numbers for verification.
Blended Learning
Let learners complete theory training online on their own time, then link this training to practical training components through our classroom calendar software.
Random Question Generator
Include randomized questions with randomized answers with Angoffing technology for weighting.
Course Code Generator
Create access codes for any course allowing existing or new users to access the online training.

Competency Management
Setup competency validation so students that pass the theory can be properly assessed by management.

Multimedia Playback
Play videos, images, HTML interactive files all directly in the course player mixed with questions form the exam engine.

Document Uploader
Students can upload documents right into the course. For example, students can upload proof of historical training.

Content Management
Create and upload your own online courses and orientations with the user-friendly content management system.

Digital Form Integration
With form integrations, students can complete digital paperwork, like onboarding documents, right inside of their orientation or course.

Long-answer Exams
Create long answer exams to add to online courses. Instructors can review and submit marks seamlessly to update the final score.
Adaptive Streaming
Use videos that adapt to the user's screen size and internet speed (M3U8). Hi-def for large screens with T1 speeds and smaller videos to load quickly on mobile.
YouTube & Vimeo Compatible
Add Youtube, Vimeo, or other streaming videos right into your courses and orientations.
Notifications & Alerts
Keep users and admins informed with automated email or SMS notifications when courses are assigned, expiring, and completed.
Prerequisite Management
Setup training requirement for online and classroom courses that must be meet before access to another online or classroom training program.
eCommerce Integration
Access a built-in eCommerce engine that accepts payments from all major credit cards and can calculate taxes internationally.
Branching
Allows content to be dynamically selected and displayed in a course as a result of the marks achieved on in-course quizzes.
Multi-lingual Capabilities
Create courses in multiple languages and have them automatically assign to the student based on their language preference.
Online Proctoring
Ensure employees are paying attention to courses and completing them with integrity; all it takes is a webcam and virtual proctoring takes care of the rest.
Mobile Compatible
Manage training on the go with responsive technology that can adapt to any smartphone, tablet, or monitor size.
Detail Exam Reports
Allows for each exam response by each learner to be permanently recorded and available to review.
Supplementary Printable Resources
Supplemental printed material, like manuals or workbooks, can be designed to fit your course.
Content Library Asset Hosting
Allows single versions of assets to be applied to multiple courses instances
Expiry Automation
Setup automated expiry dates using a set number of months/years from completion or a specific day/month or even a specific month/day/year.
Reporting & Analytics
Access reporting dashboards and analytics showing training gaps, course completions, scores, and more.
"Hands down the best online LMS system out there."
-TMA Safety
Support your health & safety management system with one convenient safety app.
With SafeTapp you can access:
Mobile Compatible Online Courses
Employee Training Records
Digital Safety Forms
Digital Folders
Equipment & Asset Manager
ID Badges
and more
Download and store your training certificates on any smart phone or tablet.
SafeTapp
Support your health & safety management system with one convenient safety app.
With SafeTapp you can access:
Mobile Compatible Online Courses
Employee Training Records
Digital Safety Forms
Digital Folders
Equipment & Asset Manager
ID Badges
and more
Download and store your training certificates on any smart phone or tablet.
Learn more
UNLIMITED SUPPORT
Dedicated Onboarding Team
After your company signs up to utilize the BIStrainer Learning Management System our Client Success team will connect to help implement the LMS Software to perfectly suit your company needs. Regardless if you have 100 employees or 100,000, we will map out a great plan to work for your company. We know what a powerful tool Learning Management Software can be for any company, and we are committed to ensuring that you see that value as well.
Phases of the Onboarding Process
Gathering Information

During the first phase of implementing the LMS Software, our biggest concern is gathering all data you're looking to shift from your current methodologies into the BIStrainer Learning Management System. The timeline for this phase is heavily dependent upon how much data you have, how many users, and how complex your current structure is, but we usually aim for approximately one week.

Analysis

The next phase of implementing our learning management software is taking all the data gathered in phase 1 and working to provide you a timeline for launch. It doesn't matter how large the organization is, the length of time to launch is often determined specifically by the complexity of the setup, and how clean the original data is. We evaluate your teams needs and requirements and will work on a timeline for launch. This timeline is flexible and can change based on anything encountered during our onboarding time however we love having a goal to shoot for.

Data Import

The largest phase of the Learning Management Software implementation is the Data import. Once we've acquired all pertinent data (hierarchy, users, historical data, job roles and training topics, and other requirements) we work with you to import the data.

We like to have at least one person we can regularly contact for information and responses to questions. This person should be knowledgeable about the training in your organization, and the ins and outs of your team.

Setup

This phase is where we'll work to set up any other remaining items, things like digital form workflows, folders, and many others. This time will be dependent on how many BIStrainer features your team are using (LMS, Training Records, Digital Forms, Equipment Manager, etc.) and to what extent. We also work on setting up notification triggers and promoting management accounts to the level of access they require for things like reporting and competency assessments.

Training

The next important phase will be training your team. Up until this point, we will be working closely with a member (or members) of your team, but once we're ready to go we'll want to train everyone involved with the rollout so they're ready for the seamless launch.

Rollout

The actual rollout of your new learning management system is easy – but we are always standing by to make sure things go smoothly. We're available to help you on a continuous basis for anything you may need during this time.
The Client Success team will begin exploring your companies learning and compliance needs. Then work with you to analysis and plan what data needs to be transfered into BIStrainer. This could include:
✔ Historical training records

✔ Online courses

✔ Digital forms

✔ Training requirements
✔ Employee account information

✔ Company policies and/or procedures

✔ And company assets.
The Client Success team will work side-by-side with you every step of the way. We will also share strategies and tips and tricks to help you roll-out the new LMS seamlessly within your organization.
Unlimited Technical Support
From the moment you start using the BIStrainer system you have unlimited access to our Customer Experience support team.
Additional Tools that Integrate with the BIStrainer LMS Software
Some of the Great Companies Who Use the BIStrainer LMS Software
Learn More About Learning Management Software From These Articles
Seeing Is Believing
Request a demo and see for yourself why so many companies are switching to BIStrainer software.