Learning Management System (LMS)
Learning Management for Safety
As part of BIStrainer's comprehensive suite of Learning & Compliance software, you have access to an enterprise-level learning management system (LMS) that includes a robust exam engine, full SCORM compatibility, an integrated eCommerce store, and a course permission management system.
What truly sets BIStrainer apart from traditional learning management systems is that the built in course player is designed to do more than just play back a course. The system can ask for the student to upload historical training records right inside the course. It can also ask the student to fill out forms, upload paperwork, enter information that is passed to the right parts of the system, like 'Emergency Contact' information or 'Driver's documents'.
BIStrainer is designed for companies with strong safety training needs. Therefore, many of its supporting features strongly align with safety, making BIStrainer a perfect fit for any company's safety program.
Receive a Quote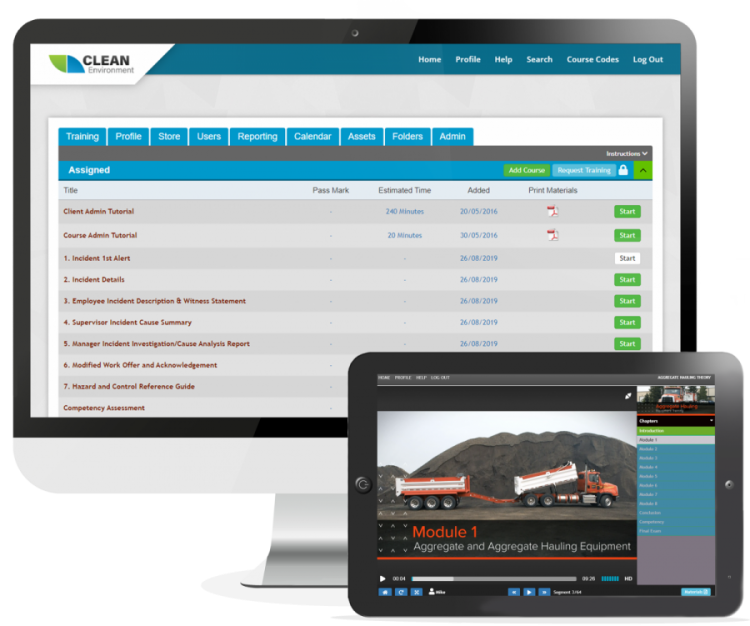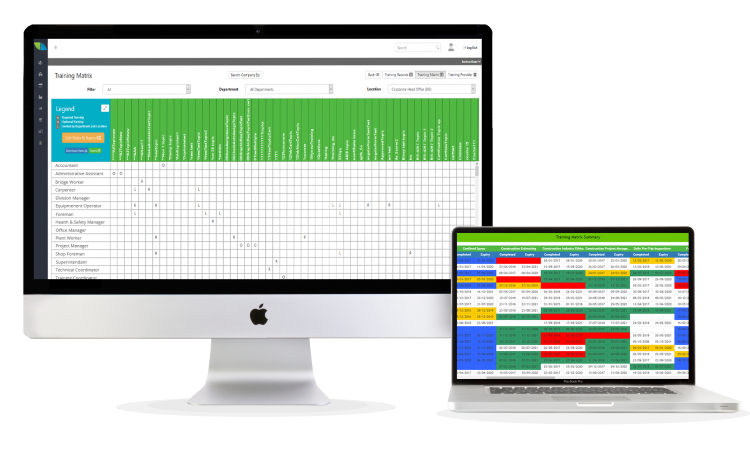 Training Matrix – Automatically Assign Safety Training
The Training Matrix integrated into the BIStrainer Learning Management Software allows you to setup all the roles, training topics, training requirements, and certification programs and can then automatically assign all required and optional training courses to your employees based on their role, location, expiration, division and more. It can also provide gap reporting, compliance tracking and certification progress.
Assign new and current employees all the online and classroom based training they need without the headache of manual spreadsheets.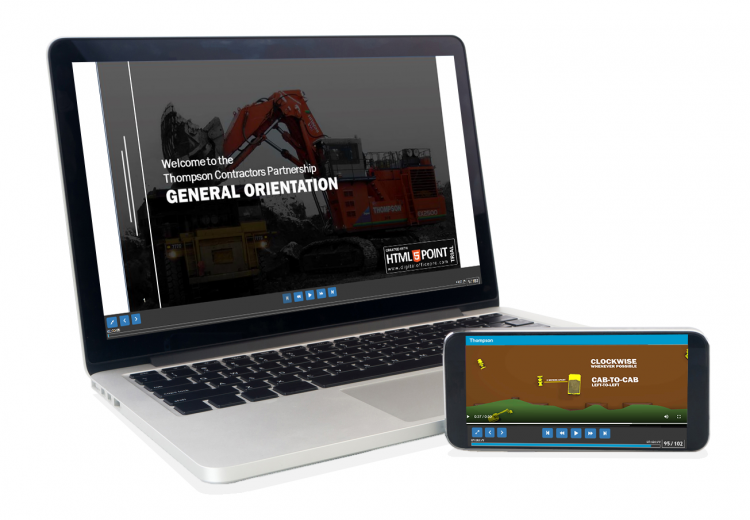 Easily Create Online Onboarding Orientations
The BIStrainer software allows you to create comprehensive online onboarding orientations for all of your employees and site visitors in a matter of minutes.
Use a Phone or Tablet to create your online orientations in minutes
Add photos and videos straight from your mobile device
Upload existing slideshow presentations
Add engaging voice over
Insert questions and activities
Capture historical training records in the orientation
Upload company paperwork to be completed online
Include access to the latest company policies and procedures
Quickly update messaging, alerts, and new information
Dynamic Course Content
Location specific elements
Using the integrated course builder, you can add location specific elements to online courses that ONLY display based on the student's location. Courses can have country, province, or city specific videos and information that only appears to people taking the course from that area.
Imagine adding slides, videos, images, documents, or more with a focus on Ontario, and it only shows for workers in Ontario. You can add separate slides, in the same course, that only display for users in another province, like Alberta.
You could create a single fall protection course dynamically designed with different slides, videos, and questions for users in each province. The potential is amazing, and the possibilities are endless!
Features
Content Management
Create and upload your own online courses and orientations with the user-friendly content management system, or have our professional development team do it for you!
Form Integration
Add digital forms directly to your course, whether for practical inspection checklist training or to collect survey feedback.
Participation Verification
Ensure employees are paying attention to courses and completing them with integrity; all it takes is a webcam and virtual proctoring takes care of the rest.
Blended Learning
Let learners complete theory training online on their own time, then link this training to practical training components through our classroom calendar software.
Course Catalogue
Gain access to over 500 top-of-the-line online courses from a variety of esteemed safety training providers.
Multi-lingual Capabilities
Make your LMS available in a number of languages. Online courses can also be made available in multiple languages using special course language linking technology.
SCORM Compatibility
Design and upload courses created in leading eLearning development tools, including Adobe Captive, Articulate Storyline, and Lectora.
Secure Exam Engine
Lock down your exam with our exam engine's built-in security features, and customize your security options with shuffled answers, randomized question pools, and more.
Branching
Build dynamic courses that adapt to learners' needs as they go, tailoring content and questions to the learner's knowledge level.
Document Uploader
Make onboarding easy by having employees upload documentation like new hire forms and driver's licences directly into the course.
Notifications
Keep users and admin up to date with automated email or SMS notifications that let them know when courses are available for them to complete, when courses are expiring, and when training has been completed.
Mobile Compatible
Manage training on the go with responsive technology that can adapt to any smartphone, tablet, or monitor size.
Gamification
Engage learners by bringing your content to life with interactive activities that not only catch attention, but also improve information retention.
Digital Certificates
Go paperless with digital wallet and wall certificates instantly available upon successful completion of any online course.
Reporting and Tracking
Run reports for course completions, course statuses, expired courses, and training records all within easily understood Excel/CSV templates, then track trending data.
Create and Facilitate Multiple Choice and Long Answer Assessments with the BIStrainer Exam Engine

The exam engine built into BIStrainer allows you to assess your team to ensure their training is being retained. This secure and easy to use tool is the perfect way to facilitate online pre or post training exams and quizzes.
You can create pools of questions, randomize the question and answer order, and create custom long answer questions that can be automatically sent to a qualified individual for marking. The versatility of the exam engine allows for fully customized assessments.




Over 1,000 Training Courses Available
We have partnered with industry leading course owners to bring you an online store that gives you access to over a thousand of the top training courses from industry experts and training providers.
The learning management system provides the ability to easily purchase a course for yourself or any number of employees. It also gives you the ability to assign courses to your team based on their role at the company or the specific location they work at.
These are just a few of the great safety training courses available through the BIStrainer store:
Ground Disturbance
WHMIS 2015
Transportation of Dangerous Goods
Chainsaw Safety
Gas Detection
and over 1,000 more high quality training courses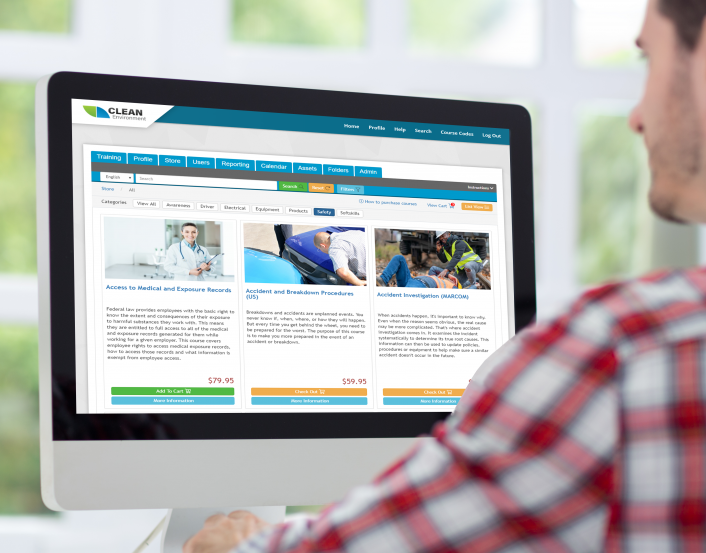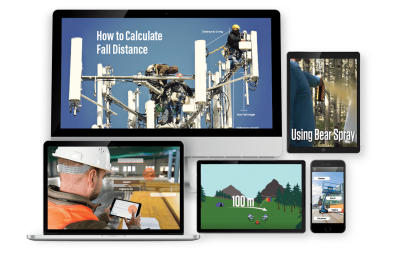 Multimedia
BIStrainer not only supports SCORM 1.2 and 2004, but also offers a course creation tool that directly uploads multi media formats like MP4, HTML5, JPEG, PNG, PDF, and much more. Load PowerPoints directly into the system in just a few simple steps, then program randomized multiple choice questions between desired slides. Load how-to videos taken with your smartphone, add questions, then assign the course to thousands of people in minutes. The flexibility of multi media puts your courses over and above SCORM standards, giving you the advantage of getting your training out faster and more effectively.

Application Programming Interface (API)
Get the data you need where and when you need it with Application Programming Interface (API) and Single Sign-On (SSO) capabilities. BIStrainer can connect to your HR management system and other database applications to ensure all of your data is instantly available. The system can directly sync with your payroll software so that users can be added weekly, daily, or in real time. This means that, when a new team member is added to payroll, or when someone leaves, he/she is instantly added or removed from your LMS. You can even transfer all course completion data, including digital certificates, to another database.
Learn More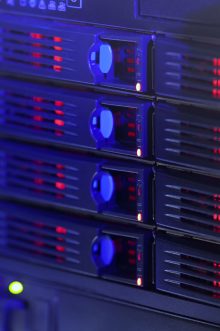 What Our Clients Are Saying
"BIS is known in our industry as a LMS that fits all the training and transportation tracking requirements. When considering BIS, we reached out to other organizations using the system who all stated that BIS met or exceeded all of their LMS needs. We are one year into completion of our integration and still are identifying some of the many components of the system that aid in our day-to-day Learning & Development functions."
Amanda Mackenzie Manager, Learning and Development, CEDA
We are extremely pleased with our relationship with BIS Training. Whenever we require support it is provided with virtually no lag time, which makes for happy clients and smooth uninterrupted service. The customized training portal option is a great sales tool for us to be able to offer our larger clients. The document management system is a welcome addition to this excellent offering of training management services.
Marcus Burn, NCSO Safety Consultant, COR Solutions
"BIS was a learning platform that was brought forward by management. It has benefited our organization in many ways, a few of the benefits have been:
The ability to upload our own smartphone compatible site orientation / inhouse courses which aids all personnel in "coming to work prepared". This has also free up time for employees who were teaching inhouse courses (approx.. 2500 hours since 2016).
Automated monthly training gap reports delivered to team leaders, saves time from having to manually create individual reports which may be prone to error.
Improved Leaderships initiative on monitoring their teams overall training compliance & assignment of work
Higher overall training compliance for the Organization
Allows employees to complete courses when time permits in their schedule.
Organized system in managing training matrices for locations, roles, and departments.
Organized system in managing courses that satisfy training topics.
Organized system in managing completed courses and training certificates.
Notification to the appropriate employees of when an SOP has been changed or updated."
Rebecca Rankin HSE Advisor, JACOS
BIS has been a great training solution for Magna Electric Corp. The management system is straightforward and simple to use. We don't always have time to develop our own training programs so the variety of training available is a huge asset to us. Most of all, the customer service is second to none.

Jocelyn Froehlich Corporate Training Manager, Magna Electric Corporation
Partnering up with BIS to deliver online training to our clients was one of the best business decisions I've ever made. Their client service and support is unsurpassed, and they never stop innovating and improving their system.
Working with BIS is a great experience and an invaluable asset for our company and clients.
Kit Goldman President and Founder, Workplace Training Network Inc.
Some of the Great Companies Who Use the BIStrainer System
Seeing Is Believing
Request a demo and see for yourself why so many companies are switching to BIStrainer software.