Are you looking for online software that can help manage workplace risk as well as administer, track, manage, and report on almost every aspect of your company's safety program? The BIStrainer safety management system allows you to utilize digital risk assessments, site inspection forms, field level hazard assessments, online storage of all safety documents and files, equipment and asset management, preventative maintenance reports, and more.
Read more about the Safety Management System
BIS offers one of the leading safety management systems for compliance. The BIStrainer safety software is designed for companies with major safety requirements. Regardless if you are in the transportation, energy, construction, or mining industry, this safety management system will help your company meet its safety requirements.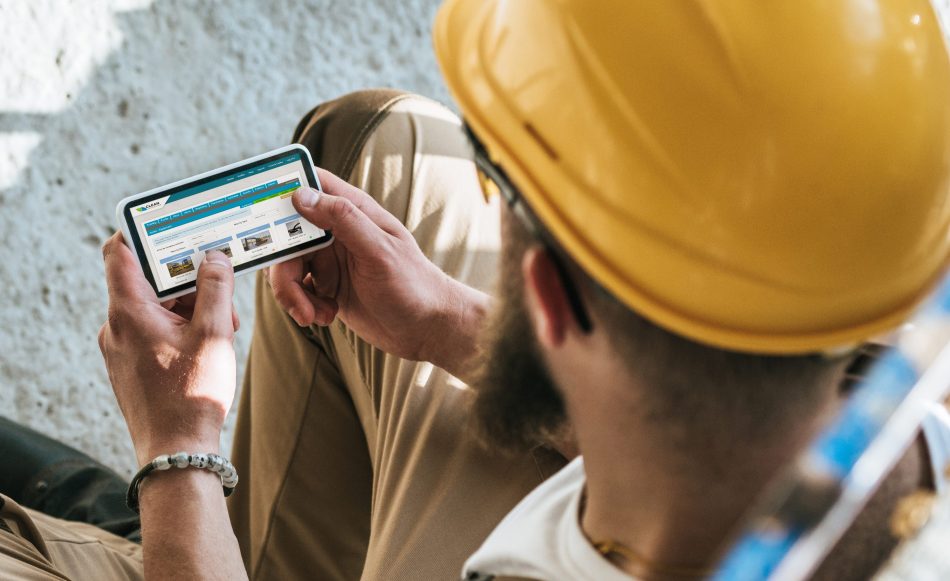 Digital Forms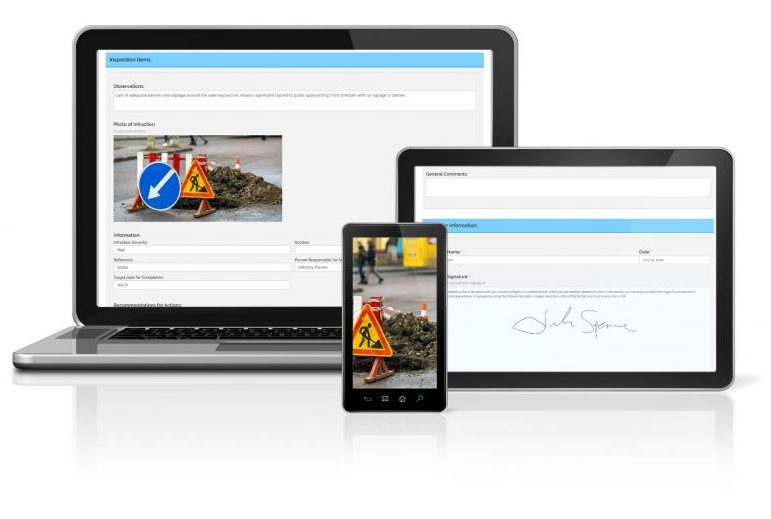 Complete Critical Safety Tasks Using Custom Digital Forms
Each year, many companies have their staff fill out thousands of forms on paper, leading to issues finding electronic storage options or paying for data entry. What if most of these administration costs could disappear with one simple program?
The customizable Digital Safety Forms and assessments software is an advanced form builder that incorporates innovative drag-and-drop technology, allowing companies to build and administer thousands of forms online. Each form can include checkboxes, dropdown lists, Likert scales, date and time stamps, as well as open text fields and electronic signatures. You can even add images and videos to the forms to provide additional information to those completing them.
Users can fill out forms with any smart phone or tablet through a responsive and secure webpage that instantly tracks data. As they fill them out, they can upload images, notes, and even videos into the forms directly from their mobile devices. All forms can then be viewed online and printed in a .pdf format, and all data can be exported into Excel for trending data.
Equipment & Asset Manager
Equipment & Asset Management System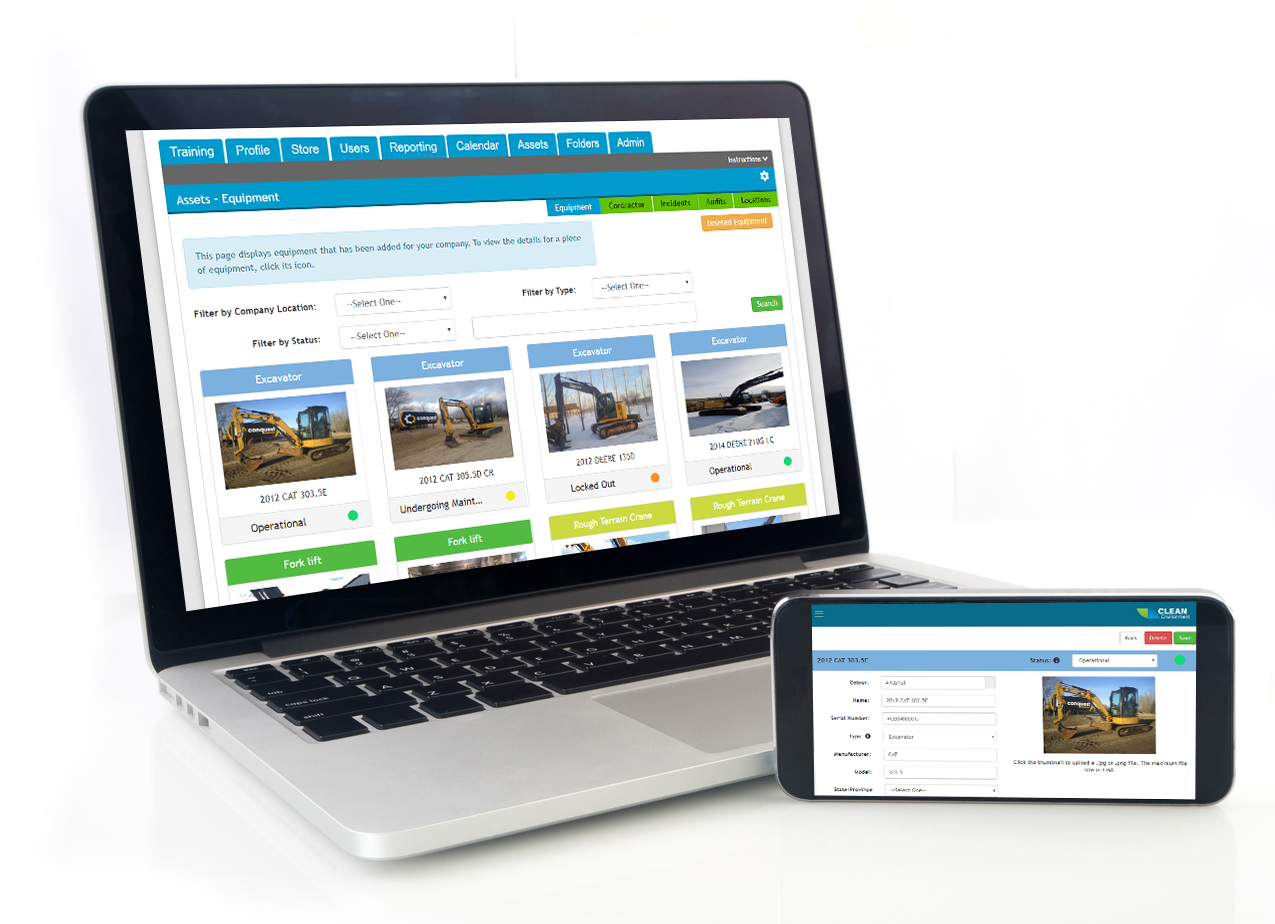 Track and Maintain Your Company's Important Equipment and Assets
Keeping track of equipment can be difficult. Common questions like, "What condition is it in?" or "What was the outcome of the last inspection" can take hours to answer. But what if these answers were available anytime, anywhere, on demand with any connected mobile device?
With our innovative Equipment Management software, location and status are just the beginning of what you can track:
✔ Mileage
✔ Hours
✔ Qualified Personnel
✔ Maintenance
✔ Advanced Analytics
✔ And More
Digital Folders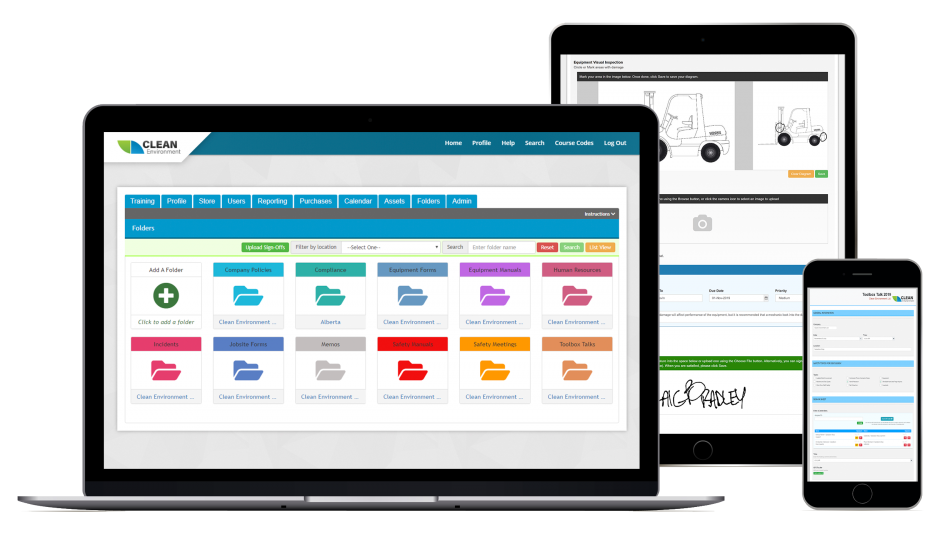 Secure Electronic Document Management System
Similar to your computer's other folders, BIStrainer has digital folders that allow you to upload documents and files onto our secure cloud. This means your entire team can access the same files and documents no matter where they are, as long as they can connect to the internet.
After you upload your documents, this tool will provide employees easy access to company documents, reports on forms and sign-offs, as well as automated expiry alerts and reassignment. Features include:
Reports on document signoffs
Digital Signatures
Mobile Compatibility
Permission Management
Additional Features & Functionality
A built-in incident management system allows you to track workplace incidents accross your entire company. Every incident can be logged with a digital form, and then your leadership team can view robust reports showing trouble areas throughout your company.
Field level hazard assessments are a critical part of a company's safety program. Using digital form software you and your team can identify hazards and notify others before work begins.
The Toolbox talk digital form can be customized to include an attendance widget which will allow you, and other site managers to keep complete records of all the workers who were present for any toolbox talk.
Paperless site inspections Site inspection software can help you complete an important task without the regular piles of paperwork. Increase the quality of your inspections and save money.
Health & safety audit software – BIStrainer's digital audit tool gives you everything you need to effectively evaluate your HSE program's implementation and performance.
The driver management system tracks all required driver information including license number, expiry, and type as well as medical certification and Hazmat endorsement when applicable
Reporting & Notifications
Excel-compatible data management and reporting pulls the most important data you need from the BIStrainer software and compiles it into robust reports that will help your team plan for a safer workplace.
Within BIStrainer you have access to online report dashboards and can quickly set up automated notifications for topics such as:
An in depth analysis and notifications about documents and forms about to expire
The number of incidents occuring throughout your company
Detailed reports for each of your office and worksite locations
Risk analysis based on digital Hazard Assessments and Site Audits
And Much More
You can also download all of your data into spreadsheet and Excel formats so you can continue reviewing the information even when you are offline.
SafeTapp Safety App
Support your health & safety management system with one convenient safety app.
With SafeTapp you can access:
Digital Safety Forms
Digital Folders
the Equipment & Asset Manager
Employee Records
ID Badges
and more
Download and store your training certificates on any smart phone or tablet.
Learn more
Safety Management System Attributes
Custom Branding
We custom brand your portal to match your company's website, creating a seamless user experience. Using advanced CSS branding, we can not only match your colours and logo, but also font type, size, and even your navigation menu.
Our team provides unlimited technical support for all our customers and system administrators by phone and email. Helping customers use the system to its full capacity is one of our company's core strengths.
Our Client Success team provides support to new clients using the BIStrainer Safety Management System. We are committed to ensuring the BIStrainer software makes your safety program better, with that in mind we guide you through how to get started with the system so you are confident you can use it to benefit your company.
Secure
Using Amazon Web Service's cloud technology, your information is protected with HTTPS encryption, dedicated firewalls, virus protection, and more.
Canadian Hosting
Our entire software and data reside on servers located on Canadian soil to address Canadian privacy requirements and avoid privacy issues that may arise from the US Patriot Act.
Field First Design
At BIS, we have committed to making continuous feature improvements within the software, specifically with the employees, who use the software in the field, front of mind when creating new features or improving on the current software.
Safety Management System
Safety and training shouldn't slow down your company; they should speed it up. By reducing the number of lost hours of productivity due to injuries and incident investigations you can speed up your business. Streamline your safety process today.