Software Solutions for the
Construction Industry
Stay informed on site or in the office!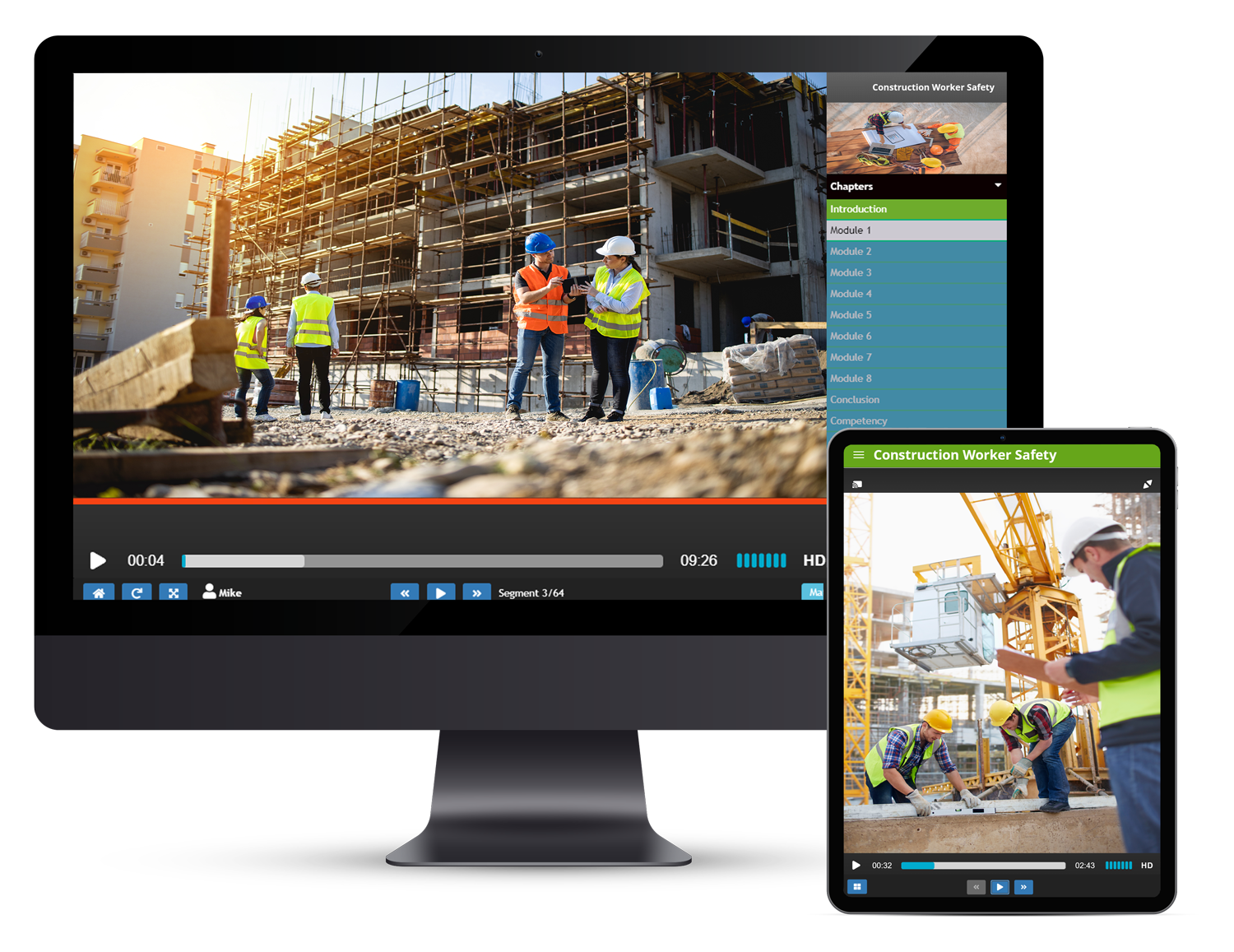 Our Learning Management Software now solves many challenges facing the construction industry. Thanks to years in the business and valuable client suggestions, we've added functions like equipment management, mobile functionality, and many more. We're now pleased to announce the many solutions we can provide the builders who put the roofs over our heads.
Our software helps your company navigate through the permit process and more, so you can keep building.
Some of the Great Companies Who Use the BIStrainer System
Software Solutions for Construction Challenges
Training Record Management Software
Employee Training
Providing proof of training and managing employees can be strenuous. When workers are separated by physical distance, different management teams, or inaccessible software systems, it is difficult to know where everyone in the company stands.
Solution
To combat this, our training management software allows you to store all your employees training certifications on a cloud network that is centrally accessible by mobile phones or computers and provides worksite officials with quick access to your staff's credentials. Simplify your spreadsheets by consolidating your data into a single, secured system that is accessible to both employees and supervisors.
More about Training Management Software
Our clients love our Training Management software because they can have all their training automated and easily analyzed whenever they need, saving thousands of dollars a year in overhead costs or time loss. This is especially true with our patrons that have multiple contractors under their payroll. The contractors are responsible for their own training and guided through the process via software rather than company administration.
With our robust Training Record Management System, you can upload employee training records while including a copy of each certificate, regardless of the training provider. Once records are uploaded, automatic expiry alerts can be sent to employees, supervisors, and managers to help ensure your employees' training is always up to date. Even temporary workers can also alerted via email when their training or credentials are close to expiry — further reducing the need for oversight. This all culminates into less paperwork, costs, and administration.
Click this link to learn more about our Training Record Management System
Equipment Management Software
Completing Inspections
Pre-trip inspection forms take time, energy, and paper to perform, not to mention the stress of tracking those documents requires ample administration. Due to this, some vehicle operators may become complacent with the task, increasing the chance of a failed inspection and risk to the company.
Solution
With our asset and equipment management software, you can schedule pre-trip inspection forms to a specified employee, and they can fill out the information using their mobile device. This eliminates the need for physical documents because it updates to the centralized network instantly where any authorized members can view it.
You can also schedule more in-depth monthly inspections. Not to mention, you can trigger scheduled forms using mileage intervals. Our customers frequently use mileage interval triggers to remind them of their equipment's oil changes, engine maintenance, or anything else.
More about Equipment Software
Everything from a crane to a stapler can be tracked with our equipment management software. When equipment management is coupled with our Digital Form feature you can have your staff fill out pre-trip or pre-shift inspections on all your vehicles, and all the usual entries (Name, date, vehicle number) can be filled in automatically. This data then aggregates to a large picture of your operations, where it can be accessed remotely. You'll be able to see where your vehicles are, their condition, and who has been operating them.
Click this link to learn more about our Equipment Management Software
Toolbox Talk Software
Efficiently Discussing Safety
Managing on-site discussions, then collecting the toolbox talk data and solutions into readable documentation is often a chore that paper and filing systems make cumbersome.
Solution
Our toolbox software automatically saves all your information and allows for it to be presented in easy-to-read trend data, graphs, and excel exports. This cans the process streamlined, efficient, and more engaging.
Our toolbox talk software may appear generic, but like digital forms and asset management, it grows along with your business. By having easy-to-access and secure files on all your safety discussions you can be sure of the progress these talks have made on your business, as well as the participants and employees. With this software you can be sure opinions and notices that arise from these talks will reach your office and not get lost in the paperwork shuffle. You can also be sure the meetings are being carried out, and who was present.
Click this link to learn more about our Toolbox Talks Software
Training Matrix
Fulfilling Training Gaps
Every job site carries their own rules and guidelines for training, so adapting software to your specific needs so you don't assign unneeded training can save your company headaches and costs. Without assigning employees their training needs only, this process can become costly and confusing, and the information that your workers have access to becomes difficult to determine.
Solution
This training matrix software will automatically show your employees which credentials they need per task for each location of work. They simply follow the easy-to-read rubric and take the courses they require while an incorporated Learning Management System makes the process all the more easier, and the employee can take their courses at work or anywhere else to be ready as soon as they need to.
More about Training Matrix
You can think of a training matrix as a programmable rubric that tells you what training is required per location and role. So if you employ a plumber in Alberta that needs to work in Texas, your rubric could alert and assign them the courses required for the new site instantly and from any digital source. Training requirements are automatically assigned to the user based on their roles and location. If an employee changes either of these, the training matrix will automatically update and push the required training to their profile to make sure they are always ready to work, no matter where they are!
Click this link to learn more about our Training Matrix Software
Incident Reporting Forms
Storing Incident Reports
Incident reporting requires extensive document gathering, and gaining all the insights and testimonies requires a lot of footwork or phone calls, which can be even more difficult with paper-based systems.
Solution
Incident reporting forms can be programmed to automatically alert participants when their input is required and then save all their information automatically with traceable audit trails making federal compliance a breeze. The information is not only saved, but can be turned into trends and graphs at the click of a button. Our incident reporting software saves witness statements, vehicle numbers, locations, employees, and many more vital contributing factors to a digital incident form which can be easily scrutinized later.
Our Digital Forms have been used in many ways, ways we didn't imagine when we first designed them. Simplistic by nature, but with the potential to adapt and be molded to your specific business needs, our forms and folders software can grow alongside your business. Instead of cumbersome paperwork, these forms can be filled out in the field via our mobile app "Safetapp", and subsequently, start supplying your office with any information you desire.
They can be triggered via vehicle mileage as we said above, alerting a driver to do a routine inspection, or they can be triggered in incident reporting and automatically emailed to the required candidates. All of our software has been designed to mitigate cumbersome administration, allowing companies to focus merely on production and creation.
Click this link to learn more about our Digital Forms and Folders or our Incident Management Software
Learning Management
Training Needs
Modern training compliance forces companies to devote work hours to training in different facilities, whose travel and meeting expenses cost additional time and money, and the success of many of these courses rely on the ability of the instructors which is typically variable and possibly unreliable.
Solution
Online training allows companies to train employees in-house or from anywhere, but also tracks their credentials and training so that they can learn quickly and professionally. With a subscription to our Construction Course Training, you can receive access to all courses relating to hazard assessment techniques, vehicle operation and more.
More about Learning Management
Worksites today are emphasizing the value of proper experience and training more than ever. Many of our clients and partners come to our extensive course library to meet new safety and environmental training requirements. Our website hosts thousands of courses in our portfolio, and employee certifications and course progress is immediately saved in our training management software, ensuring sitewide compliance.
Click this link to learn more about our Learning Management System
Construction Industry Recommended Courses
Support your health & safety management system with one convenient safety app.
With SafeTapp you can access:
Mobile Compatible Online Courses
Employee Training Records
Digital Safety Forms
Digital Folders
Equipment & Asset Manager
ID Badges
and more
Download and store your training certificates on any smart phone or tablet.
Safetapp 2.0
Support your health & safety management system with one convenient safety app.
With SafeTapp you can access:
Mobile Compatible Online Courses
Employee Training Records
Digital Safety Forms
Digital Folders
Equipment & Asset Manager
ID Badges
and more
Download and store your training certificates on any smart phone or tablet.
Learn more
What Our Clients Are Saying
"Partnering up with BIS to deliver online training to our clients was one of the best business decisions I've ever made. Their client service and support is unsurpassed, and they never stop innovating and improving their system.
Working with BIS is a great experience and an invaluable asset for our company and clients."
Kit Goldman President and Founder, Workplace Training Network Inc.
"Bistrainer has been so great to deal with! In 2.5 years we have been working with them our utilization has grown way beyond simple record keeping and now includes a rewards program and performance management. They are always willing to help you build a custom solution to make your life easier!"

John Kerr Operations Specialist, Caron Transportation Systems
"We are extremely pleased with our relationship with BIS Training. Whenever we require support it is provided with virtually no lag time, which makes for happy clients and smooth uninterrupted service. The document management system is a welcome addition to this excellent offering of training management services."

Marcus Burn, NCSO Safety Consultant, COR Solutions
"I was extremely happy with the solution focused implementation team we worked with at BIS. They were always willing to work with us to overcome any of our unique challenges."




Amanda Mackenzie Manager, Learning and Development, CEDA
EHS Software for the Construction Industry
Manage your industry; don't let your industry manage you!