Our Company
We are a leading provider of learning management technology and course development services
BIS Training Solutions is a software company that offers compliance and learning management software for the Environment, Health, and Safety (EHS) professional. This cloud-based software application includes Training Record Management Software, Classroom Calendar Management Software, a Training Matrix, Online Learning Management Software, Digital Folders, plus Online Forms that are used for site inspections, hazard assessments, incident management, preventive maintenance, competency evaluations, and more.
BIS Training Solutions began as a provider of leadership training programs to organizations seeking effective ways to develop and build upon the skills of their management and leadership teams. Because we understood that effective leadership training positively impacts a company's bottom line, we developed a series of training programs and then tied them to incentives that were awarded when desired results were achieved. These programs were extremely successful; so successful in fact that we were unable to keep up with demand. That's when we realized that online training was to be an integral part of our future.
Our company invested significant time and effort searching for online service providers who could fulfill our needs. After an exhaustive search, we realized that there just weren't many options when it came to finding a service provider who could provide all three things that we were looking for: online course development, a learning management system, and reporting capabilities to track training records and results. Some providers offered great course development services, but didn't have a learning management system; others offered learning management technology, but had little to offer in terms of reporting capabilities. Finally, another group offered reporting but no course development services. It became clear that there was a gap that needed to be filled, and we were going to be the ones to fill it.
We immediately went to work to assemble a team of the brightest IT minds that we could find to form an advisory board. The board was comprised of an IT professional from New York city who worked for leading companies including GE and the Disney Corporation, together with many local senior IT executives. These exceedingly bright individuals collaborated together to clarify the system requirements and determine the fundamental architecture for what is now known as the BIStrainer Learning Management System.
In 2009, we were approached at a tradeshow by a small group of safety training companies that were impressed by our learning management technology and the quality of the courses that we developed. They asked if it was possible for us to develop courses for them and then enable them to sell the courses through their website using our system. We assured them that it was, and so began our foray into the safety industry.
The companies were very pleased with the courses developed, but sales from their own websites were significantly lower than they had hoped for. We inquired if they would be willing to share their courses across other websites; they readily agreed, and so we formed the first partnerships of The SafetyNET. With courses being offered for sale through multiple websites, sales increased dramatically. Over the next few years, The SafetyNET grew from three network partners with three safety courses to over 300 training companies delivering hundreds of courses to over 3,000 end-user companies around the world.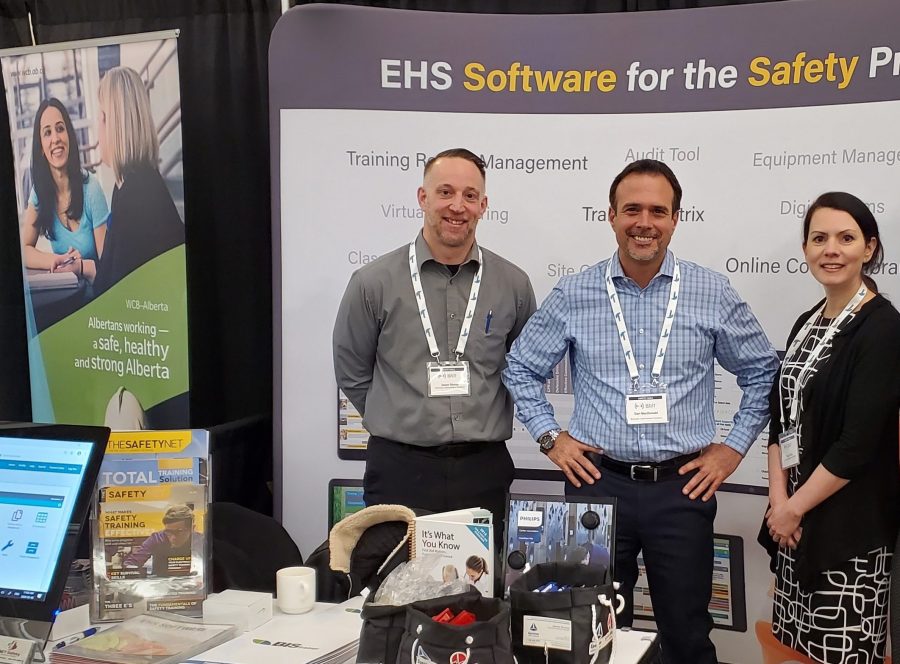 iTunes App and Associations
BIS launches its offline app for Apple devices and becomes the software provider of choice for Energy Safety Canada, the merger of OSSA and ENFORM. BIS now provides training record management services for the OSSA database as well as the online platform for their new online Basic Safety Orientation (BSO), rolling out on their website in 2018.
Android App and Partnerships
BIS launches its offline digital wallet app and partners with more than 30 of the largest companies in Canada as their compliance and learning software provider. These partners include Manitoulin, WSP, North American Construction Group, Actsafe, and many more.
Largest Library of Online Safety Programs in Canada
Customers can now conveniently access more than 500 online safety training programs through the BIS central library.
Introduces Customer Care Team
Keeping pace with our staggering growth, BIS launches a customer care team solely dedicated to helping our growing client base utilize the technology.
Redefines Itself
After careful consideration, BIS, operating as BIS Training Solutions, changes its focus from its roots in leadership and management to safety training.
Hits 100
BIS celebrates the sign up of its 100th SafetyNET network partner.
Announces Alberta's First Government-Approved Online First Aid Course
Through collaboration with Inter Provincial Safety Resources Ltd., BIS makes it possible for Albertans to complete Standard First Aid training through a combination of online theory and classroom training.
Publishes SafetyNET Magazine
BIS publishes the first issue of The SafetyNET magazine to showcase its network courses and partners.
Creates The SafetyNET
Through collaboration with its first network partners, BIS launches what will soon become known as The SafetyNET.
Partners with NAIT
BIS signs a contract with the Northern Alberta Institute of Technology (NAIT) to offer its Leadership and Management courses through NAIT's Corporate and International Training Department.
Launches LMS
BIS launches BIStrainer, its proprietary Learning Management System.
Publishes Books
BIS publishes three books: Leadership: A Practical Guide to Leadership Principles and Strategies; Management: A Practical Guide to Management Excellence; and Success: Principles and Strategies for Success.
Opens Doors
Business Improvement Solutions Inc. (BIS) opens its doors April 1, 2006 to offer leadership training to companies across Canada and the US.