Online Classroom Calender

System
Online Classroom Calendar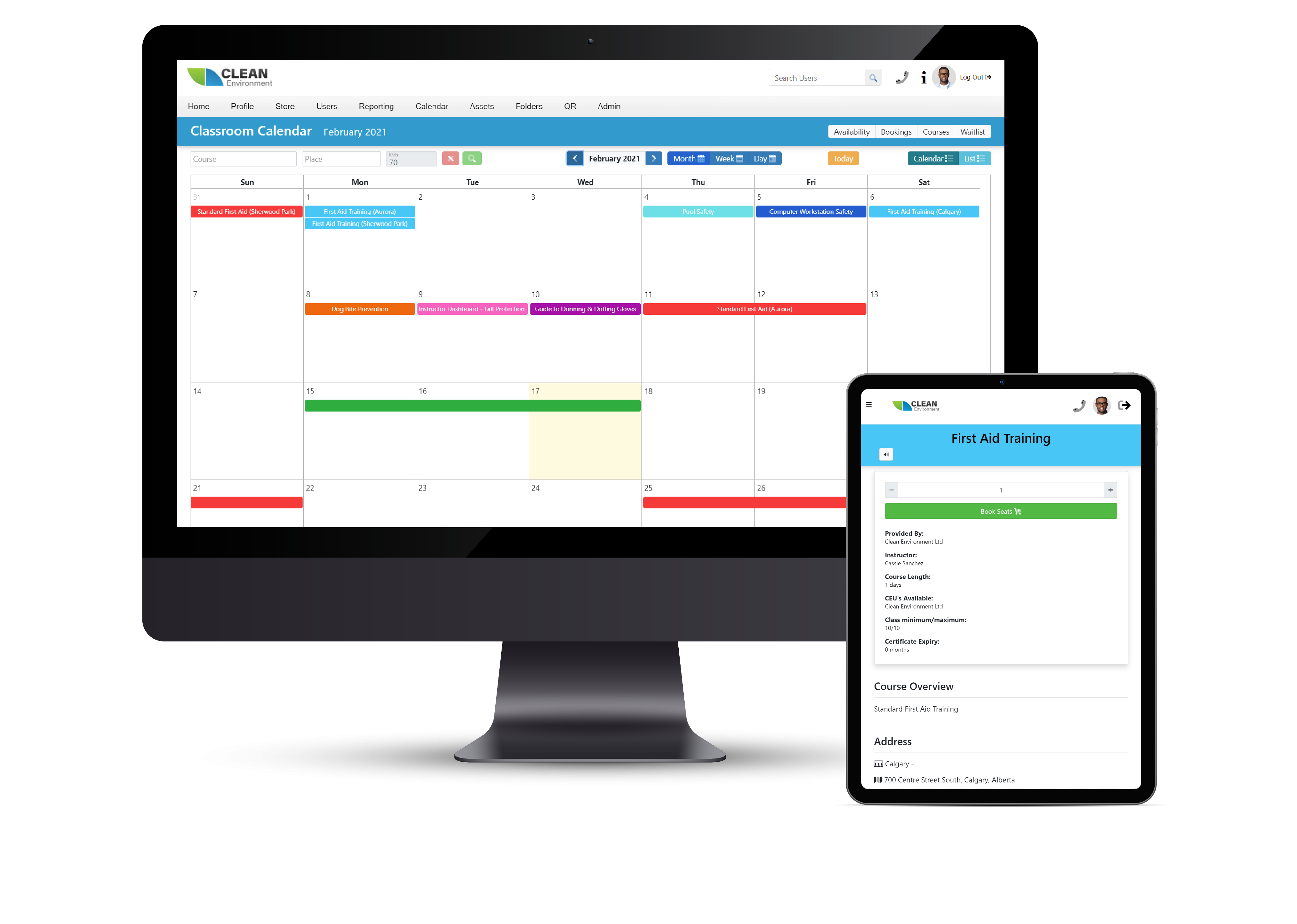 Designed by Training Providers for Training Providers
Manage all your classroom training with this easy-to-use online tool
Take control of your classroom-based training by managing it all online with our powerful calendar tool that can manage hundreds of instructors, classrooms, and courses across multiple cities.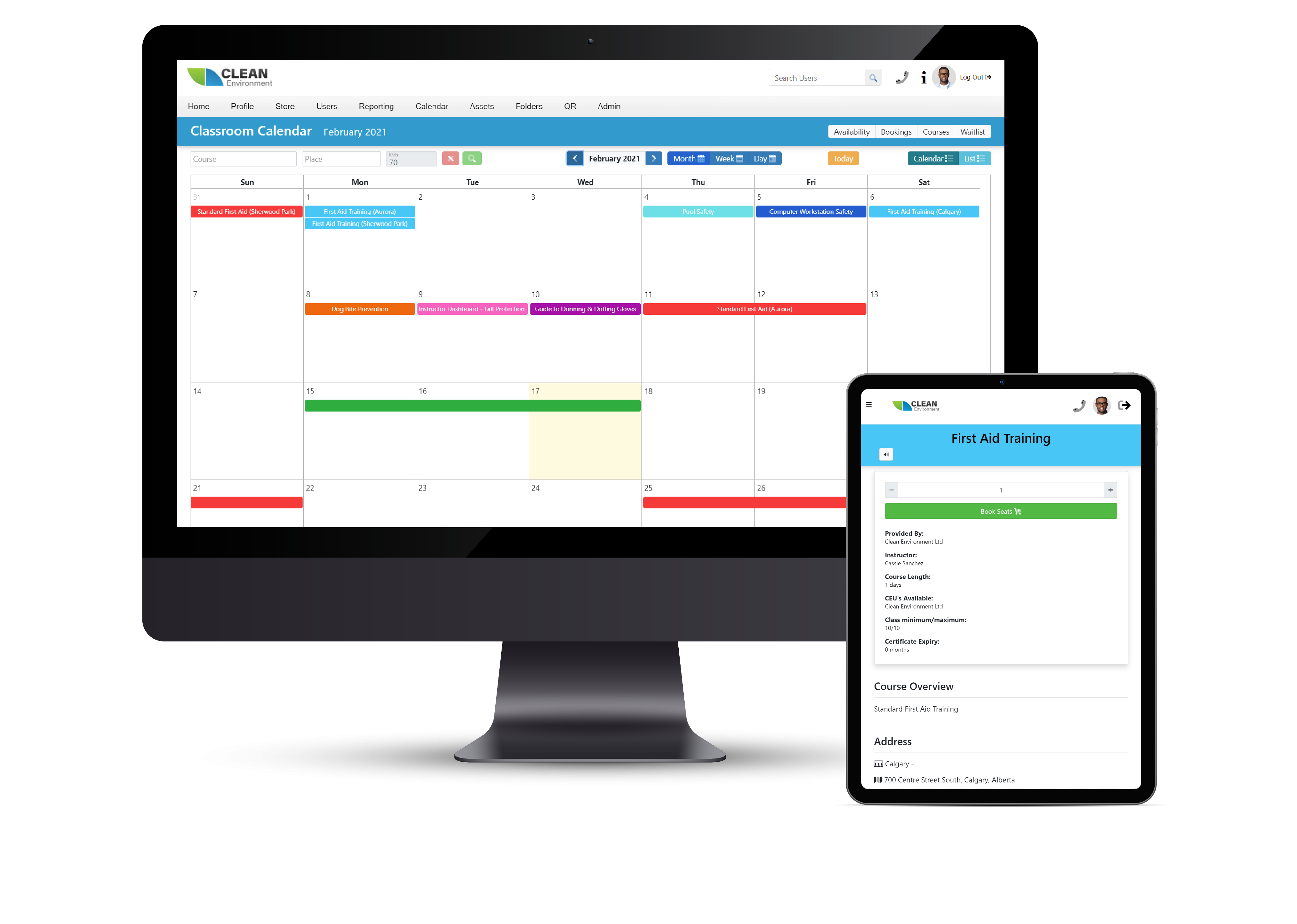 Manage all your classroom training with this easy-to-use online tool
Take control of your classroom-based training by managing it all online with our powerful calendar tool that can manage hundreds of instructors, classrooms, and courses across multiple cities.
Classroom Management: Never double book a classroom, instructor, or trainee again.
Instructor Management: Reduce administration via self-registration and automated notifications.
Virtual Meeting Integration: Take your classroom courses online with Zoom™ and Teams™ virtual meetings integrated directly into the Classroom Calendar.
Course Management: Instantly schedule training events by dragging and dropping courses onto the calendar.
Classroom Management
Manage your classrooms, including location, time zone, physical address and specific notes for student or instructors about that classroom. You can even list available equipment.
Instructor Management
View instructor certifications and qualifications, upload copies of résumés and other relevant documentation, view teaching history, and more!
Course Management
Create classroom courses with details instructions, images, videos, prerequisites, and link them to online courses and competency assessments that all work together to generate certification.
Registration Management
Register learners on your website or via Excel upload, and take advantage of waiting list functionality to limit missed opportunities due to cancellations.
Course Asset Management
Manage inventory for student workbooks, tablets, or physical gear across your entire organization, whether it's with an instructor, in a classroom, or with a customer.
Interactive Instructor Dashboard
Allow instructors to drag and drop course assets from their dashboard to the main screen, instantly playing videos and PowerPoints for the students on their tablets.
Google Maps API
Integrate with Google to provide students a visual map displaying the classroom location and allows users to click the image to trigger directions right to your door.
Integrated eCommerce Engine
Integrated eCommerce engine allowing you to easily process credit card payments to purchase classroom courses that you offer directly from your private classroom portal.
Competency Validation
Manage all of your employee competency across any training topic by combining online training, with classroom training, practical hands-on training and supervised competency assessments.
Invoice Management
Automate invoicing and billing for clients directly inside of the classroom management software. Setup all your tax codes, payment terms, invoice instructions and more so it automatically send clients a bill.
QR Code Technology
Using the latest QR Code technology, your administrators can easily check a student's training and valid certification by scanning their given QR code using SafeTapp
Inventory Managment
Upload, track and manage all your classroom inventory including student workbooks, exams, manuals and even non-consumables, like tablets and PowerPoint clickers.
Managing classroom training is simple with our integrated online Classroom Calendar. Whether you want to train your employees, customers, contractors, or management team, the advanced classroom booking calendar allows you to create training events, reserve classrooms, assign instructors, and enroll participants while effectively managing all the details such as payments, minimum and maximum enrollment, wait lists, course materials, and more.
This interactive online tool provides students with a self-registration system that allows them to search and view courses, request seats in upcoming training, and confirm course attendance. The system automatically sends confirmation of enrollment, reminders of upcoming courses, and allows students the option to withdraw.
For classroom courses that book up fast, the online Classroom Calendar allows for an integrated wait list system that instantly notifies all students on the course wait list the moment a seat opens up, making that slot available to new registrants on a first-come-first-serve basis.
Using classroom profiles, you can create classrooms and include information relevant to all instructors and trainees, including a specific address, room capacity, muster points, designated parking areas, washroom locations, and available equipment.
Once the classroom is created, make it easy for everyone to find the right location by providing students with automated instructions on where to go when they arrive on site, how to register, and directions to the specific classroom (e.g. second classroom to the left).
You can even include an interactive map in your classroom directions allowing for easy GPS navigation on most smartphones. API integration automatically displays an interactive Google Map in the training event popup when a student selects a course through the calendar. This map is also included in the confirmation email sent to students and instructors.
To improve course management, you can assign each course a unique title, ID number, and description. Additionally, you can customize course requirements, designate approved instructors, and set the price, minimum and maximum enrolment, and course duration, including daily start and stop times.
While creating the course, you can even upload images and videos that appear in the training event popup when students click on an event in the calendar.
Need to reschedule a training session? No problem. It's as simple as dragging and dropping the event onto a new date. The system then automatically notifies all registered participants and instructors for you.
The system also includes a built-in certificate generator that instantly creates a certificate for each student upon successful course completion. Once their certificate is generated, the system will also generate a training record for that course and add it to their account, therefore updating the Training Record Management System.
With the online Classroom Calendar, you can designate approved classroom instructors by uploading their information and training history—including their résumé—directly into the system. You can then schedule them to teach specific training events.
Once instructors are assigned a course, they will automatically be notified and asked to confirm availability for each course they are scheduled to instruct. This instructor management interface prevents instructors from being double-booked or assigned courses they are not certified to teach.
The Classroom Management System makes it easy for instructors to manage upcoming training sessions. At any time, instructors can log into the system and view a complete list of all courses they've been assigned as well as view any pending confirmations.
The top feature in our classroom calendar software is the ability for instructors to access an interactive instructor dashboard. The instructor dashboard allows them to drag and drop course assets from the dashboard to the main screen, instantly playing videos and PowerPoints for the students on their tablets.
They can also drag and drop quizzes into the student drop zone, allowing immediate access to students. As students complete the quiz, collective results appear on the dashboard, providing the instructor insight into what areas of the course material to focus on the most.
✓ Drag and Drop Technology

✓ Data showing Quiz Results and Participation

✓ Simple Course Creation

✓ Upload Video or Presentations
Augment your classroom training by picking and choosing from hundreds of premium online safety courses and making them available to students before their scheduled classroom training.

Track classroom course completions, automatically notify students when tickets are about to expire, and access gap analysis reporting on missing training by department, role, or individual.

Neither online nor classroom training on their own are enough, but the combination of online, classroom, and onsite competency validation can make a measurable difference in outcomes.

Exam Engine
With the integrated exam engine, you can upload questions, randomly generate them, then access quick results and automatic marking.

Certificate Generator
Automatically create certificates for students upon successful course completion, then print or email certificate copies and automatically update records.

Student Workbook
Support learning throughout your new or existing courses by having our team of designers create custom student workbooks based on your material.

Some of the Great Companies Who Use the BIStrainer System
Request a demo
Bring your classroom training to an entirely new level with this easy-to-use online tool.