Digital Safety For

ms Software
Digitial Safety Forms

Software

Onboarding, maintenance, incidents forms and more
Online Safety Forms & Assessments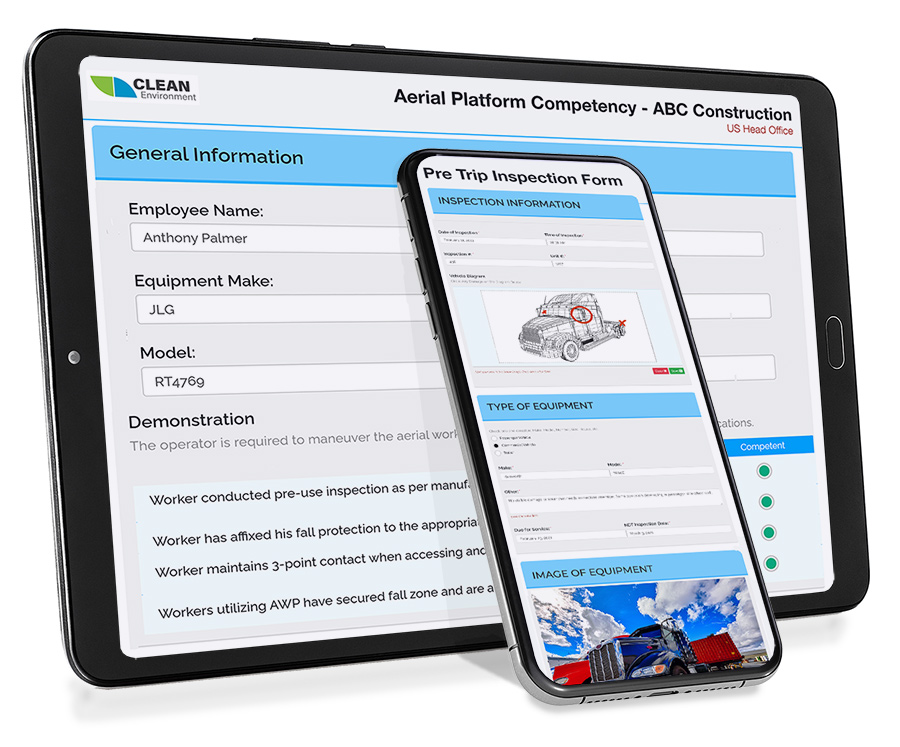 Online and Offline Mobile Functionality
The customizable mobile safety forms and assessments software is an advanced form builder that incorporates innovative drag-and-drop technology, allowing companies to build and administer thousands of forms online.
Each form can include checkboxes, dropdown lists, Likert scales, date and time stamps, as well as open text fields and electronic signatures. You can even add images and videos to the forms to provide additional information to those completing them.
Learn more about Mobile Forms
Each year, many companies have their staff fill out thousands of forms on paper, leading to issues finding electronic storage options or paying for data entry. But what if most of these administration costs could disappear with one simple program?

Users can fill out forms with any smart phone or tablet through a responsive and secure webpage that instantly tracks data. As they fill them out, they can upload images, notes, and even videos into the forms directly from their mobile devices. All forms can then be viewed online and printed in a .pdf format, and all data can be exported into Excel for trending data.

The mobile safety forms can even be used and accessed if you lose your internet connection. Any changes you make will be synced once you re-gain your internet connection. It is important to note that to login to the software or the included app you do need to have a working internet connection, however, if you enter an area where the signal drops you can continue to fill out the forms and they will sync once you re-connect so long as you do not exit the browser or shut down your phone.

Mobile Forms can be used to do even more. With Online Government Forms you can propagate tax forms, government forms and more into easily readable documents effortlessly that can be accessed from anywhere.
"The BIS Team is absolutely second to none! I have probably never had the pleasure of doing business with a more efficient and competent group."
-Tammy Hawkins
"We are extremely pleased with our 8-year relationship with BIS. Whenever we require support it is provided with virtually no lag time, which makes for happy clients and smooth uninterrupted service."
-Marcus Burn
"Our company has been using BIS system for almost 8 years. The system is very easy to use. The reporting feature provided us comprehensive data... Also, the technical support BIS provides is awesome!"
-Lilian Yan
Reporting and Analytics
You have access to all of the data and analytics contained in any mobile form filled out by your employees. Make better safety and business decisions by having a clearer picture of what is happening on your work sites.
View real-time reporting on:
Near misses




Incidents at each work site




Site audits




Hazard and risk assessments
COR audits




Equipment maintenance




Toolbox talks




and more
Fast and Easy Deployment
Unlimited technical support and a dedicated team to get you started
Your entire team will be up and running with mobile safety forms before you know it. When you sign on to use the BIStrainer digital forms feature you will have almost instant access to over one hundred digital form templates which means you don't have to set up any forms yourself. Just dive in and start assigning forms to your team.
Choose from over 100 pre-made form templates to use as they are or take advantage of the drag and drop technology to customize the forms to suit your exact needs!
Know exactly how you want the form set up? Create your own forms from scratch in minutes with elements like:
A Few of Our Fantastic Clients
Support your health & safety management system with one convenient safety app.
With SafeTapp you can access:
Mobile Compatible Online Courses
Employee Training Records
Digital Safety Forms
Digital Folders
Equipment & Asset Manager
ID Badges
and more
Download and store your training certificates on any smart phone or tablet.
Support your health & safety management system with one convenient safety app.
With SafeTapp you can access:
Digital Safety Forms
Digital Folders
the Equipment & Asset Manager
Employee Records
ID Badges
and more
Download and store your training certificates on any smart phone or tablet.
Learn more
Digital Safety Forms - More Info
Online safety forms and assessments software can help companies achieve greater efficiency. In these modern times, it doesn't make sense to force staff members to laboriously fill out forms by hand. Using online forms is a great way to keep a company on the cutting edge of technological development. Whenever companies automate paperwork and clerical work, this leads to conditions more amenable to revenue growth and solid profits.
When looking for online hazard assessment forms, it is important to partner with a commercial software company that is trustworthy. By patronizing an excellent software company, a company can improve its chances of surviving short-term crises that periodically damage market positions. The incident investigation form is one of the most important types of forms processed by any company. Depending on how these forms are managed, an organization can either move on from an incident or face severe legal liability. These risks are particularly acute when dealing with workplace accidents. If incident investigation forms are not properly filled out or saved, this can lead to lawsuits that cost companies enormous amounts.
With online forms, companies can standardize and simplify their paperwork. Rather than simply responding to accidents as they happen, it is a wise idea to conduct thorough hazard assessments. By utilizing online hazard assessment forms, you can take control and proactively safeguard your company's future. Safety forms and assessment software are simply indispensable in the modern business world. The next time you think about printing out multiple copies of your competency validation assessment, look at the online form options that are currently available. By reducing the amount of physical paperwork in the workplace, an office manager can spend more time on the work that matters to your business, and less time sorting and searching for paper documents.
Drowning in a sea of paper-based forms and assessments?
Stop the tidal wave! Our form builder enables you to recreate any paper-based document so it can be completed online using a computer, tablet, or smartphone.