Driver & Hazmat
Course Subscription
Software and Courses Perfect for Hazardous Material Drivers





Driver & Hazmat
Subscription


Access 140+ online courses




Number of users
100-249
250-499
500-999
1,000-1,999
2,000-4,999
5,000+
Monthly price/user
$5.75
$4.25
$3.75
$3.50
$3.25
$3.00



Courses Included
Driver & Hazmat Courses Included in the Subscription (Unlimited Access Requires a 1 year contract)
Accident Procedures: Driver Training Series
Alcohol & Drug Testing: What Drivers Need to Know
Backing: Tractor-Trailers
Cargo Securement for Dry Vans
Cargo Securement Flatbeds
CMV Driver Basics
CSA: Know the Basics
Defensive Driving for Light & Medium Duty Vehicles
Distracted Driving
DOT HAZMAT Security Awareness
Driver Qualification Training for Managers
Driving Techniques: Driver Training Series
Emergency Maneuvers: Driver Training Series (English or Spanish)
Extreme Weather Driving: Driver Training Series
Fixed Object Collisions: Driver Training Series
HazMat Transportation
Hazmat: General Awareness
Hazmat: General Awareness
Hazmat: Highway Transportation Driver Training (English or Spanish)
Hazmat: Labeling
Hazmat: Loading/Unloading & Load Segregation
Hazmat: Marking
Hazmat: Packaging
Hazmat: Placarding
Hazmat: Reporting an Incident
Hazmat: Security Awareness & Safety (English or Spanish)
Hazmat: Shipping Papers
Hazmat: The Hazardous Materials Table
Hours of Service Canada
Hours of Service Rules for Oil & Gas CMV Drivers
Injury Prevention Around Flatbeds
Injury Prevention Around Tankers
Injury Prevention for CMV Drivers
Master Driver: Air Brakes
Master Driver: City Driving
Master Driver: Pattern Driving
Master Driver: Rear End Collisions
Master Driver: Rural Driving
Motorcoach: Defensive Driving
Motorcoach: Vehicle Inspections
Night Driving: Driver Training Series (English or Spanish)
Personal Safety & Security for CMV Drivers (English or Spanish)
Prohibiting the Coercion of CMV Drivers
Pulling Doubles
Reasonable Suspicion Testing: What Supervisors Need to Know
Right Turns / Left Turns / Intersections (English or Spanish)
Roadside Inspections: A Driver's Guide (Second Edition)
Sanitary Food Transportation
Vehicle Inspections: Intermodal Chassis
Vehicle Inspections: Refrigerated Trailers
Vehicle Inspections: Tractor Trailers

*All course subscriptions require a 1-year contract with a minimum of 100 users. A $500 fee is used to set up your custom portal. Pricing is subject to change.
~ New courses are added to the course subscriptions regularly. Click the button below to get a pdf of the most up-to-date course list.
Driver & Hazmat Package Course List
Course Package Includes:
Learning Management System
As a part of the course package you have access to an enterprise-level learning management system (LMS) that includes:
The ability to assign your employees their required training
The opportunity to complete training online anywhere with internet
A robust exam engine, SCORM 1.2 and 2004 compatibility
An integrated eCommerce store, and course permission
A design built for companies with strong safety training needs
Utilize our robust learning management system to build, host, and deliver your own online courses, tests, and surveys through our secure course player and exam engine.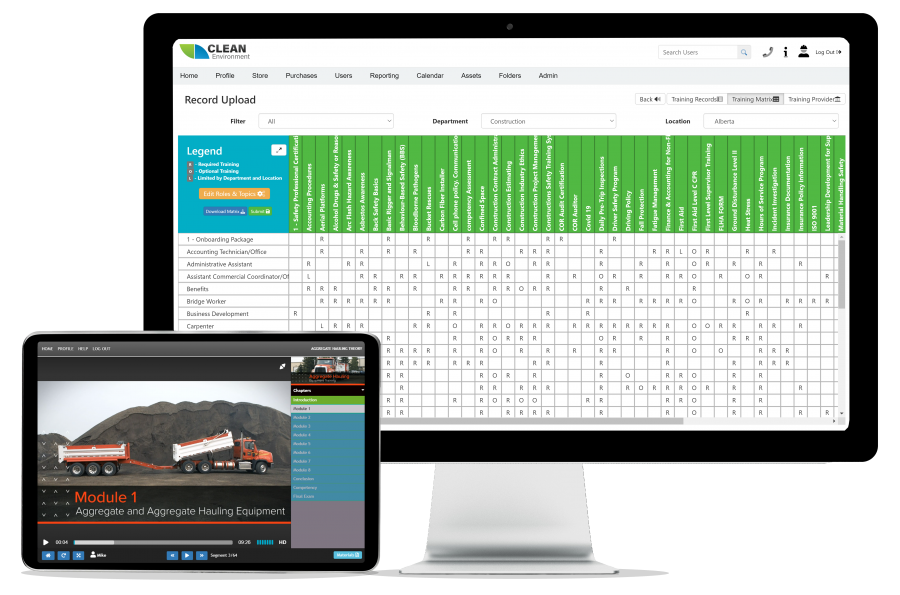 Reporting and Automatic Notifications
Excel-compatible data management and reporting creates seamless communication between the BIStrainer software and the spreadsheet files currently used by your various departments.
View online report dashboards and receive automated notifications for topics such as:
Training About to Expire and Learning Gap Analysis
Number of Course Completions by each of your Team Members
Location Specific Reports for your various Offices and Job Sites
Risk Analysis Based on Hazard Assessments and Site Audits
And Much More
You can also download all of your data into excel compatible formats so that you can continue reviewing the information even if you are offline.
Request a Demo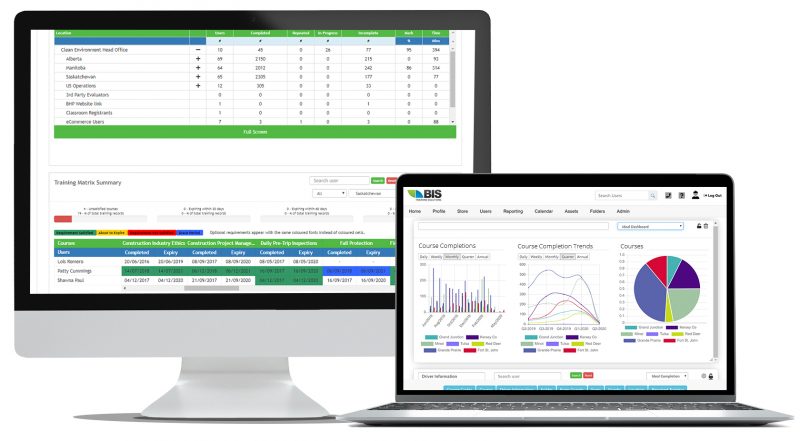 Additional Tools to Compliment the Course Subscription
An Application Programming Interface (API) is a set of communication protocols designed to allow systems to interact with, update, and transfer data between one another. It can allow your payroll system to automatically update your BIS training and compliance system with new users in real time so when someone creates a new employee profile in your HR system, API sends a message to your compliance system to create an online learning account for that user. When an employee is removed from your HR system, his/her online account is automatically removed. API not only helps to keep the your training and compliance system up-to-date with your other HR programs, but it also enables the transfer of course completion data to your other systems for easy review and analysis.

We can setup API's and SSO's to integrate your current systems and make logging on simple and easy.

Single Sign-On (SSO) allows users to access your training and compliance system without logging in, as long as they have already logged into your intranet and had their identity authenticated. For example, if an employee logs into your company's intranet with his/her username and password, your system knows that user, so the training and compliance system will provide automatic access to his/her online account.

We can setup API's and SSO's to integrate your current systems and make logins simple and easy.

Virtual Proctoring technology lets you remotely supervise online courses, exams, and even form completions. Using facial detection and recognition technology, this software lets you not only verify the learner's identity, but also ensure that they're paying attention and following the session rules. Better still, this feature uses the capabilities already built into your web browsers and webcams; no additional software installs required!

Pricing: Starting at $5/completion

Worried about causing confusion among customers and employees by having one URL for your site and a different URL for your training and compliance system? Prevent the confusion by using your own custom branded URL to access your training and compliance system! If you are interested in this convenient, brand-friendly feature, contact us for more details; we would be happy to set it up for you!

Pricing: One-time startup fee of $950 and an annual $150 for maintenance.

We understand the importance of a united online presence. That's why you have the option to go with a fully customized, fully branded training and compliance system portal, with your logo, your company colours, your fonts, and more! Keep your online presence consistent and united, to reassure your employees and customers they're still dealing with your trusted business.

Pricing: A one time setup fee of $2,500

Providing professional telephone and email support is not only something that we do, but it is something that we excel at! We offer unlimited technical support to all system users to ensure that they get the most out of our learning and compliance software.

In addition, we provide on-boarding specialists for new clients to help them hit the ground running, and our team is always there to provide robust support to your system administrators and super users!

Regardless if you are using a phone, tablet, PC, or Mac computer, we are here to help.
The Right EHS System for People Who take Safety Seriously

Some training and compliance systems require you to lock into a plan. With us, you choose the plan that is right for you and if things change, no problem! Just let us know, and we will find a new plan that better suits your needs.