Weights and Dimensions (Alberta)
Ensure your vehicle adheres to provincial weights and dimensions limits before taking it on the road
WEIGHTS AND DIMENSIONS (ALBERTA) ONLINE COURSE OVERVIEW
Transportation laws are put in place to ensure public safety and to prevent damage to roadways.
In Canada, each province and territory creates its own transportation laws, setting the commercial vehicle weight and dimension limits that apply to the highways within their boundaries. This can make it difficult for commercial drivers to stay in compliance when travelling from one end of the country to the other, because the rules keep changing from one province or territory to the next.
In 1998, a uniform standard was adopted to establish minimum and maximum thresholds for vehicle weight and dimension limits across all jurisdictions. These standards are referred to as Roads and Transportation Association of Canada (RTAC) or Transportation Association of Canada (RAC) specifications. As a commercial vehicle operator, it's crucial that you understand and follow these standards, as well as your own province's transportation laws.
This Weights and Dimensions (Alberta) course is designed as a general guideline to help you understand Alberta weight and dimension limits, and the importance of adhering to these limits.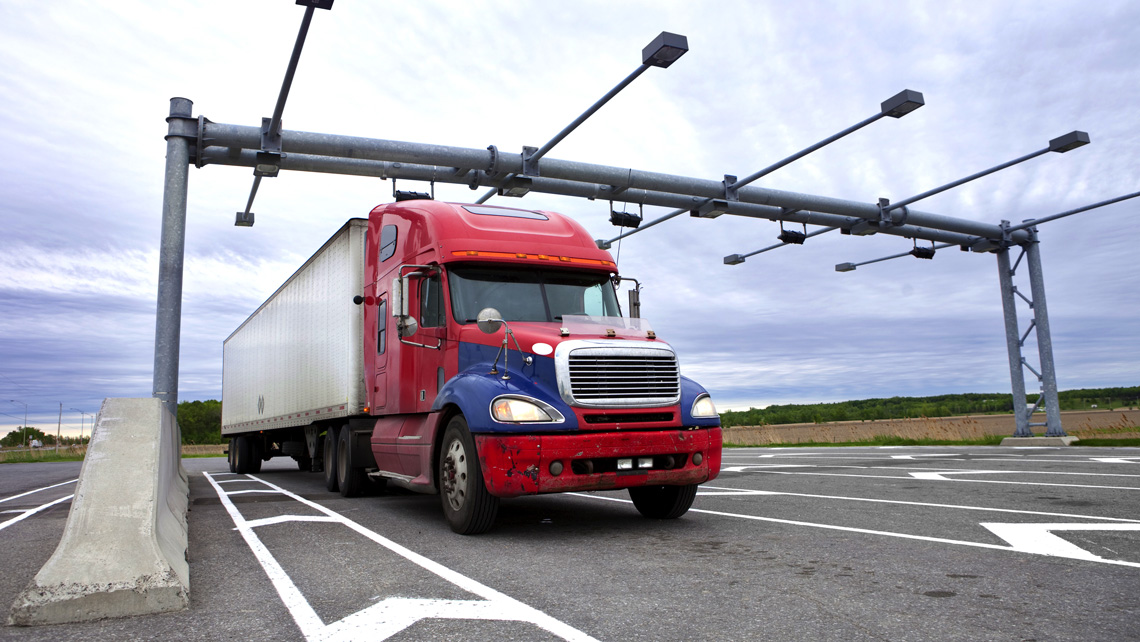 Pricing Information
Chapter 1: Determining Allowable Weight
Weight laws are regulations that restrict how heavy a vehicle and its load can be while travelling on various roadways. The first chapter describes the factors these limits are based upon and how the limits are determined. Each factor is explained in detail with several examples given and explained.
The chapter also covers:
Gross Vehicular Weight Rating (GVWR)
Gross Combination Weight Rating (GCWR) and Gross Axle Weight Rating (GAWR)
The main types of carrying axles, and how to calculate their maximum allowable weight for each group
Registration of commercial vehicles and trailers
Chapter 2: Width Limits, Safety Precautions, and Exemptions
Every day large loads are hauled on the roadways. Not all cargo is able to fit on a truck or trailer without sticking out. In these circumstances, precautions must be taken to increase the level of safety when transporting large loads.
In this chapter, you will learn about the following topics:
Determining the width of your load
The safety precautions required for your load
General safety requirements that apply to farm equipment
Chapter 3: Determining Allowable Length
There are many factors that determine the legal length of a load. This chapter explains the length limits of all the various configurations of commercial vehicles.
Chapter 4: Roadways, Road Bans, and Permits
This chapter defines the different types of roadways, and explains the restrictions for each providing several detailed examples. The material also explains when operators require a permit, how those permits are processed, the information required for a permit, and what is required from the permit holder.
Presentation
This course is presented with voiceover narration, pictures, and animation.
Resources
A 27-page booklet with all the course content is available as a pdf with this course.
WEIGHTS AND DIMENSIONS (ALBERTA) ONLINE COURSE TOPICS
The course is organized into the following chapters:
Determining Allowable Weight
Width Limits, Safety Precautions, and Exemptions
Determining Allowable Length
Roadways, Road Bans, and Permits
After completing this course, you should be able to:
Explain the factors that influence commercial vehicle weight allowances
Calculate the legal load limit
Explain required safety measures
List the factors that determine the maximum allowable length for a vehicle and load
Explain the difference between primary highways and local roadways
Discuss road bans and their impact on you
Describe the conditions under which an over-dimensional permit must be obtained and used
Duration
Average Completion Time
Completion times vary depending on the number of times the information is viewed prior to finishing the course. The average completion time is 2 hours.

Testing
Knowledge Assessment
Testing is conducted in this online course to reinforce the information presented. You are provided three opportunities to achieve a passing mark of 80% or greater.

Certificate
Certificate of Completion
Upon successful completion of this course, a certificate will be available to download and print. You can access your certificate through your online account.

EHS Software Tools to Compliment the Online Courses