EHS Software
Keep your team safer with great Environmental, Health & Safety training and data
EHS

Software

Keep your team safer with great Environmental, Health & Safety training and data
Learning & Compliance EHS Software System
Most companies with in-depth safety programs struggle to manage the paperwork and administrative side of the program. The BIStrainer EHS software was designed specifically to ease the administrative burden of a robust safety program which means your team can start focusing on personal safety training, planning for a safer workplace, and other meaningful measurable work.
The BIStrainer EHS software is designed for companies who care about safety, so regardless if you are in the transportation, energy, or construction industry, this EHS software is made for you.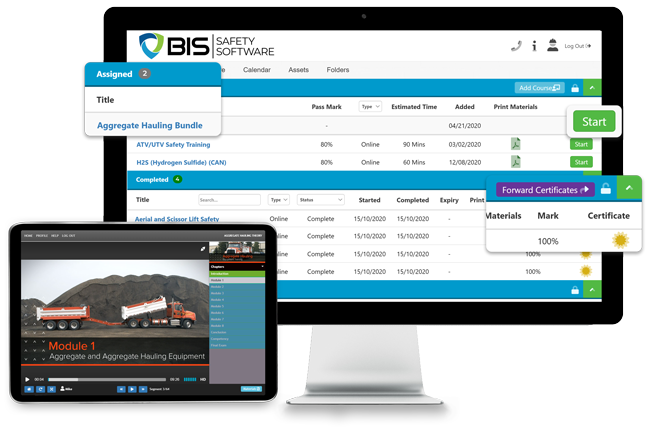 EHS Reporting & Notification System
Excel-compatible data management and reporting pulls the most important data you need from the EHS software and compiles it into robust reports that will help your team plan for a safer workplace.
Within the BIStrainer EHS software you have access to online report dashboards and can quickly set up automated notifications for topics such as:
An in depth training gap analysis and notifications about training as it is about to expire
The number of courses completed by each of your employees
Detailed reports for each of your office and worksite locations
Risk Analysis Based on digital Hazard Assessments and Site Audits
And Much More
You can also download all of your data into spreadsheet and Excel formats so you can continue reviewing the information even when the EHS software is offline.
Additional EHS Software Features & Functionality
Training Matrix
With the fully integrated training matrix, you can map out and manage all your employees' training requirements by company role, location, and even at an individual level. Once set up, the Matrix will quickly identify and summarize training gaps, direct employees to company-approved classroom training from third-party providers, and automatically assign online courses when required.
Course Library
Using the EHS software application allows you to access training from our centralized network of training providers. Get instant access to thousands of online courses and training topics from leading safety training organizations. This central library provides access to more leading, approved, and endorsed programs than anywhere else in the country. Instantly access the ABCGA-approved Ground Disturbance 201, government-approved First Aid, Defensive Driving with 3-demerit reduction, and much more!
Driver Management
Driver management is easy with our web-based tracking system that uploads and stores commercial driver information including licence details, abstracts, traffic violations, DOT certification, HazMat Endorsement, medical certificates, and more.
Role Management
By assigning unique levels of security clearance to each user role, you can differentiate the amount of access users have to company settings, system features, and other accounts.
Coaching, Mentoring, and Competency
Supporting your firms safety coaching and mentoring processes with BISTrainer has never been easier. Manage a larger spectrum of training that includes online programs, classroom programs, coaching/mentoring, and competency validation, as well as tracking hours of experience.
Virtual Proctoring
With our virtual proctor feature, learners provide permission for their device's webcam to capture an image of their government-issued identification as well as record them as they complete their training, ensuring the integrity of online course completions.
Exam Engine
To deliver a customized exam to each user, use our built-in evaluation tool to create question pools, randomize the order of questions, randomize the order of answers, and more.
Custom Branding
We custom brand your portal to match your company's website, creating a seamless user experience. Using advanced CSS branding, we can not only match your colours and logo, but also font type, size, and even your navigation menu.
Reward Tracking
To help manage and track internal company reward systems, our software provides an online tool for adding and updating reward points for all employees.
Folder Technology
Built-in folder management technology allows you to host all company policies and procedures for easy access and digital sign off with affirmation statements as well as digital signatures fields.
Course Codes
With our course code generator, administrators can effortlessly create, track, and distribute codes for a defined number of users to access a course whether they already have an online account or not.
Automated Email Notifications
Built-in email notifications let users know when courses have been added to their account, their password has been reset, and when any of their courses are about to expire.
Employee Orientations System
Easily Build Your Own Online Orientation
Using the BIStrainer orientation and course building engine you can create a playlist of:
Images
Video
Slideshows
HTML5 Activities
and more
You can even use a mobile device to take photos and video on your work sites and upload everything into your orientations.
Learn more
Easily Build Your Own Online Orientation
Using the BIStrainer orientation and course building engine you can create a playlist of:
Images
Video
Slideshows
HTML5 Activities
and more
You can even use a mobile device to take photos and video on your work sites and upload everything into your orientations.
Learn more
Secure
Using Amazon Web Service's cloud technology, your information is protected with HTTPS encryption, dedicated firewalls, virus protection, and more.
Cloud Based
We utilize cloud storage to give us the ability to respond to growing system demands, scaling up quickly to service thousands of new users at a moment's notice.
Canadian Hosting
Our entire software and data reside on servers located on Canadian soil to address Canadian privacy requirements and avoid privacy issues that may arise from the US Patriot Act.
Using the authentication process of your internal business systems to verify user credentials, Single Sign-On (SSO) allows employees to log in to any internal company system and then directly access our software without the need to log in again.
Our built-in Application Programming Interface (API) allows your internal business systems, such as a payroll system or company intranet, to integrate with our software to synchronize, make changes to, and export your employees' training data as well as add and remove users.
Multilingual
BIStrainer was designed to allow for efficient conversion into multiple languages. Following translation and testing, any language can be added and launched. Currently, the system is available in English, Spanish, French, and German.
Community-based EHS Software
When hundreds of training companies work together to contribute to a centralized software by sharing their content, adding key features, and continuously improving the system, it becomes more than just a tool. It becomes a shared and indispensable resource.