Equipment Management Software
Centralizing your equipment information
Whether you are managing a shop full of welding equipment or an entire fleet of vehicles, it can be a challenge to keep all of your equipment information, maintenance schedules, and documents organized. Some companies try to manually manage their equipment, implementing paper-based systems with huge administrative costs and the risk of documents being destroyed, lost, or simply misplaced. With the right equipment management software, the challenges of manually tracking essential equipment documents and records can be overcome.
The BIS online equipment management feature simplifies the management process by centralizing all current and historical data into one easy-to-access location for management and operators alike with minimal setup.
Integrated QR Codes
Access Equipment/Asset Information with Your Phone
With the integrated QR code functionality, you can add a QR code to any piece of equipment or company asset and access all of its pertenant information, manuals, forms, inspections, and so much more, right from your phone or tablet!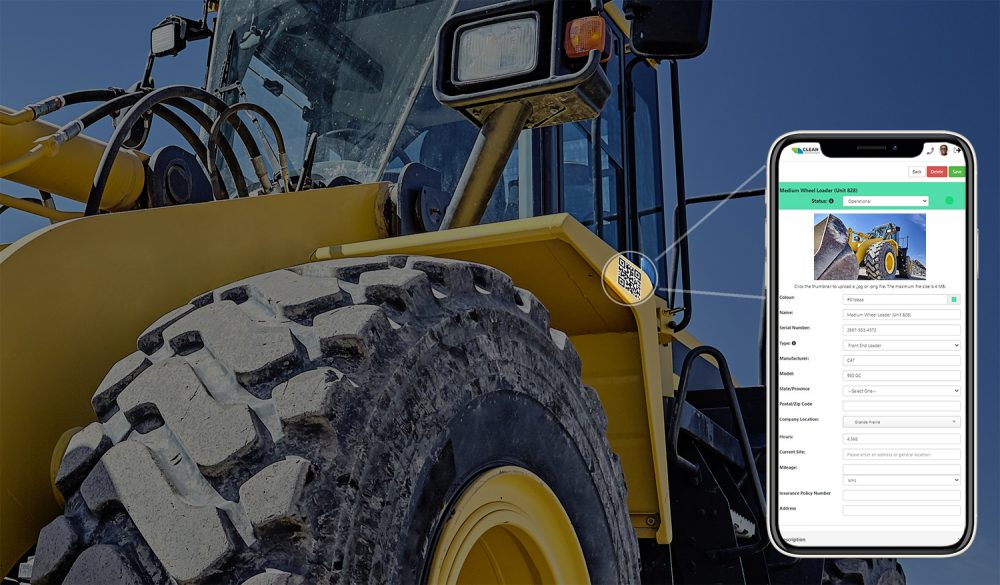 Link Company Assets
Streamline your asset management process
The asset linking feature lets you see who signed out assets, where they're being used, and if they're attached to another asset. For example, you can have a fire extinguisher, GPS device, toolbox, and an AED assigned to a company truck. You can then assign that truck to a company supervisor who is responsible for it all.
EQUIPMENT REGISTRATION
With equipment management software you can create a profile for each piece of equipment or machinery, including information such as serial numbers, manufacturers, models, and mileage.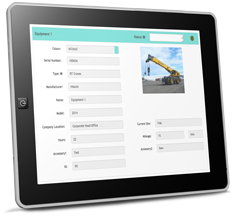 CUSTOMIZED HIERARCHIES
Set up your equipment types and statuses, then categorize your equipment for easy organization. Need to see which cranes are operational? Select the type and the status and the results will filter accordingly.
Learn More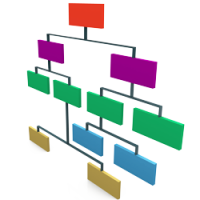 DOCUMENT STORAGE
Store and view manuals, daily logs, parts lists, insurance documentation, lockout/tagout procedures, and other documents pertaining to each piece of equipment or machinery.

STATUS FILTERS
Create customized status filters that can be used to identify the current status of each piece of equipment, allowing you to filter the equipment list for your entire company. See in a glance all equipment that is locked out or in for service.
Learn More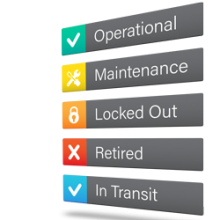 Keeping track of equipment can be difficult. Common questions like, "What condition is it in?" or "What was the outcome of the last inspection" can take hours to answer. But what if these answers were available anytime, anywhere, on demand with any connected mobile device?
With our innovative equipment management software, location and status are just the beginning of what you can track:
Qualified Personnel Tracking
Designate qualified personnel for each piece of equipment. Assign all or select qualified personnel to complete required forms for their assigned equipment. Automate the system to notify personnel at set times and frequencies to complete their pre-shift inspection forms and other daily or weekly required forms.

Mileage Tracking
Track how far each piece of equipment has travelled by entering and viewing the equipment's mileage in either miles or kilometres. Set completion schedules for inspection and equipment maintenance safety forms so that qualified personnel are notified to complete required forms when mileage milestones are reached.

Hours of Operation Tracking
Enter and track the number of hours that each piece of equipment has been in operation. Then set completion requirements for relevant inspection and maintenance safety forms based on preset hour-of-operation milestones to ensure machinery is meeting manufacturer inspection and maintenance requirements.

Advanced Analytics
Make job planning easy using your tracked information to harness data that shows what equipment is causing problems, what machinery is most frequently used, and where specific pieces of equipment are frequently requested. Track the progress of any identified aesthetic, mechanical, or safety issues from one shared document.

Feature Videos
This equipment management feature is fully integrated with an online form builder. Create digital equipment maintenance safety forms, assign them directly to specific pieces of equipment, and set whether these forms need to be completed daily, weekly, or monthly. Assigned personnel can then complete the required forms on demand in the field, instantly uploading the new records without the potential for papers getting lost in the filing process.
Form Management
Create unlimited pre-shift inspection forms, audits, hours of service logs, maintenance reports, and repair forms for personnel to complete in the field using smartphone or tablet technology.
Multimedia Input
Allow personnel to import videos and images into submitted forms, and communicate form completion expectations and requirements to your personnel via video.
Automatic Notifications
Set automated notifications to trigger when personnel identify defects, maintenance concerns, or potential safety issues. Additionally, created automated alerts that will notify management if notifications go unaddressed for a specified time period.
Frequency Settings
Customize when and how often forms assigned to each piece of equipment must be completed, and automatically email reminders to specified personnel to ensure procedures are followed and inspections aren't forgotten.
Maintenance Tickets
Specify fields in your equipment's assigned forms to trigger maintenance tickets, then have qualified personnel track and manage the maintenance status in real time.
Form Reporting
Have on-demand access to reporting for completed forms as well as access to all outstanding forms to help make monitoring and managing equipment easy.
Some of the Great Companies Who Use the BIStrainer System
Streamline Your Equipment Management
Let our user-friendly software help make your equipment management processes organized and efficient.