Online Orientation
Software
Onboard your employees and contractors faster
and spend more time getting the job done
Effective Online Orientation Software
✔ Works for employees & contractors

✔ Employees can sign up with a single click

✔ Integrates with your payroll & HR systems

✔ Everything is stored securely online

✔ Verify participant ID with virtual proctoring

✔ Unlimited customer support

✔ Access to advanced reporting tools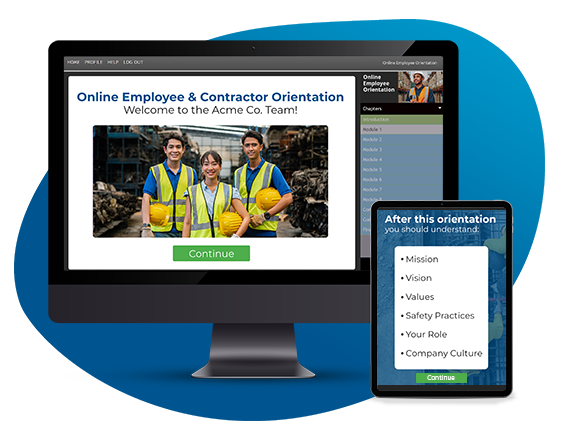 Online Employee Orientations
Getting the best from the employees you hire starts with the new hire orientation. When done effectively, worksite onboarding and orientations can provide new hires with insight into the existing company culture, information on specific company policies and procedures, as well as a better understanding of what is expected from them.
Companies need to implement adaptive learning that can provide experienced workers with high-level updates, key information, and brand new knowledge while providing new workers all the in-depth information, background knowledge, and learning needed to get up to speed. Many companies are finding the solution in switching to online orientation software, which is not only adaptive but also accessible on mobile devices and computers. This approach is more engaging than one might think and is creating a phenomenal difference in the effectiveness of employee onboarding orientations.
Move your Orientation Online in Minutes
Easily Build Your Own Online Orientation
Using the BIStrainer online safety orientation software and course building engine you can create a playlist of:
Images
Video
Slideshows
Activities
and more
You can even use a mobile device to take photos and video on your work sites and upload everything into your orientations.
Features of Online Orientations
Integrate your onboarding forms directly into your orientation
Recreate and customize your existing onboarding forms into digital forms
Online orientations are mobile friendly for tablets and phones
Onboarding forms can auto-adjust based on the answers selected by the new hire
All information collected is automatically sent in PDF format to the right departments
A free onboarding template is available for you to use and customize for your company
Users can upload their training tickets into any online course or orientation
Enter the name of the training provider, the date, and an image of the training ticket
The information is instantly added to that user's account
BIStrainer's training matrix can auto assign additional training based on their role/location
Uploaded records are emailed to managers, supervisors, or admin to verify with a single click
Your employees and managers receive automatic notifications when it's time to update their training
Easily add interactive activities that focus on realistic workplace scenarios
Employees are presented with a situation in which they must choose the best course of action
Each option results in a different outcome and a quick debrief depending on the result
If the user didn't select the best answer, he/she is rerouted to try again until they know the material
Driver Information Uploader
Great for companies within the transportation industry
Driver management is integrated into every user account across our system
Your drivers can upload required information directly into the system as they complete training
Users can upload:

abstracts
licenses
applications and resumes
collision information
assessments
medical reports
and release forms
and more!

The system auto-assigns the correct driver requirements, ensuring you are prepared for any driver compliance audit
You can manage alerts, reports, and notifications throughout the system for expiring driver requirements
Additional Tools
Document Management Integration
The integrated document management technology makes it possible for new hires to upload all of their required documentation (e.g. tax forms, direct deposit form, historical training records, HR paperwork, etc.) directly into the orientation.
After upload, their completed and signed documentation is moved directly into their secure profile and their supervisors or managers are notified.
This simple feature not only saves a huge amount of administrative time, but it also streamlines the onboarding process, reduces paper waste and paperwork, as well as saves valuable time and money for your company.
Virtual Proctoring
To ensure that the orientation and testing are completed by the right person, our system offers virtual proctoring services. Virtual proctoring utilizes the capability of webcams to have employees provide identification. As the course plays, the software ensures the employee is the one who completes the course from beginning to end. Virtual proctoring also ensures no unethical attempts to cheat the system are committed, helping you weed out the unethical workers before they cause problems on site. In addition, you can use this technology to ensure employees are paying attention to the content being delivered.
Advantages of Online Orientations
Cost Effective
Moving your orientation online not only eliminates costs related to in-person training (e.g. travel, booking classrooms, instructors, etc.), but also increases productive time for employees by allowing them to complete the majority of their training off site. All of this can result in an impressive ROI.
Streamlines Processes
Taking orientations online is an easy way to streamline a previously bulky process. Your employee or contractor can fill in HR forms in the middle of the orientation and all the completed forms get sent directly to the correct departments.
Consistency
In-person instructors may gloss over topics or spend too much time on others. With online content, information remains consistent. You can rest assured that every new employee is arriving on site with the same training experience.
Convenience
With online orientations, employees can complete their onboarding anywhere they want or you need. Orientations can be done on or off site. They can even be used in combination with in-class or in-field training for a blended training model.
Ready to Get Started?
With our Online Orientations software, powered by our Digital Forms, LMS, and Folders modules, you can build onboarding programs to suit your needs. To find information on pricing, you can head to our Software Pricing page and select the software modules that best fits your organization.
Learn how to get started in three easy steps.
Step 1 - Contact Our Team
If you are ready to utilize Online Orientations, reach out to our team and let them know you would like to get started! They can answer any questions and get things rolling.
Step 2 - Launch Your Branded Portal
Once our team has helped you get started, you can begin creating your orientations for any purpose and explore the features of the system as you learn.
Step 3 - Professional Onboarding
Once you have created the forms and orientations, you can distribute them to your valued staff and analyze the results to see the impact it has on your organization.
Need a Hand Creating a Video for your Orientation?
Our professional video developers can help!
Content Review
Quality content is what separates the good courses from the bad. Our experienced editors will help improve your script by defining clear learning objectives, organizing the content for optimal learner retention, and clarifying the information to increase learner comprehension.
Professional Voice-Over
With the right tone, pace, inflection, and emphasis, learning becomes more enjoyable and memorable. Our talent pool of voice actors will give you the professional quality your course deserves at a price you can afford.
Graphic Design
We want your course to be visually stunning. Our graphic designers can create a look and feel for your course that's clean, strong, visually pleasing, and customized to your company branding to improve the learner experience.
Motion Graphics
Don't let your orientation fall flat. Our graphic designers and developers can help put life back into your course using motion graphics to better illustrate your subject matter.
Onsite Filming
By taking advantage of our onsite video services, you can give your new employees a literal view of your company before they arrive on site. Our crew will help you show them the face of your company and make them feel at home.
Interactive Activities
Retaining learner attention is the key to a successful online course. Let our editors and developers help you create interactive activities that engage your employees with the course material and your company culture.
Exam Development
Questions and testing are essential to ensuring new employees understand your company's requirements for safety and ethics. Our team can help you create questions that will test employee knowledge and understanding of the material.
Supplemental Material Creation
Your orientation has its own unique needs. Whether you require digital onboarding forms or simply a means for employees to take notes, we can help put your supplemental materials together and customize them to match your course's unique design.
Top Tips for Successful Online Employee Orientation Training Development
A Few of the Great Companies We Have Worked With
Online Orientations are Only Minutes Away
Based on years of collective experience developing and delivering site orientations that companies rely on, we can save you time and money. Contact us to learn more.