Aerial Platform – Boom & Scissor
Equip yourself with the fundamentals of safe aerial work platform operating procedures
Aerial Platform – Boom & Scissor - Online Training
Aerial Platform – Boom & Scissor - Course Overview
According to Occupational Safety and Health Administration (OSHA), the agency responsible for workplace safety in the United States, 13 people die every day in work-related incidents. In Canada, more than 2.5 deaths occur every single day.
Esquire.com reports (2016) there is a vast improvement in work place safety. Over the past 40 years, workplace fatality rates have dropped by 66 percent, a result of huge advancements in safety processes, legislated standards, and employers' focus on safety culture. CBC reports similar results for Canada. In 1987 there were almost 50 work-related injuries per 1,000 employed workers in Canada. By 2010, that number had fallen to about 15 per 1,000. As dramatic as these reductions are, there are still occupations fraught with danger.
The Canadian Centre for Occupational Health and Safety reports that in 2014, there were 919 workplace deaths recorded in Canada. Among these were 13 young workers aged 15 – 19 years, and another 25 workers aged 20 – 24 years. The most dangerous industry in Canada is construction, with 22% of all fatalities, followed by manufacturing, government services, and transportation.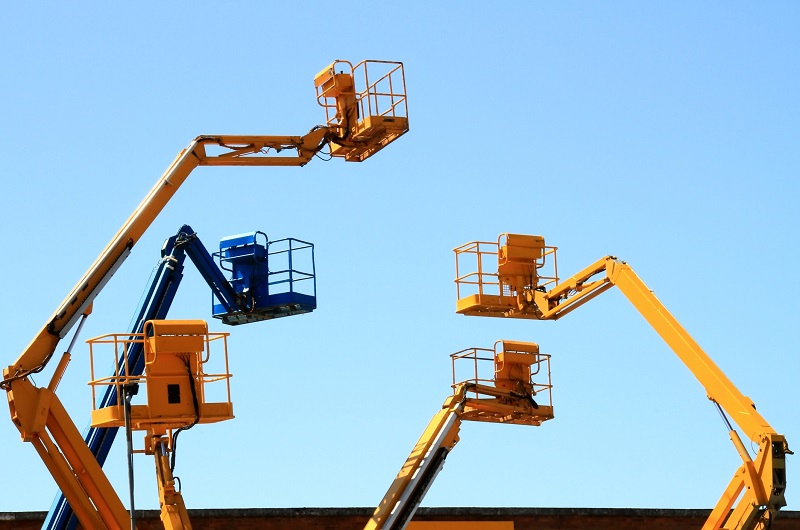 In the U.S., the most frequent causes of death are transportation incidents (car crashes, pedestrians struck by vehicles), falls from heights, exposure to harmful substances, and being struck by large objects. Similar data has been collected in Canada.
One of the more dangerous construction related activities is the use of aerial platforms. A sad example of this is found in OSHA's files, where a worker operating an aerial lift was painting a 4-story condominium when he was pinned between the building and the control station on his elevated platform. His body pushed against the joystick that controlled the lift, causing the machine to press him even harder against the building, eventually resulting in his death.
Injuries sustained from using aerial work platforms tend to be more severe than accidents involving any other equipment. The Rental Management website conducted a review of insurance claims over a ten-year period (1995 – 2005) and found that nearly 40% of lift injuries resulted from the equipment overturning. Most of these incidents occurred because the machine was not properly stabilized before lifting the bucket. In one instance, the renter did not extend the outriggers on a boom lift, even though he was instructed to do so by the rental dealer. He also failed to wear the safety harness, even though one was provided with the equipment. As he raised the bucket, the lift become top-heavy and tipped over. The renter fell out, his spinal cord was severed, and he was paralyzed from the chest down. When the claim was investigated, it was discovered that the safety mechanism that prevents the bucket from rising if the outriggers aren't extended had been disabled. Although the renter was partly responsible for his own accident, the rental dealer was also liable for not abiding by federal standards for lift inspection and maintenance (American Rental Association 2005).
Fortunately, the Rental Equipment Register reports that fatality rates on aerial work platforms are in decline. Using statistics from the International Powered Access Federation, the Register reported that in 2014, worldwide rented machines were operated 182.4 million days, with 64 reported fatalities, or a 0.035 fatal injury rate. This is a slight improvement over 2013, where there were 68 fatalities for 168.4 million days of rental operation for a 0.040 fatal injury rate.
One low-cost intervention that helps makes the industry safer and helps drive injury and fatality rates lower, is training.
Course Overview
Working at heights is dangerous. It is imperative that all aerial platform operators receive adequate training to reduce the risk of injury and prevent unsafe operation, the primary cause of aerial platform incidents. Companies lose millions of dollars annually because of the actions of careless or inadequately trained operators.
This online Aerial Platform training course aims to reduce risks related to straight telescoping, articulating, and scissor lift aerial platforms, by teaching the fundamentals of safe operation procedures.
This course was developed to comply with the requirements for theory training as outlined in both CSA standards B354.2 and B354.4 as well as ANSI standards A92.5 and A92.6. The Aerial Platform training addresses the following important topics:
Responsibilities of the operator and employer
The importance of operator manuals and signal words
Required personal protective equipment
Different types of aerial platforms and their components
The machine's stability
Aerial platform attachments and modifications
Walk-around inspection and function test
Operational hazards
Safe start-up, operation, shutdown, and fuelling procedures
Scissor lift components
The course is organized into the following chapters:

Chapter 1: Operator Fundamentals
Chapter 2: Machine Fundamentals
Chapter 3: Pre-operational Inspections
Chapter 4: Safe Operation Guidelines
Chapter 5: Scissor Lifts

Presentation
The course is presented with voiceover narration, and features photographs, videos, animated graphics, and activities to enhance the educational experience.
Resources
A 24-page pdf workbook is available to print and fill out while viewing the online course. The print material is also available after the training is completed and can be downloaded from the account home page.
Aerial Platform - Online Course Topics
Chapter 1: Operator Fundamentals
This chapter begins by describing operator responsibilities, employer responsibilities, and the various manuals operators must read before using their machine. Next, it reviews the various signal words used on the machine to alert operators of the hazards present on the aerial platform. The course then describes the personal protective equipment when working on an aerial platform. Finally, the material describes the components of a fall restraint system and discusses documentation requirements.
Chapter 2: Machine Fundamentals
This chapter covers information about how the machine works. It includes descriptions of straight telescoping and articulating boom supported aerial platform types, as well as their various components and the proper component sequencing. The course reviews important information about the machine, including the maximum platform height and reach, unrestricted and restricted capacity, and rated gradability. It also discusses issues affecting the machine's stability, different types of steering, operating on slopes, attachments and modifications, and safety features.
Chapter 3: Pre-Operational Inspections
Before operating an aerial platform, operators must conduct a full inspection of their machine. This chapter covers the requirements of walk-around inspections and the steps for completing function tests of both ground and platform controls, according to ANSI standards.
Chapter 4: Safe Operation Guidelines
In this chapter operators learn how to avoid damage, injury, and fatality through safe operation of their machine. The chapter begins with safe start-up procedures, including survey of the work area, proper mounting of the machine, and cautions related to working in enclosed spaces. The course then covers safety rules related to operating the machine and platform safety. Next, the chapter reviews common hazards and concludes with shutdown procedures, dismounting, and fueling practices.
Chapter 5: Scissor Lifts
Operating a scissor lift is similar to operating a boom supported aerial platform. This chapter describes the two main types of scissor lifts (manual and powered), and the main functions of the various scissor lift components including the pothole protection device, extension platform, safety prop bar, and auxiliary system.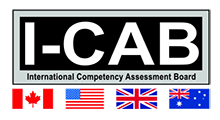 This content developer is recognized by the International Competency Assessment Board (I-CAB) for its expertise in this subject matter and is listed as a competency development resource for I-CAB assessment participants.
This course was created using standards that will allow playback on most internet capable devices with standard web browsing capabilities including Apple's iTouch, iPad, and iPhone, as well as most other smart phones and tablets including those with Android and Windows operating systems.
Duration
Average Completion Time
Completion times vary depending on the number of times the information is viewed prior to finishing the course. The average completion time is 105 minutes.

Testing
Knowledge Assessment
Testing is conducted in this online course to reinforce the information presented. You are provided three opportunities to achieve a passing mark of 80% or greater.

Certificate
Certificate of Completion
Upon successful completion of this course, a certificate will be available to download and print. You can access your certificate through your online account.