Daily Pre-Trip Inspection Training
Daily Pre-Trip
Inspection Training
(NSC Compliant)
Daily Pre-Trip InspectionOnline Training Course
What are NSC Compliant Daily Pre-Trip Inspections?
The use of commercial vehicles brings great responsibility for companies since roads and highways are shared with others. The consequences of an accident can include major property damage, serious injuries, and even lost lives. This online course teaches drivers how to conduct daily pre-trip inspections for vehicles, based on the National Safety Code. The course uses professional videos to demonstrate exactly how inspections must be carried out.
The Canadian Council of Motor Transport Administrators (CCMTA) created the National Safety Code to reduce the fatalities, injuries, and property damage caused by highway accidents. The code is composed of 16 standards, and daily trip inspections for commercial vehicles are covered by NSC Standard 13. By following the code, commercial carriers can operate their fleets legally and safely.
A daily pre-trip inspection is mandatory for any commercial vehicle as defined by the NSC:
A truck, tractor, trailer, or any combination, with a registered gross vehicle weight that exceeds 4,500 kg.
A bus that is designed for passengers, with a capacity of more than 10, including the driver. Buses are not subject to the requirement during personal use.
In the NSC language, an inspector is anyone who can enforce federal or provincial regulations, while the motor carrier is the party responsible for the commercial vehicle – owned or leased.
Get Your Recognized Daily Pre-Trip Inspection Training Certificate Today!
Get your Daily Pre-Trip Inspection Training (NSC Compliant) Certificate in as little as an hour!
Daily Pre-Trip Inspection Training Course Preview

Course Overview
In a few words, the NSC Standard 13 makes inspection mandatory before using any commercial vehicle on a highway. The inspection schedules must be issued by the carrier, and drivers must have them available for inspectors at all times. When no defects are found during an inspection, it must be notified in the report.
Reports must be submitted to the carrier within 20 days, and must then be kept on file for at least 6 months. Major defects should be notified immediately, even if they are detected while driving, and vehicles should not operate until these defects are fixed.
Trucks, tractors, trailers, and buses must be inspected every 24 hours. However, motor coaches must get an additional inspection with special requirements every 12,000 km or every 30 days, whichever happens first.

Under NSC Standard 13, the carrier is responsible for keeping vehicles in good working condition, while keeping an adequate record of issues and repairs. On the other hand, the driver is responsible for a daily inspection and reporting any defects found.
Daily pre-trip inspections are mandatory for all carriers and drivers who operate a commercial vehicle, as defined by the NSC. However, there may be some differences between the vehicle types covered, depending on the jurisdiction.
The main goal of daily pre-trip inspections is finding vehicle issues early, and preventing the use of vehicles that are likely to cause an accident. Vehicle inspection must be a continuous process to be effective since dangerous conditions can develop during a single day. Planned maintenance is still necessary, and pre-trip inspections should be viewed as a complement and not a replacement.

In this online Daily Pre-Trip Inspection Training course, the following topics are covered:

✔ Module 1: Preparing for the Pre Trip Inspection

This module covers how a truck driver should perform a pre trip inspection and includes the necessary safety precautions that should be taken while all vehicle inspections are performed. This module also discusses the National Safety Code (Standard 13) and how it relates to the C.V.S.A. inspection that an enforcement agency may perform.
✔ Module 2: Inspecting the Air Brake System

The focus of this module is how air brakes work and how to properly perform an air brake test. Examples of possible air brake defects, as well as steps to take when a brake problem is identified are also covered.
✔ Module 3: Defects and Major Defects

This module thoroughly covers the inspection items listed on a vehicle inspection form and includes information on potential vehicle defects as well as solutions if those defects are discovered.
✔ Module 4: Performing the Inspection

Building on the concepts learned in the first three modules, the steps for performing a complete vehicle inspection are demonstrated.
The completion time of this course is about 1 hour, which include practical exercises and testing. The passing score is 80%, and participants earn a certificate that can be downloaded. Virtual proctoring may be available for an additional fee.
This Ground Disturbance online course was created using standards that will allow playback on most internet capable devices with standard web browsing capabilities including Apple's iTouch, iPad, and iPhone, as well as most other smart phones and tablets including those with Android and Windows operating systems.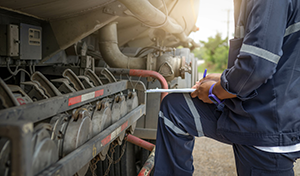 Duration
Average Completion Time
The average completion time is 1 hour. Individual times will vary depending how long is spent on each module.

Testing
Knowledge Assessment
Testing is included to reinforce the training. You are allowed three attempts to achieve a passing mark of 80% or greater.

Certificate
Certificate of Completion
Upon successful completion of this course, a certificate will be safely stored on your account and is available to download & print.