Employee Rewards Software
Recognize & Reward Your Employees With Ease
Remember the feeling you get when somebody congratulates you on a milestone or achievement? Whether it be wishing you a happy birthday, remembering your work anniversary, or simply thanking you for exceptional work, it feels amazing to be recognized by others!

Now, with the help of BIS Training Solutions' new Employee Rewards Program, you can instill that great feeling within every one of your employees with just a few clicks!
Boost productivity
Incentivize exceptional work
Increase workplace satisfaction and happiness
Become one of the nation's top employers
For current BIS customers, setting up your rewards program takes seconds; it's as easy as flipping a switch!

If you are new to the system, we would love to get you started with your own account today!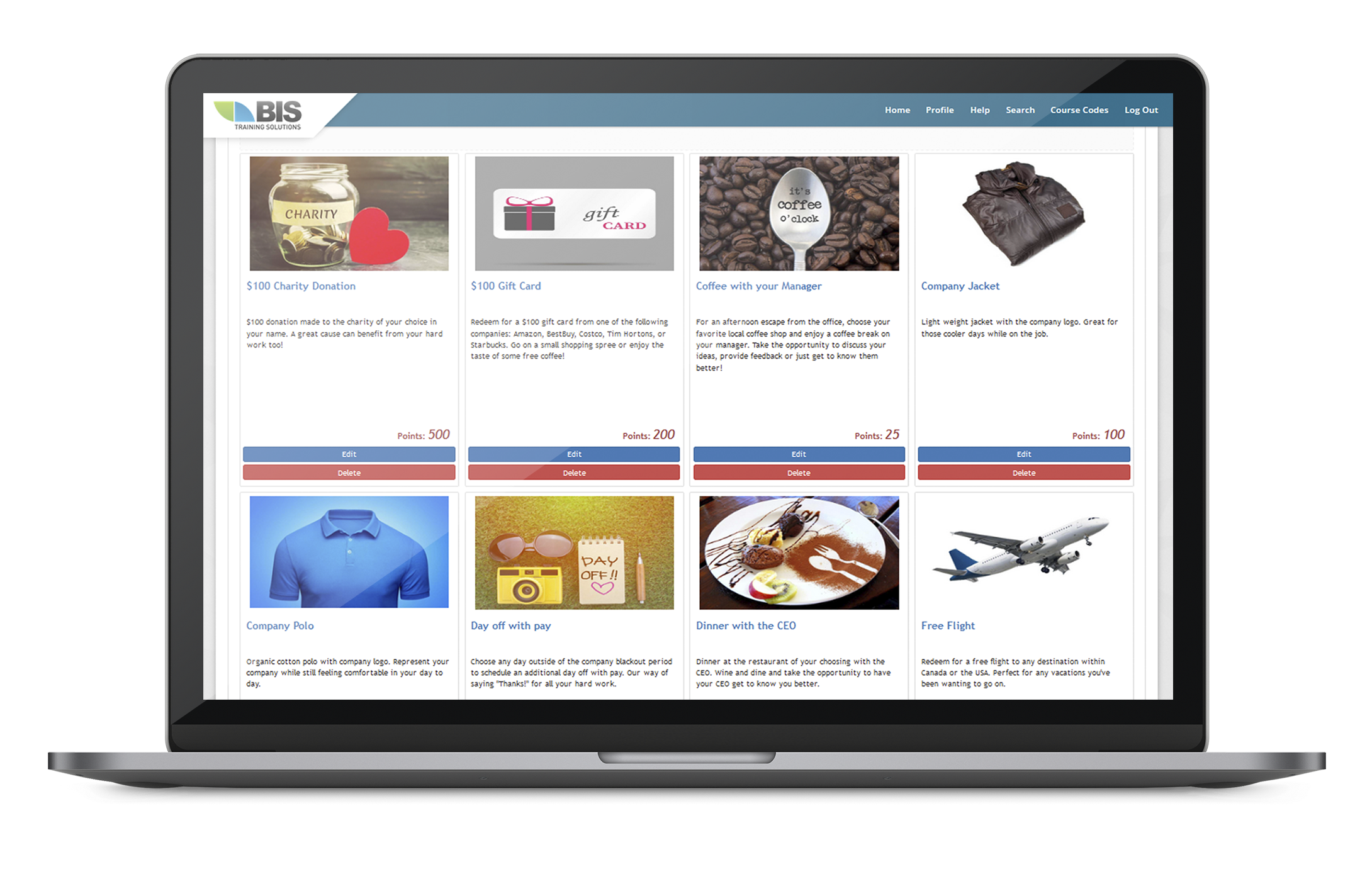 Let your employees know how much you appreciate all their hard work. Set up automatic point allocations in seconds to celebrate birthdays, anniversaries, and holidays, or award points manually to congratulate a team member on achieving a major milestone. Show your team how much you care, and cement your status as a world-class employer!

Employee Birthdays

Recognize every employee's birthday by giving them reward points that can be used toward their choice of gifts! Never forget an employee birthday again!

Work Anniversaries

Wouldn't it be great if you could recognize your employees' five, ten, and twenty-year anniversaries without having to consult your calendar? Show your team you care with extra anniversary reward points.

Major Milestones

Did Sydney in sales just land a new account? Recognize her hard work by giving her extra reward points to mark the occasion.

Holidays

Spread a little extra cheer this holiday season! Whether it's Christmas, Hanukkah, or Kwanzaa, celebrate the days that are important to everyone on your team with bonus reward points!

Gifts and Rewards - Once they have accumulated a certain amount, employees can redeem their reward points in the customizable Product Catalogue for various gifts and rewards. You and your team are in complete control of what gift options are available to your employees.
Demonstrate That You Are A World-Class Employer
The BIS Rewards Program provides the perfect platform for ongoing employee recognition. Set up automatic point allocations in seconds, using the 'Manage Points' feature. Here, you can add automated point events to occur repeatedly on special milestones, such as an employee's birthday, work anniversary, and/or on specific dates, like Christmas or the company's 25-year anniversary. These point events will occur automatically on the dates specified until you deactivate them; just set it and forget it!

Our Employee Reward program also allows you to recognize employees manually whenever they go above and beyond. You can do this by either going into the individual 'Rewards' section of an employee's profile or by using the 'Upload Bulk Points' feature, which is great for recognizing multiple employees at once. Simply download the Point Upload template, fill in the required information, and re-upload the completed template; let our system take care of the rest!
Employees can redeem their rewards points in the 'Product Catalogue' for various gifts and rewards, such as gift cards, movie tickets, company jackets, or even dinner with the CEO!

This product catalogue is fully customizable; add rewards, determine the points required to receive them, and insert images and descriptions of the prizes and rewards, all from within the Product Catalogue feature; the possibilities are only limited by your imagination!
As a current BIS Training customer setting up your rewards program takes seconds, and is as easy as flipping a switch! Simply activate your Reward Tracking System by going to the 'Setup' section under the Admin tab. There, under 'System Modules,' you will find a switch labelled 'Reward Tracking System.' Flipping this switch will enable your reward tracking system, and therefore your rewards program; it's as simple as that!

If you are new to the system we would be happy to get you started with your own account today!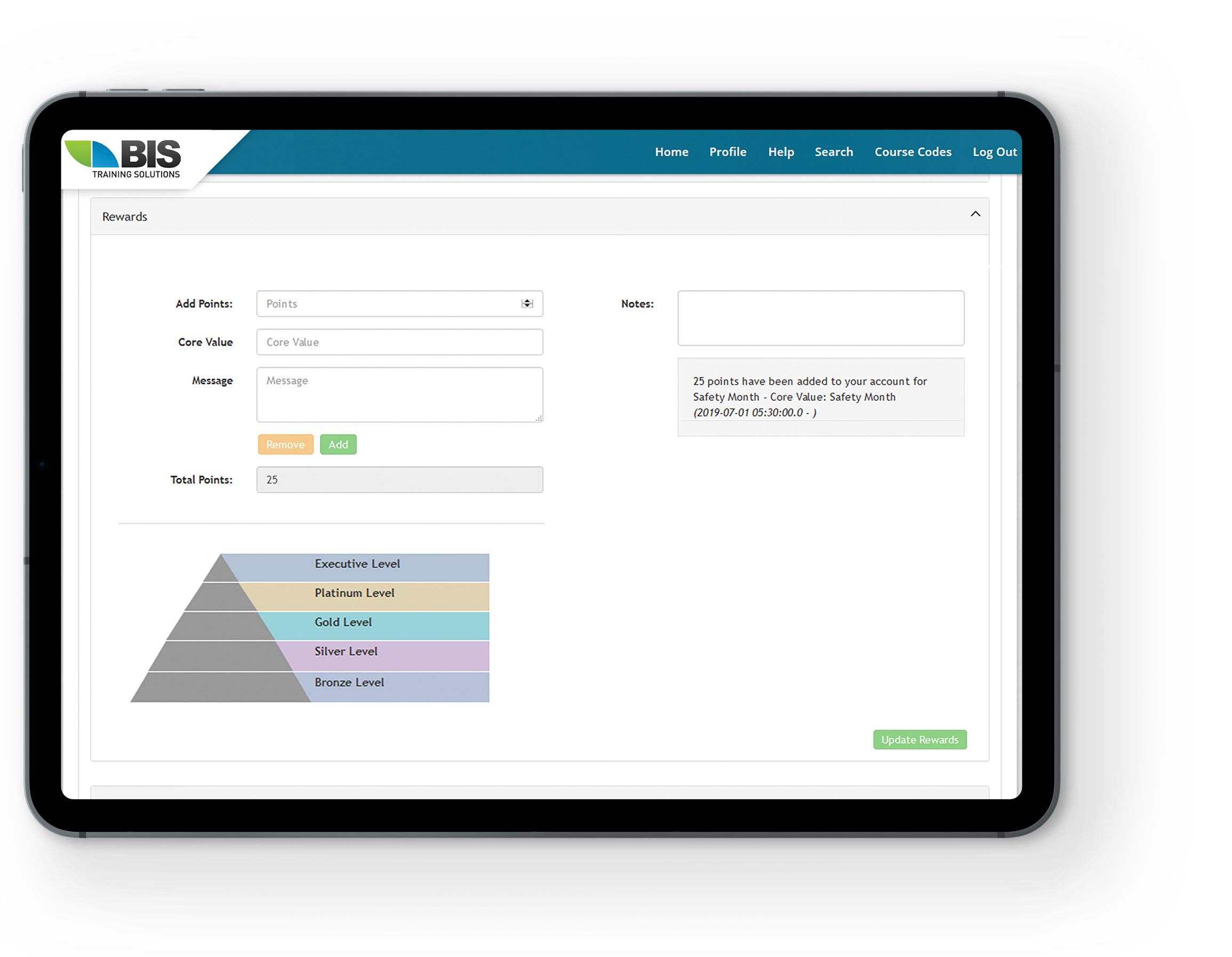 Learn More About the Employee Rewards Feature
Some of the Great Companies Who Use the BIStrainer System
Start Recognizing & Rewarding Your Team
Activate your employee rewards program and start taking advantage of all these great features today!