Cargo Securement Online Course
Earn your Cargo Securement certificate upon successful completion of this course
<iframe width="560″ height="315″ src="https://www.youtube.com/embed/KCYCXglmb78″ title="YouTube video player" frameborder="0″ allow="accelerometer; autoplay; clipboard-write; encrypted-media; gyroscope; picture-in-picture" allowfullscreen></iframe>
Cargo Securement Online
Course Overview
In March 2016, near Nelson, B.C., a dump trunk pulling a flatbed loaded with an excavator takes a turn at too high a speed. The excavator shifts on the flatbed, causing the trailer to flip, blocking both lanes of the highway for about an hour and a half. Thankfully, no one was injured, but the damage to the equipment, as well as the lost time for the commercial driver, the excavator operator, and the miles and miles of drivers backed up on the highway, added up to a considerable loss.
In Calgary, Alberta, crews respond to a ramp on Crowchild Trail at Nose Hill Drive when an oversized load on the back of a flatbed trailer slips, breaking the trailer and blocking traffic for over three hours. The commercial vehicle driver tells emergency personnel he had to brake suddenly when a vehicle cut him off. When he hit the brakes his oversized load, a small building, shifted on the flatbed and bent the trailer, completely disabling it.
The driver of a flatbed truck in South Carolina hangs upside down in his overturned vehicle for three hours when his load of cut two by four lumber shifts as he takes a corner. Emergency crews report it was one of the longest extractions they'd ever done pulling a live patient. Eventually, the driver is pulled to safety through the sleeper cab.
In Campbell County, Virginia, a 44-year-old woman is killed when a log smashes through her windshield. Police said there were no other vehicles at the scene when they responded, but say it's possible the log fell off a truck and the driver did not notice. Several pulp and paper businesses operate in the vicinity.
When cargo or a vehicle part dislodges from a moving vehicle and falls onto the road, it becomes a serious hazard for drivers. Even a small item can be dangerous when it's discharged at highway speed, prompting erratic avoidance maneuvers, and potentially causing a crash (AAA Foundation for Traffic Safety 2004). As in the examples above, sometimes large cargo shifts, slips, or dislodges from the vehicle with catastrophic results.
According to the AAA Foundation for Traffic Safety, vehicle-related road debris (VRRD) that has been unintentionally discharged from vehicles onto the roadway is estimated to cause over 25,000 crashes per year in North America, resulting in approximately 90 fatalities. VRRD is either vehicle parts, such as separated tires, or cargo that has been unintentionally discharged from a vehicle onto the roadway.
One of the best ways to prevent injuries and losses related to VRRD is education and training.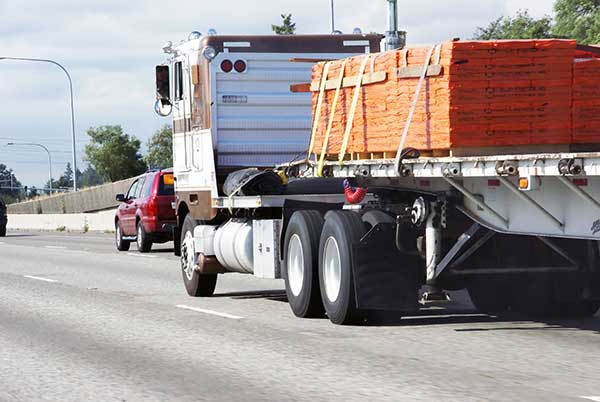 Cargo Securement – It's the Law
In Canada, the National Safety Code Standard 10 details the rules for safely securing loads to commercial vehicles. This standard was created to ensure the safety of drivers, employees, and the motoring public. Carries must ensure that any cargo they carry does not shift, move, or spill onto the roadway (Alberta Government 2014). It outlines the standards which can be adopted by the various Canadian jurisdictions.
The general performance criteria of NSC Standard 10 states:
"Cargo transported by a vehicle shall be contained, immobilized, or secured so that it cannot
Leak, spill, blow off, fall from, fall through or otherwise be dislodged from the vehicle, or
Shift upon or within the vehicle to such an extent that the vehicle's stability or manoeuverability is adversely affected."
According to NSC Standard 10, cargo securement systems must:
Be in proper working order
Be used on the correct type of cargo
Not have any knots, damage, or weakened parts
Not have any cracks or cuts
Be secured in a way that ensures they will not come unfastened while the vehicle operates on a highway
Be able to withstand specified amounts of force in the forward, rearward, sideways, or downward directions

Each province in Canada has additional legislation governing commercial vehicle safety, including cargo securement. For example, Section 17(4)(a) of the Alberta Commercial Vehicle Safety Regulation (AR 121/2009) states that all cargo must be properly secured by a carrier according to the requirements found in the National Safety Code Standard 10.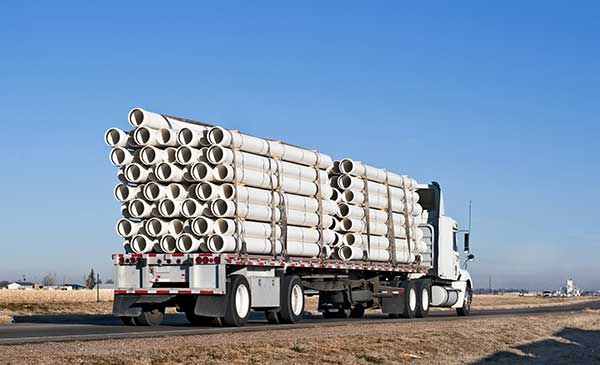 CARGO SECUREMENT ONLINE COURSE OVERVIEW
The Cargo Securement Flatbeds course is an informative and interactive program designed to instruct professional drivers on the procedures and protocols for ensuring that a cargo is properly secured on a flatbed truck.
Everyone who pulls a flatbed for a living knows that properly securing cargo to a flatbed trailer is key to safe and profitable operation. Improperly secured loads can result in damage to the cargo, loss of the load, damage to vehicles and other property, and even serious injury or loss of life.
As a professional flatbed driver, you're responsible for transporting a variety of important cargos on the nation's highways. It is your responsibility to ensure that whatever you're transporting is secured in a way that protects the cargo, the vehicle, and the public. You must also understand the regulations regarding securement, master the techniques for different loads, and recognize the potential hazards related to cargo securement in your everyday work.
This online Cargo Securement Flatbeds course explains valuable ways to prevent load loss, trip delays, increased insurance rates, injury, and damage to cargo, vehicles, and property.
After completing this course, you should be able to:
Explain why cargo securement is important
State what the federal regulations are, and what they mean for drivers and carriers
Understand how cargo securement affects CSA (Compliance, Safety, Accountability) scores
Calculate working load limit and identify what types of tiedowns to use
Explain how to safely load and secure cargo
Describe how to perform required pre-trip and enroute flatbed and cargo inspections
Discuss best practices for securing common commodities
The course is organized into the following sections:
Pre-trip Planning
Pre-trip Responsibilities
Common Commodity Types
Presentation
The course is presented with voiceover narration, and features videos and activities to enhance the educational experience.
Resources
The course material includes a highlight sheet describing the key activities for each section of the program and a copy of the complete course transcript for easy reference.
Complete Course List
CARGO SECUREMENT ONLINE COURSE TOPICS
Section 1: Pre-Trip Planning
Securing a load on your flatbed trailer doesn't begin after cargo's loaded onto the deck. It starts with pre-trip planning. Some key concepts covered in the Pre-Trip Planning section of the course are:
Working load limit (WLL)
Aggregate working load
Indirect and direct tiedowns
Particular focus is given to calculating the aggregate working load limit, and its relationship to the type of tiedowns used for securing the cargo. In this section, you will learn how to make accurate calculations through illustrations, videos, and activities using a tiedown calculator.
Section 2: Pre-Trip Responsibility
In the Pre-Trip Responsibility section, you will learn that your main responsibility is to do what is best and safest for you, your cargo, and others on the road. You'll also learn about:
Section 2: Pre-Trip Responsibility (continued)
Your responsibility to do "walk arounds"
Essential safety precautions
What to look for when watching cargo being loaded
Attaching devices to the flatbed
Using tarps
Pre-Trip inspections
Section 3: Common Commodity Types
This section describes how to secure the five most commonly hauled types of loads:
Heavy equipment
Lumber and building materials
Metal coils
Concrete pipe
Logs
Duration
Average Completion Time
Completion times vary depending on the number of times the information is viewed prior to finishing the course. The average completion time is 90 minutes.

Testing
Knowledge Assessment
Testing is conducted in this online course to reinforce the information presented. You are provided three opportunities to achieve a passing mark of 80% or greater.

Certificate
Certificate of Completion
Upon successful completion of this course, a certificate will be available to download and print. You can access your certificate through your online account.