Hazard Identification, Assessment, and Control
Keep yourself safe and injury-free on the job with strategies for hazard identification, assessment, and control
HAZARD IDENTIFICATION, ASSESSMENT, AND CONTROL ONLINE COURSE OVERVIEW
Actions Speak Louder Than Words
Every day, workers are exposed to a variety of hazards that can result in injury or illness. Many of us are aware of this fact, but do we act like we are?
Methods exist to eliminate and control workplace hazards, yet every day workers put themselves at risk. In 2012, the Workers' Compensation Boards of Canada announced that the number of workplace-related fatalities in Canada was reported at 977, just above the yearly average of 972. Even more staggering, however, is that the number of injuries reported coming in just over 245,000. But these statistics only scratch the surface. Neither of these figures accounts for the thousands of additional workers who are injured or killed from under-reported illnesses and occupational diseases that go unrecognized by the compensation system.
The numbers seem to suggest that—although we know our jobs are hazardous—we are not acting safely. The reality is, however, that a large percentage of the workplace incidents that occur each year are preventable. Hazard identification, assessment, and control are all processes that we can begin to implement in our workplaces to help prevent injuries and fatalities from occurring.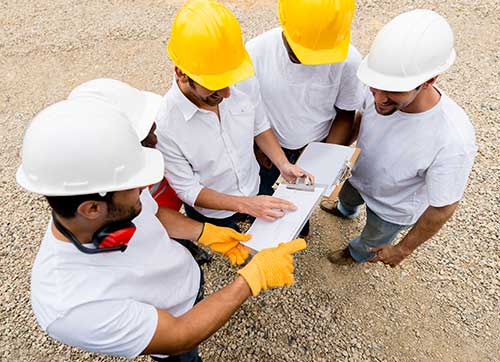 The Challenge
Each work site has its own unique array of hazards that workers and management alike need to be aware of. The challenge is in figuring out how we can prevent, mitigate, and respond to this myriad of hazards?
In most cases, the answer to this question is in hazard assessment. With a little foresight and the time it takes to stop, think, and assess the hazards in front of us, we can discover the hazards in our area, observe their frequency of occurrence, assess the severity of their impact on the work site, and determine which hazards pose the greatest threat to workers.
You may be thinking that that is not as easy as it sounds, and you'd be right. There is a lot to the hazard assessment process. Luckily, there are strategies available to companies that are looking to implement a more structured and effective hazard identification and assessment system. The strategies covered in this online training course will help you overcome the uncertainties and difficulties of establishing a plan for hazard control, including overcoming any erroneous beliefs you or your fellow co-workers may have about incident causation and hazard risk levels.
As we know, it will be challenging to begin implementing hazard identification, assessment, and control in your workplace. However, once you start consistently implementing the strategies and successfully mitigating the hazards, your company will see a number of benefits. These may include improvements in:
The effectiveness of worker training
Hazard awareness and recognition amongst employees
Your organization's risk management standards and safe work practices
Additionally, effective hazard control can help reduce:
Incidents in the workplace
Downtime as a result of incidents
Financial as well as human costs of loss
HAZARD IDENTIFICATION, ASSESSMENT, AND CONTROL ONLINE COURSE OVERVIEW
So now that you understand the importance and benefits of hazard identification and assessment, how do you begin to implement these practices in your workplace? This online Hazard Identification, Assessment, and Control course was designed to help keep you safe on the job by showing you how to prevent injuries and illnesses in the workplace through hazard identification, assessment, and control. After completion of this course, an understanding should be gained of how to:
Assess and re-examine your personal beliefs to ensure they are not hindering your understanding of incident causation and potential solutions
Explain legal requirements for identifying, assessing, and controlling hazards in your work environment
List different types of work-related hazards
Follow a logical process to identify hazards
Prioritize hazards in terms of the risk they pose to workers
Describe control measures that can be used to deal with identified hazards
Explain practical controls that can be applied to your workplace
Audience
The topics covered in this course and the information presented is applicable to workers, contractors, supervisors, and management alike. The information presented is also considered best practice, making it applicable across a number of industries.
Presentation
The course is presented with voice-over narration and features dynamic animations and footage, real-world examples, interactive activities, and review questions to enhance the educational experience. Review questions located throughout the course do not count toward the learner's final mark. These are provided solely for learners to test their understanding of the content as the course progresses.
Resources
A 34-page .pdf participant manual is available to print and reference while completing the online course. These print materials are also available after the training is completed and can be downloaded from your account home page. Your participant manual contains additional reference materials such as a sample inventory task sheet, field level hazard assessment, and hazard identification, assessment, and control worksheet.
HAZARD IDENTIFICATION, ASSESSMENT, AND CONTROL ONLINE COURSE TOPICS
Section 1: Beliefs
When it comes to identifying the cause of incidents, our beliefs play a large role. This section covers the difference between an accident and an incident, causes of injuries and illnesses, and how our beliefs influence our approach to incident prevention.
Section 2: Hazards
It's true that not every hazard will result in immediate injury or illness, but as long as the hazard is present, the potential for an incident exists. This sections covers the definition of a hazard, the difference between acute and chronic hazards, and various hazards types/categories including chemical, ergonomic, and more.
Section 3: Legislation and Regulations
Every province and territory has its own legislation regarding occupational health and safety (OH&S). This section covers the basics of what occupational health and safety legislation requires for hazard assessment, hazard elimination and control, and worker participation in the hazard identification process.
Section 4: Identifying Hazards
Hazard identification is the first step in the three-step process for dealing with hazards. This section covers how to identify hazards within each category and the phases for identifying hazards across an entire organization.
Section 5: Hazard Assessment
Step 2 in the process of addressing hazards is to assess each hazard that you have identified to determine which hazards pose the highest degree of risk to workers. This section covers factors that affect risk perception, the components of risk assessment, and how to evaluate and assign values to risk.
Section 6: Hazard Control
Once hazards have been identified and assessed, the final step is to either eliminate or control the hazards. This section covers hazard elimination and control methods, the hierarchy of controls, and formal and field level hazard assessments.
Duration
Average Completion Time
Completion times vary depending on the number of times the information is viewed prior to finishing the course. The average completion time is 60 minutes.

Testing
Knowledge Assessment
Testing is conducted in this online course to reinforce the information presented. You are provided three opportunities to achieve a passing mark of 80% or greater.

Certificate
Certificate of Completion
Upon successful completion of this course, a certificate will be available to download and print. You can access your certificate through your online account.