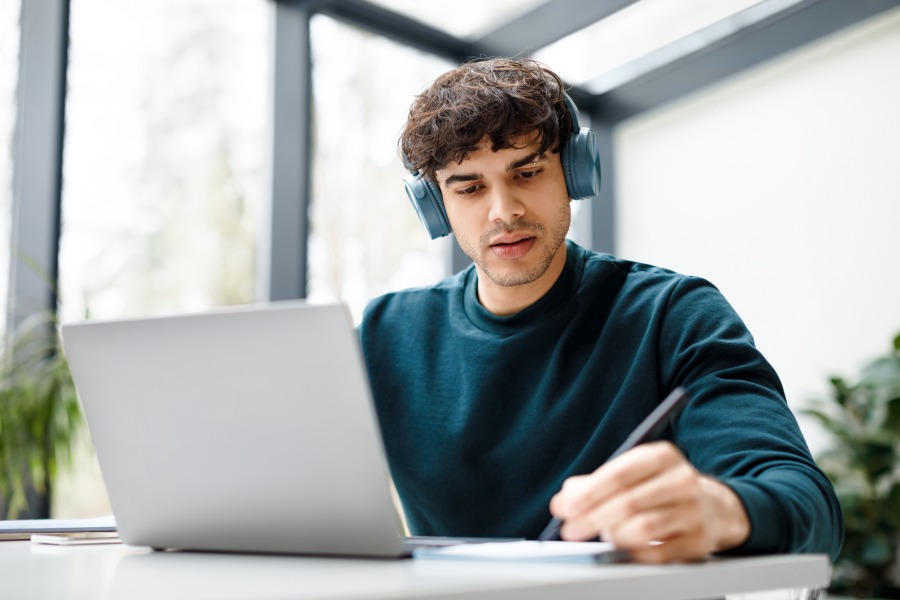 Virtual Proctoring for Online Courses and Remote Learning
What is Virtual Proctoring
Virtual proctoring employs web-based tools to oversee exams and training sessions. Using facial detection and recognition features, this method ensures identity verification and monitors participant engagement, preventing deceptive behaviour. With no need for additional software, it efficiently confirms the integrity of online assessments, providing a reliable solution for the evolving landscape of remote learning.
Privacy in Virtual Proctoring
To safeguard user privacy, Integrity Advocate utilizes Application Program Interface (API) technology to request permission to access the user's webcam for identity verification. At the beginning of each session, users are prompted to present their government-issued photo identification to the webcam. The encrypted image of the identification is stored temporarily and is purged from the database within 24 hours of course completion. This ensures a balance between identity validation and privacy protection.
Save Time and Money
The benefits of virtual proctoring extend beyond identity verification. Converting training sessions and orientations to an online platform allows workers to complete training before arriving on-site. This minimizes productivity loss and eliminates logistical delays associated with traditional training methods. Consider this: one of our industry clients saved millions of dollars by transitioning their project orientation online and integrating our virtual proctoring tool. The potential cost savings are substantial, making it a viable solution for organizations aiming to optimize their training processes.
Ethics Enforcement
Virtual proctoring goes beyond identity verification; it monitors for deceptive behaviour during sessions. Whether it's placing images in front of the camera or attempting to switch participants after ID verification, the software flags such actions. These proactive measures help identify and prevent unethical behaviour before it manifests on-site, fostering a culture of integrity and compliance.

Legal Protection and Due Diligence
Making proctored sessions mandatory for online training provides legal protection by proving compliance with regulatory requirements. In the event of an incident, recorded proof of individual training becomes a powerful defence against potential litigation. This adds an extra layer of due diligence, crucial for Health, Safety, and Environment (HSE) professionals who understand the importance of not just having policies in place but ensuring active engagement through effective training.
Why Virtual Proctoring Matters:
Imagine taking an important test at home, where your cosy study space transforms into a virtual classroom. Virtual Proctoring becomes your superhero, making sure that everyone follows the rules and that your hard work gets the recognition it deserves. It's like having a super-smart assistant who watches over your virtual shoulder, creating a fair and secure environment for learning.
Enhancing Engagement and Preventing Deceptive Behaviors
Virtual proctoring offers a robust set of features to ensure engagement and prevent deceptive behaviours during online sessions. These features go beyond traditional methods by actively monitoring participant activities. As the user's webcam records the session, the software employs sophisticated algorithms to detect any irregularities. Deceptive behaviours such as attempting to use external resources, electronic devices, or headphones are promptly flagged. The system ensures that participants remain focused, actively participating, and adhering to the outlined session rules. The statistics reveal a remarkable success rate, with over 82.8% of sessions proceeding without any issues.
Validation Levels
To guarantee the highest level of integrity, virtual proctoring incorporates multiple validation levels. These range from basic identity confirmation, where participants must submit a government-issued photo ID, to more advanced levels ensuring sole participation, restricted resource usage, and continuous monitoring. The system prevents participants from using multiple monitors, external devices, or any other means to compromise the integrity of the learning environment. These validation levels not only confirm identity but also validate the quality of the learning experience.
Level 1: Identity + Participation

Name and Photo ID Match
Remain in Camera View
Active Participation

Level 2: Identity + Participation

No Other Participants
No External Resources
No Electronic Devices

Level 3: Identity + Sole Participation + Restricted Resources

No Headphones
Screen Monitoring

Level 3+: Identity + Sole Participation + Restricted Resources

Stops Multiple Monitors
Full View of Monitors
These validation levels provide a comprehensive framework for organizations to customize the level of security and engagement required for their specific training needs.

Legal Protection and Due Diligence
The importance of legal protection and due diligence cannot be overstated. By making proctored sessions mandatory for online training, organizations can demonstrate compliance with regulatory requirements. In the event of an incident, having recorded proof of individual participation and completion of required training serves as a powerful defence. This proactive approach not only safeguards against potential litigation but also contributes to the overall safety performance within organizations. Meta-analytical investigations have consistently shown a positive correlation between engagement in safety training and improved safety performance.
The Future of Virtual Proctoring
As industries continue to evolve, so does the landscape of online learning and remote training. Virtual proctoring is not just a solution for the present; it is an integral part of shaping the future of work-based learning. Its adaptability, cost-effectiveness, and ability to ensure the integrity of training make it a cornerstone for organizations navigating the challenges of the modern workplace. In the next segment, we will delve into real-world case studies and explore how organizations across various industries have successfully implemented virtual proctoring to enhance their training programs and achieve unprecedented levels of security and efficiency.
Real-World Success: Case Studies in Virtual Proctoring Implementation
To truly grasp the impact of virtual proctoring, let's delve into real-world case studies where organizations have seamlessly integrated this technology into their training programs, reaping tangible benefits.
Case Study 1: Global Tech Corporation
A global tech corporation, with a diverse and dispersed workforce, faced challenges in ensuring consistent training across its teams. By adopting virtual proctoring, they not only overcame geographical barriers but also achieved substantial cost savings. The corporation reported a 90% reduction in training-related costs and a 75% increase in training completion rates. The validation levels ensured that each participant engaged actively, leading to a more knowledgeable and skilled workforce.
Case Study 2: Healthcare Institution
In the healthcare sector, where compliance and accurate training are paramount, a leading institution implemented virtual proctoring to validate the training of medical professionals. The software's meticulous monitoring identified potential issues during sessions, enabling immediate intervention. This resulted in a 30% decrease in non-compliance incidents and a 95% satisfaction rate among participants who felt more confident in their skills post-training.
Case Study 3: Educational Consortium
An educational consortium comprising multiple institutions sought a solution to streamline online exams and uphold academic integrity. Virtual proctoring not only ensured a secure examination environment but also improved accessibility for students with varying schedules. The consortium reported a 60% reduction in exam-related incidents, providing a reliable assessment platform for students and instructors alike.
Customization and Implementation
These case studies underscore the versatility of virtual proctoring across industries. Tailoring the technology to specific organizational needs and the nature of training programs is key. Whether in a corporate setting, healthcare, or education, the software's adaptability ensures seamless integration.
The Human Touch in a Virtual World
While technology plays a pivotal role in virtual proctoring, it's essential to highlight the human aspect. The software acts as a guardian, ensuring compliance and integrity, but it also allows for personalized interactions. In-built features such as facial recognition technology humanize the online learning experience, providing a sense of connection between instructors and participants.
Looking Ahead: Innovations in Virtual Proctoring
As technology evolves, so does virtual proctoring. Innovations such as AI-driven behavioural analysis promise to further enhance the capabilities of virtual proctoring. These advancements will not only strengthen security measures but also provide valuable insights into participant engagement and learning styles.
Conclusion: Shaping the Future of Online Training
In conclusion, virtual proctoring is not just a solution for the challenges of today; it is a catalyst for shaping the future of online training. Its proven success in diverse industries, coupled with ongoing innovations, positions it as a cornerstone for organizations committed to efficient, secure, and engaging training programs. The implementation of virtual proctoring represents a paradigm shift in how we approach online learning, ensuring that the benefits of flexibility and accessibility are not compromised by concerns about integrity and compliance. As we navigate the ever-changing landscape of work and education, virtual proctoring stands as a reliable guide, providing a secure pathway to knowledge and skill development in the virtual realm.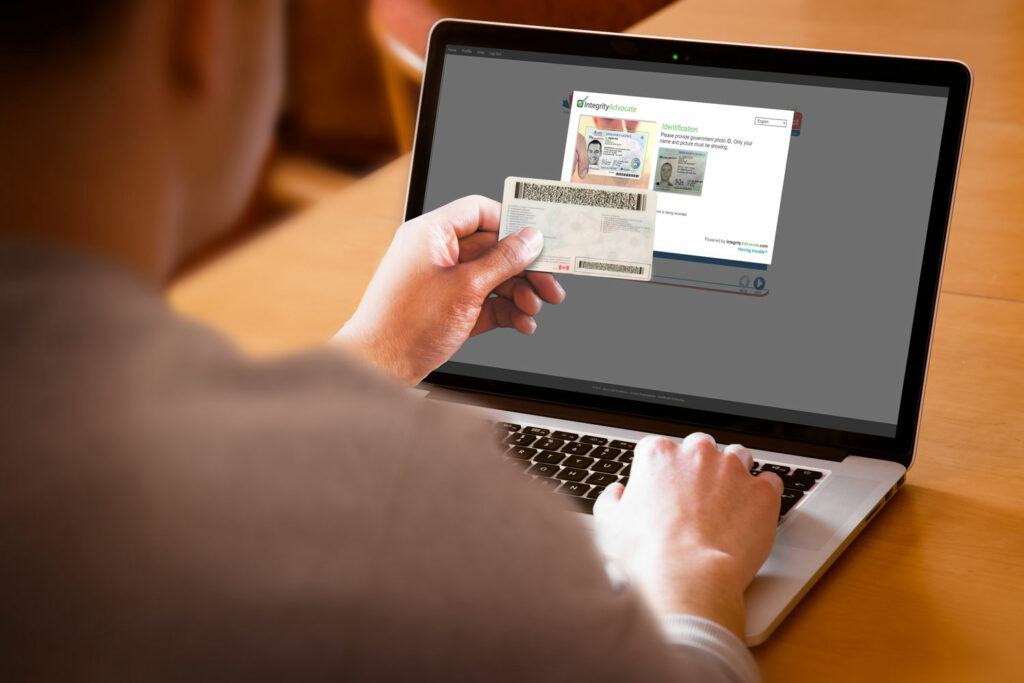 Global Adoption and Emerging Trends in Virtual Proctoring
The success stories of virtual proctoring continue to resonate globally as more industries and educational institutions recognize its transformative potential. In this section, we explore the global adoption of virtual proctoring and the emerging trends that are shaping its future.
Global Adoption
Virtual proctoring has transcended geographical boundaries, finding applications in diverse sectors worldwide. From multinational corporations to small businesses, and from Ivy League institutions to community colleges, the technology has become a staple in ensuring the credibility and security of online training. This widespread adoption is a testament to its effectiveness and adaptability across different contexts.
Education Beyond Borders
In the realm of education, virtual proctoring has facilitated access to quality education beyond traditional constraints. Employees from various parts of the world can now participate in online courses and exams without the need for physical presence. This democratization of education is breaking down barriers and fostering a more inclusive and globally connected learning environment.
Enhanced Security Measures
As cyber threats continue to evolve, so do the security features of virtual proctoring. Advanced encryption algorithms, biometric authentication, and real-time monitoring capabilities are at the forefront of ensuring that the learning environment remains secure and free from external interference. These enhanced security measures not only protect the integrity of assessments but also instil confidence in participants and institutions alike.
User-Centric Innovations
The future of virtual proctoring is increasingly focused on user-centric innovations. User feedback and experiences are driving the development of features that enhance the overall learning experience. From customizable settings to accommodate individual learning preferences to intuitive interfaces that promote ease of use, these innovations are aligning virtual proctoring with the evolving expectations of users.
Integration with Learning Management Systems (LMS)
A notable trend in virtual proctoring is its integration with Learning Management Systems. This seamless integration streamlines the administration of online courses and assessments, providing a centralized platform for both instructors and learners. This convergence of technologies enhances efficiency and data management, contributing to a more streamlined and user-friendly educational experience.
Continuous Improvement through Data Analytics
Virtual proctoring is not just a surveillance tool; it's a rich source of data. The utilization of data analytics allows institutions and organizations to gain insights into participant behavior, engagement patterns, and areas that may need instructional improvement. This data-driven approach enables continuous refinement of online training programs, ensuring they remain dynamic and responsive to the evolving needs of learners.
A Call for Ethical Considerations
As virtual proctoring becomes more ingrained in online education and training, there is a growing call for ethical considerations. Balancing the need for security with respect for privacy is an ongoing conversation. Striking the right balance ensures that the benefits of virtual proctoring are maximized without compromising the rights and comfort of participants.
Conclusion: A Dynamic Future for Virtual Proctoring
In conclusion, virtual proctoring has evolved into a dynamic and indispensable component of online training and education. Its global adoption and the emergence of user-centric innovations signal a future where the technology will continue to play a pivotal role in shaping the landscape of remote learning. As we navigate this dynamic future, it is crucial to remain vigilant, adapting virtual proctoring to not only meet the needs of today but to anticipate and address the challenges and opportunities that tomorrow may bring. By doing so, we can ensure that the benefits of virtual proctoring are harnessed responsibly and ethically, contributing to a world where online learning is secure, accessible, and truly transformative.