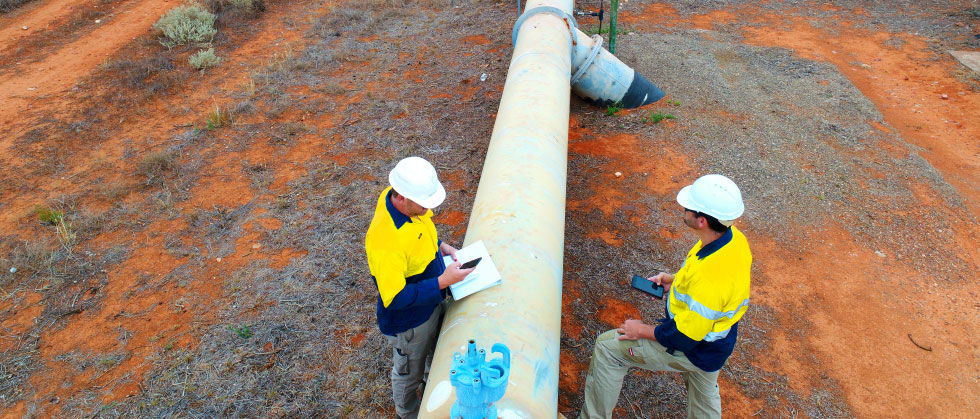 Pipeline Construction Safety
What is Pipeline Construction Safety?
Pipeline construction safety training is designed to increase work site awareness and decrease the chances of incidents and injuries during pipeline construction. It is often a good idea to train even highly trained specialists like welders and riggers so they understand other team members' responsibilities on the job site.
Our general course in particular reviews many aspects of pipeline construction safety giving learners a thorough understanding of the process along with what to expect from other specialists in the area. It is a holistic approach covering: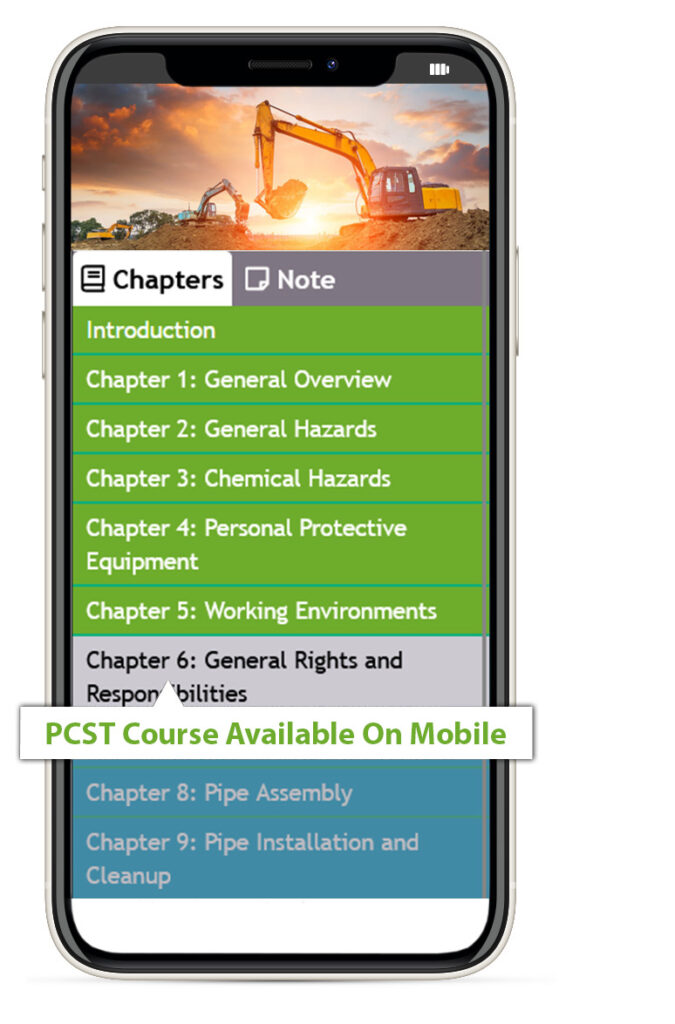 The Pipeline construction safety training (PCST) course can help beginners and specialists alike. It's obvious why it's good for new recruits and labourers, but highly trained specialists also benefit from its teachings due to its overhead approach which gives them insight into everyone's duties. The course looks at all stages of pipeline construction and teaches team members how they're expected to move around the pipeline job site, what to avoid, and even includes workers' rights and responsibilities.

Pipeline Construction Safety Training Chapters:
Chapter 1: General Overview – Lay the Foundation for Pipeline Safety
In the first chapter of our comprehensive pipeline safety course, we provide participants with a solid understanding of all the phases of construction. It serves as a general overview, introducing key concepts and setting the stage for the subsequent chapters. By establishing a strong foundation, the general overview chapter sets the tone for the rest of the pipeline safety course, emphasizing the criticality of adhering to safety protocols in every aspect of pipeline operations.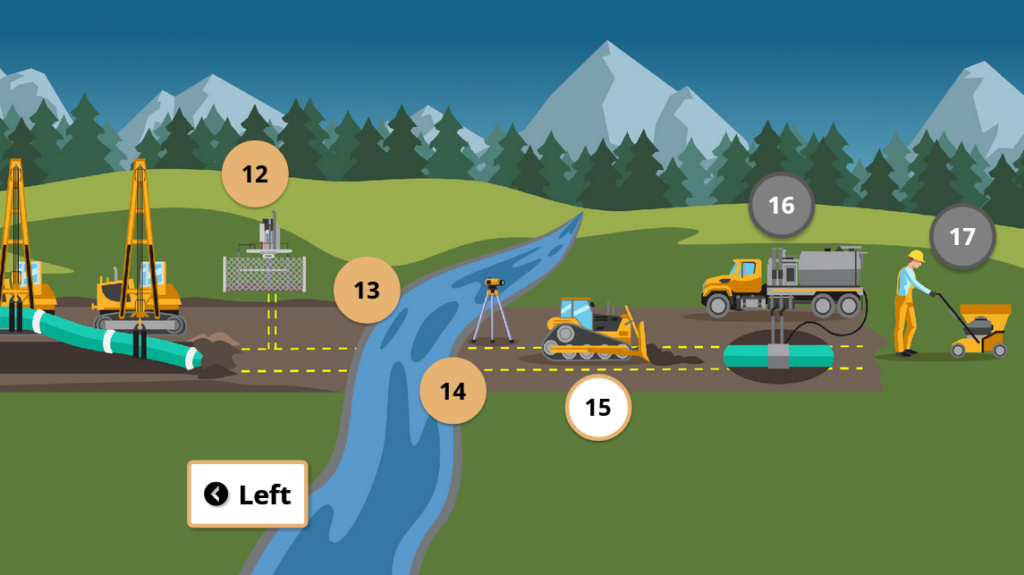 Interactive selection screen for pipeline construction safety training course
Above we can see individual numbers corresponding to the multiple procedures involved in pipeline construction. This interactive part of the chapter helps trainees follow at their own pace and associate the risks and lessons included in each step of construction. Users can click on each number and get a detailed description of the processes involved in pipeline construction.
Chapter 2: General Hazards – Identifying and Mitigating Risks in Pipeline Operations
In this chapter, participants delve into the various general hazards associated with pipeline operations. They learn to identify potential risks such as excavation hazards, confined spaces, and environmental hazards. Through case studies and practical examples, participants develop risk assessment and hazard recognition skills. Emphasis is placed on proactive risk mitigation strategies, emphasizing the importance of preventive measures, safety protocols, and effective communication within a pipeline team. By understanding and addressing these general hazards, participants will be well-equipped to create safer working environments along the pipeline.
Chapter 3: Chemical Hazards – Safeguarding Against Substance-related Risks
Chemical hazards are a significant concern in the pipeline industry. In this chapter, participants gain an in-depth understanding of the various chemical hazards encountered in pipeline operations. They explore topics such as the properties of hazardous substances, safe handling and storage practices, and the importance of proper labelling and documentation. The chapter emphasizes the significance of hazard communication, including the use of Safety Data Sheets (SDS) and proper personal protective equipment (PPE) for chemical-related tasks. By mastering the knowledge and skills related to chemical hazards, participants can mitigate risks and promote a safer work environment throughout the pipeline.
Chapter 4: Personal Protective Equipment – Ensuring Worker Safety
In this chapter, participants learn about the critical role of personal protective equipment (PPE) in safeguarding workers in the pipeline industry. They explore the different types of PPE and their specific applications, as well as the importance of proper selection, usage, and maintenance. The chapter emphasizes the relevance of PPE in preventing injuries and illnesses, with a focus on respiratory protection, eye and face protection, and head protection. There is also an interactive segment about faulting equipment.
Chapter 5: Working Environments – Adapting to Unique Work Conditions
Working environment focuses on the surroundings. Participants dive into the external and ever-changing challenges encountered in the pipeline industry. They explore factors such as extreme weather conditions, remote locations, and the presence of natural and man-made obstacles. The chapter emphasizes the importance of risk assessments and pre-task planning to adapt to different work environments effectively. Participants will learn about hazard control measures, communication strategies, and emergency preparedness specific to each environment.
Chapter 6: General Rights and Responsibilities – Empowering Pipeline Workers
In this chapter, participants gain an understanding of the general rights and responsibilities of pipeline workers. They explore topics such as regulations, workers' rights to a safe workplace, and the responsibility of employers to provide a hazard-free environment. The chapter also highlights the importance of effective communication, reporting incidents, and addressing workplace concerns. By understanding their rights and responsibilities, participants can actively contribute to a safe and compliant work environment, promoting a culture of safety throughout the pipeline.
Chapter 7: Right of Way Preparation – Ensuring Safe and Efficient Pipeline Projects
In the seventh chapter of our pipeline safety course, participants focus on the crucial stage of right-of-way preparation. They learn about the steps involved for clearing, conducting surveys, and assessing potential hazards along the pipeline route. The chapter emphasizes the importance of environmental considerations, such as protected areas and sensitive habitats, and the need to adhere to regulations and local laws. Participants also explore techniques for effective stakeholder communication and engagement to ensure smooth project implementation. By mastering the right-of-way preparation process, participants can contribute to the safe and responsible construction of pipelines.
Chapter 8: Pipeline Assembly – Building the Foundation for Safe Operations
Chapter 8 delves into the critical phase of pipeline assembly. Participants learn about the proper handling, storage, and transportation of pipeline materials and equipment. They explore techniques for inspecting and testing materials to ensure quality and compliance with industry standards. The chapter emphasizes the importance of proper welding procedures, joint integrity, and leak detection during the assembly process. Participants also gain an understanding of safety protocols related to lifting and rigging operations, as well as the correct use of tools and equipment. By mastering pipeline assembly techniques, participants contribute to the creation of a robust and secure pipeline infrastructure.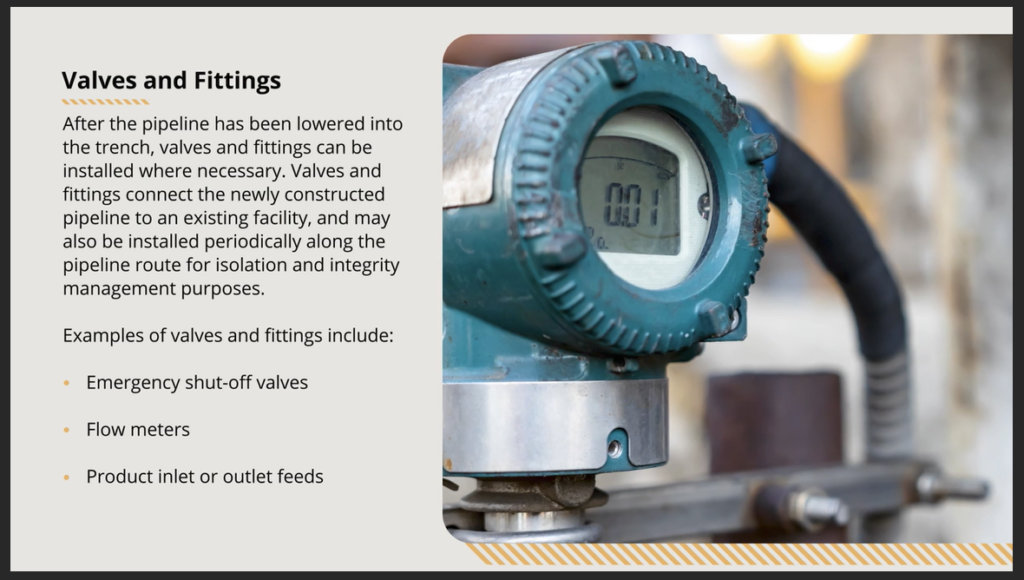 Valves and fitting section, Pipeline Construction Safety Training Course
Chapter 9: Pipe Installation and Cleanup – Maintaining Safety During Operations
In this chapter, participants focus on the safe installation of pipes and the necessary cleanup activities. They learn about excavation procedures, trenching, and backfilling techniques while adhering to proper safety measures. Participants explore the importance of pipe coating and corrosion prevention to ensure the longevity and integrity of the pipeline. The chapter also covers best practices for environmental protection during the installation process, including spill prevention and soil erosion control. By mastering pipe installation and cleanup procedures, participants contribute to the ongoing safety and maintenance of the pipeline infrastructure.
Chapter 10: Incident and Emergency Response – Navigating Crisis Situations
The final chapter of our pipeline safety course addresses the critical aspect of incident and emergency response. Participants learn about the importance of proactive planning and preparedness to effectively handle unexpected events, such as leaks, spills, or natural disasters. They explore emergency response protocols, including evacuation procedures, communication strategies, and coordination with local authorities. The chapter emphasizes the significance of incident reporting, investigation, and continuous improvement to prevent future occurrences. By mastering incident and emergency response protocols, participants become valuable assets in maintaining the safety and integrity of the pipeline system.
Pipeline Safety Training Course Benefits
The pipeline industry presents its own set of challenges that demand specialized safety training. From construction and maintenance to inspection and emergency response, each phase of the pipeline lifecycle requires specific safety considerations. Our pipeline safety course takes a wide approach, covering a range of topics including hazard identification, leak detection, site equipment management, and regulatory compliance.
Practical Training for Real-World Situations:
This course goes beyond theoretical knowledge, emphasizing hands-on training to prepare participants for real-world scenarios. Through interactive simulations and case studies, learners will develop critical thinking skills and learn to apply safety protocols effectively. From assessing potential risks to implementing preventive measures, our aim is to empower professionals with practical tools and strategies that can be immediately implemented in their day-to-day work.
Expert Insights and Best Practices:
This course has drawn key knowledge and lessons from real pipeline professionals. It covers all modern practices and processes from clearing the right of way, to pipe installation and cleanup; participants will gain a comprehensive understanding of industry trends, emerging technologies, and innovative approaches to pipeline safety.
Cultivating a Safety Culture:
Safety is not just a set of rules; it is a mindset that must permeate every level of an organization. Our pipeline safety course emphasizes the importance of fostering a strong safety culture within the pipeline industry. Participants will explore effective communication strategies, teamwork dynamics, and leadership principles that promote a shared responsibility for safety. By cultivating a culture of vigilance, accountability, and continuous improvement, organizations can create safer working environments and protect their most valuable assets—their workforce.
Ongoing Support and Professional Development:
At the conclusion of the course, participants will receive a certification, recognizing their commitment to pipeline safety. This certification will be available both in a printed copy and digitally. Alumni can show their certification when necessary even with their phone on our mobile app Safetapp as opposed to carrying all their credentials in a wallet.
Pipeline Safety Training Conclusion:
Our comprehensive pipeline safety course covers a wide range of topics, ensuring participants are equipped with the knowledge, skills, and mindset necessary to navigate the complexities of the pipeline industry. From understanding general hazards and chemical risks to promoting a safety culture and effectively responding to incidents, this course empowers professionals to uphold the highest standards of safety throughout the pipeline lifecycle. By investing in pipeline safety training, organizations can protect their workforce, minimize environmental impact, and foster a culture of safety that benefits both individuals and communities. Enroll in our pipeline safety course today and be at the forefront of safe and responsible pipeline operations.