Hazard Assessment Training
Earn your Hazard Assessment certificate upon successful completion of this course
HAZARD ASSESSMENT TRAINING ONLINE COURSE OVERVIEW
This online Hazard Assessment course will help participants:
Understand the importance of hazard assessments on the overall performance of health and safety management systems
Understand the hazard assessment process and be able to:

Identify occupational health and safety hazards
Evaluate the identified safety hazards
Prioritize safety hazards according to the risk they pose
Control hazards that are identified
Review and maintain hazard assessments on a regular basis

HAZARD ASSESSMENT TRAINING ONLINE COURSE TOPICS
Hazard identification
Hazard evaluation and prioritization
Hazard control
Review and update of hazard assessments
Types of hazard assessments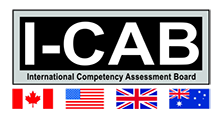 This content developer is recognized by the International Competency Assessment Board (I-CAB) for its expertise in this subject matter and is listed as a competency development resource for I-CAB assessment participants.
Duration
Average Completion Time
Completion times vary depending on the number of times the information is viewed prior to finishing the course. The average completion time is 75 minutes.

Testing
Knowledge Assessment
Testing is conducted in this online course to reinforce the information presented. You are provided three opportunities to achieve a passing mark of 80% or greater.

Certificate
Certificate of Completion
Upon successful completion of this course, a certificate will be available to download and print. You can access your certificate through your online account.