Do I Really Need a Training Matrix?
Training Matrix Software
When you mention an upcoming course, how do employees respond? Are they enthusiastic and eager to learn new skills, or do they see training as "something they have to do"? A negative attitude towards training often comes from repetitive courses that teach topics your team already knows, or by having everyone take a course that is only needed by a single department.
Does this happen in your company? A training matrix can help you assign courses more efficiently, based on what each employee needs to learn.
A training matrix may sound like a high-tech concept, but it's actually very simple. You only need a spreadsheet where each row represents an employee, each column represents a skill, and each cell describes how that skill relates to that employee.
If a skill is not relevant for a job, that cell will be empty. For example, if you have just added a course that deals with heavy equipment operation, there's no point in assigning it to employees with management roles.
If a skill is important for a job, that cell shows if the employee has already taken the required training. If the answer is no, the courses are assigned right away. The training matrix can also tell employees which skills are mandatory, and which are optional.
This sounds easy, right? Setting up a basic training matrix doesn't take long. However, tracking which courses are taken by which employees becomes more difficult as company size grows. In an organization with thousands of employees and many different roles, you could be dealing with millions of cells! However, you can use a Learning Management System (LMS) with an online training matrix to automate the process.
Why Do I Need a Training Matrix?
Managing learning without a training matrix is possible, but ask anyone who has tried, and they will probably say it's a "logistical nightmare". When you have to develop skills for different job positions, a training matrix is the most efficient way to handle the courses needed. The matrix tells you everything you need to know in one screen, and there is no need to check employee profiles one by one.
A training matrix is useful in companies of all sizes. An effective training program helps your company build skills and stand out from the competition, regardless of company size. However, a poorly managed training program becomes a burden, and you could have trouble with audits!
What Are the Benefits of a Training Matrix?
When employees with different roles need a variety of skills, a training matrix is the best solution. You can easily assign the courses that are necessary for each employee, and also those that are nice to have but not mandatory. You can use the training matrix to track progress individually, no matter the number of employees!
Here are the main benefits when using a training matrix in your company:
Tracking Employee Training
Do you need to check training progress for a specific skill? When using a training matrix, you only need a few seconds to know:
Which employees have been assigned a specific course?
Who has already completed it?
Who is currently taking the course?
Who hasn't started yet?
The training matrix keeps a detailed record of everything related to learning and skills in your company. This is especially helpful if you need to show proof of training during an audit!
Convenient
A training matrix combines all the information you need about courses, in a format that is easy to read and understand. Without it, you need to manage training individually for each employee. Your time is wasted, training records are difficult to find and update, and mistakes are much more likely.
Which option do you prefer? Dealing with separate employee profiles and long training checklists, or merging all that information into one user-friendly table?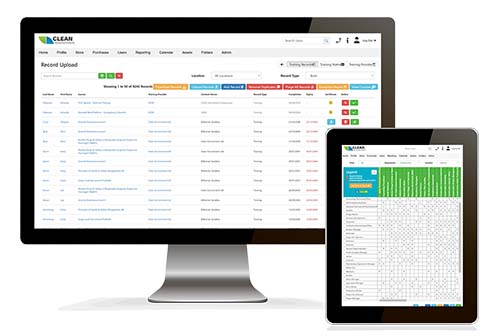 Training Matrix on tablet and desktop
Automation of Training
A company can never say that they have "finished" training its employees. New technologies enter the business world each year, industry regulations are constantly reviewed and updated, and companies have constant turnover. The bottom line is that there are always new skills to learn.
When using an LMS, you can automate course assignments with an online training matrix. Does your company have new hires? The training matrix will automatically assign their onboarding courses. Did the government update OH&S regulations for your industry? Mandatory courses can be added to the LMS and assigned. Did you purchase new equipment that requires specialized training? The training matrix ensures that all operators take the course. Are there training certificates about to expire? The renewal course will be assigned automatically before that happens. These are just a few of the possibilities with a training matrix!
How Do I Start?
Any business can benefit from having a training matrix. However, organizations of various sizes will require different execution tactics. When you have a large crew with many distinct jobs, there might be thousands of course assignments going on at the same time. Using a manually updated spreadsheet can become a full-time job in this instance. An enterprise LMS program like BIStrainer is a much better alternative if this is your circumstance. Simply define the jobs and competencies, as well as the courses associated with each competence, and a training program will be generated in seconds! The first step to keeping your staff safe is to incorporate a training matrix to help coordinate their training.
Training Matrix Software
Learn more about training matrix software and how it can help you better organize your employees' training!