Scandinavian's Award Winning Approach to "Clean"
Scandinavian Building Services is a cleaning service company based out of Edmonton, Alberta. What started as a small, local janitorial company in 1956 has since morphed into one of the largest privately held cleaning companies that offers full-service janitorial and building maintenance services across Canada. Scandinavian operates in a variety of sectors such as commercial retail and construction. They are also responsible for cleaning and maintaining most Canadians sports and recreation arenas. Although they are a well-known company, they consider themselves to be an underdog. As a privately-owned company, Scandinavian has relied on organic growth through high-quality service and attention to detail. They have proven to be a Canadian leader in maintenance and cleaning solutions while providing dependability, quality, and service which has earned them a "spotless reputation".


Scandinavian Building Services is exceptionally proud of their strong company culture which was created in two unique ways:
First, they have what they call the "Scandi-family", which is the belief that everyone from cleaners to executive management is an important and equal part of the team and should be treated with the same respect.
Second, is their Owner-Operator System which is a hybrid of a sub-contractor and a franchisee. Most cleaning services subcontract their services, however; Scandinavian cleaners enter a partnership with Scandinavian. They feel this encourages the cleaners to become truly passionate about their work and provide exceptional cleaning.
Scandinavian attributes their success to their founder and late CEO, Terry Hay. Terry led the company with passion and vision and worked tirelessly to create a culture that was centered around their core values, which are Service, Motivate, Respect, and Connect (SMRC). They are heavily instilled throughout their company culture. Russell Hay, Terry's son, has taken on the leadership role within Scandinavian making it a second-generation family-owned and operated company that he continues to develop. Russell continues to inspire employees and partners with their core values. Scandinavian has also been a platinum member of the Best Managed Companies for the past two years, something all members of the team are very proud of.

Mandi Gosal, Executive Assistant to Russell, explained that without their people they are non-existent.

"The cleaners are the backbone of our company, we are very proud of our people and that is why we are successful".
-Mandi Gosal, Executive Assistant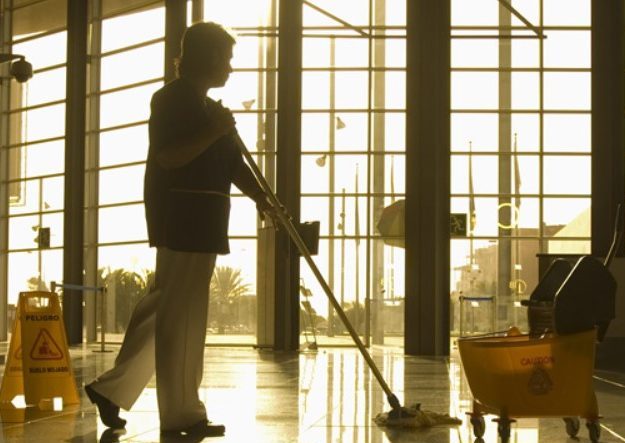 Safety Culture
Scandinavian has a unique way of instilling their safety culture. Mandi explained that they have created their own language and a dictionary of "Scandi" terms. For example, following their protocols and standards to the highest caliber is known as being "Scandi-safe." Creating their own terms is designed to create and maintain a safety culture across the entire workforce.

During the COVID-19 global pandemic, Scandinavian also created a team called the "SMRC Tank" that met daily to ensure they were discussing every conceivable way to keep their employees safe while operating on the front lines. Their dedication to safety and employee well-being is another attribute that has made them a great company.

Safety is critically important at Scandinavian. They have received the Cleaning Industry Management Standards (CIMS) certification, which is the highest and most recognized certification you can receive in the professional cleaning industry. Aside from their certification, Mandi explained that they have an incredibly robust training program catered to their partners, which they call "Scandi-school." The in-house training consists of videos and quizzes that cleaners complete, so they are sure to be trained extensively before arriving on-site, and refresher training is offered frequently to partners to keep everyone up to date.

When new contracts come through, mass Owner-Operator training sessions are attended (prior to COVID-19) by everyone to learn the idiosyncrasies of a new job site and ensure the team is informed about potential hazards. Each month the team has a safety focus created by the executive team which is designed to create awareness for safety trends across the industry. These are a few of the several safety initiatives that Scandinavian takes on to ensure the safety of their staff and their clients.
Scandinavian has continually been able to grow and develop. Their focus is not on becoming the largest or most profitable company, but to provide the best service in the industry at a fair value. With this focus, they have been able to find great success.