4 More Benefits of the Best Equipment Management Systems
Are You Losing Money If You Don't Use It?
Equipment maintenance costs are very high when companies follow a reactive approach and only fix equipment when it breaks down. According to a study published in the Structure and Infrastructure Engineering Journal, preventive maintenance only has 10-30% of the cost of corrective maintenance, offering a benefit-cost ratio of 3.3.

You can implement a preventive maintenance program more easily with equipment management software, and achieve major cost savings. With software, you can manage hundreds of equipment pieces with ease, keeping track of their individual maintenance needs with automatic notifications and digital forms.

Preventive maintenance can also help companies reduce workplace injuries and fatalities since equipment failures often cause accidents. The Association of Workers' Compensation Boards of Canada publishes annual statistics about workplace injuries and fatalities, and there were 1,027 reported fatalities in 2018 (the most recent year with complete data):
157 fatalities were caused by vehicles
29 were caused by machinery
6 were caused by tools, instruments, and equipment
Nonfatal injury statistics were much higher for the same year: 16,872 were caused by vehicles; 10,159 were caused by machinery; and 19,466 were caused by tools, instruments, and equipment. Considering these statistics, keeping company equipment in optimal conditions should be a top priority.

Technology can help you achieve significant cost savings while making workplaces safer. Let's look at four key benefits of equipment management software:
1) Inventory/Part Management
A single piece of equipment can have hundreds of parts, and managing inventory is a challenge in companies with large fleets. Mechanical wear is unavoidable, and part replacements are necessary even for top-quality equipment. Equipment management software can easily track thousands of replacement parts, helping your company keep an optimal stock. Consider that an equipment breakdown is even more disruptive when a critical replacement is missing, and it can delay an entire project. Equipment management software can send automatic reminders when the replacement date of parts is approaching, or when specific parts are missing in your inventory, so you can purchase them in advance. At the same time, you can avoid overstocking and wasting money.
2) Equipment Life and Replacement
Just like replacement parts, the equipment itself also has a finite service life. With software, you can keep track of mileage and years of service for each piece of equipment. This information is useful for planning new equipment purchases, and also when you need to decide between repairing or replacing machinery.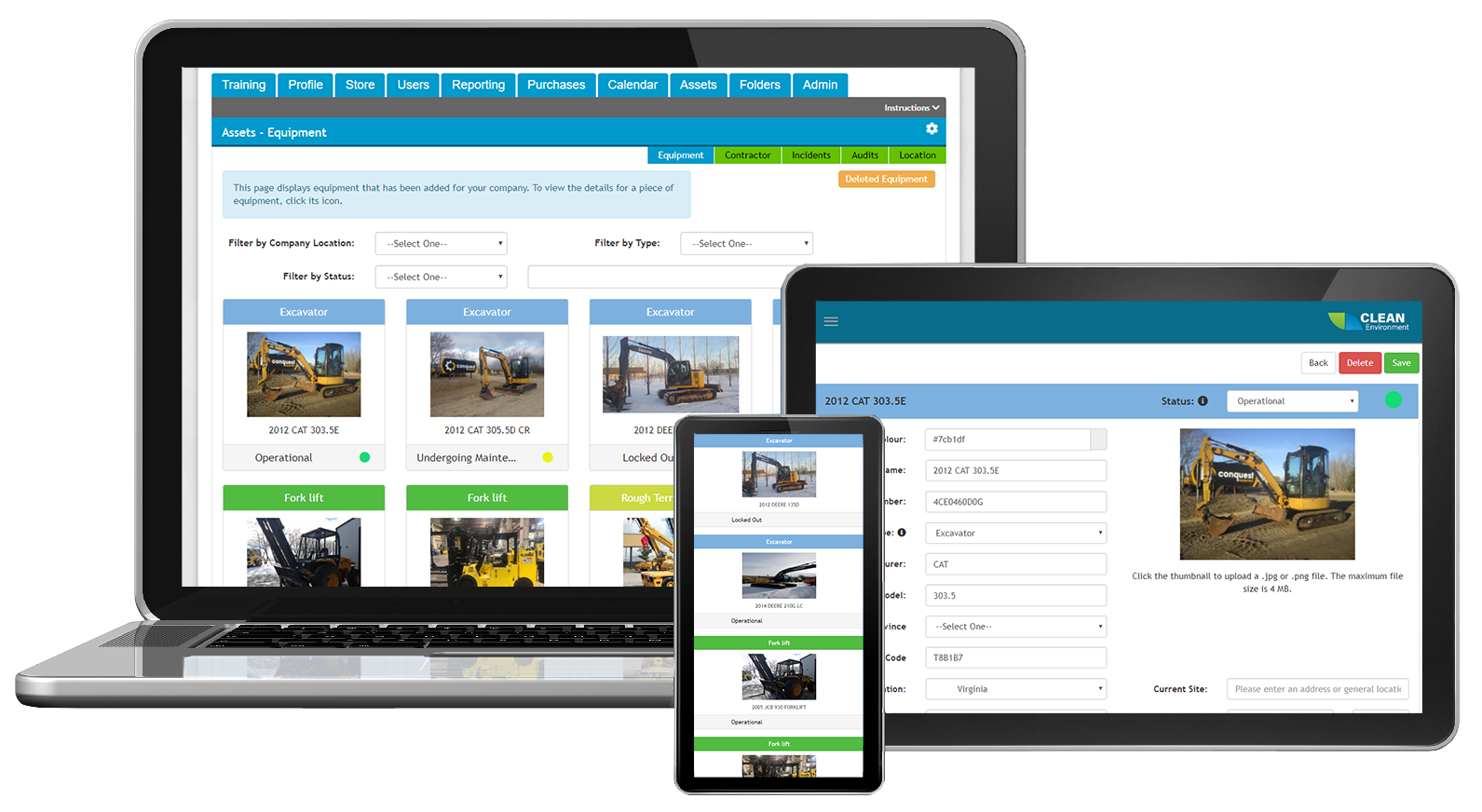 For example, if an equipment piece needs an expensive repair near the end of its service life, a complete replacement may be a better option. On the other hand, major repairs make more sense when the equipment is relatively new. These decisions are only possible with the correct information and the service life of individual equipment is not always evident when managing a large fleet.

3) Preventative Maintenance
In simple words, preventative maintenance means servicing equipment even when it works correctly, avoiding expensive breakdowns and potential accidents. As mentioned above, preventive maintenance only has a fraction of the cost of corrective maintenance. According to a study by Jones Lang LaSalle and The Association for Packaging and Processing Technologies (PMMI), the return on investment of preventive maintenance is up to 545%. Companies can spend over five times more when they allow an equipment breakdown. Preventive maintenance also extends the service life of assets, and companies can defer the capital expenses that come with replacements. Equipment management software can send automatic notifications when maintenance tasks are due, ensuring that all units are serviced.

4) Centralized Data and Information
Printed documents have many disadvantages: they use plenty of space, they can be difficult to find, and they can become illegible if damaged. However, all these issues are eliminated with digital documents. They are stored in a cloud database instead of large archives, they can be found within seconds from a mobile device, and they cannot be damaged physically. As a result, digital documents save office space and administartive time. Your management personnel will use less time dealing with files, and they can concentrate on productive tasks. Human error is also minimized, since a computer can check if the information in a digital form is complete and makes sense. Digitalization is especially useful in highly regulated industries, since reports for inspectors can be generated automatically.
Conclusion
Equipment management software offers many types of cost savings for organizations, especially those with large fleets. First of all, software can help companies avoid equipment breakdowns, expensive repairs and accidents. An application can track the maintenance needs of hundreds or even thousands of equipment pieces, sending automatic reminders for regular service or part replacements. There are also administrative savings when a company uses equipment management software. Repetitive and tedious tasks like classifying files are performed automatically by a computer in seconds, while a manual classification would probably take many hours. Using equipment management software has countless benefits that can be extremely advantageous for your organization!