5 Tips to Pick the Best Online Training Record Management System in 2020
Managing training records for your employees is by no means a new concept. Industry standards and regulatory bodies mean it is not even optional for many firms. You need to be able to demonstrate regularly that your employees are appropriately trained and certified. Traditionally, these sorts of records were maintained on spreadsheets. But keeping track of your employees' training via Excel comes with some serious flaws – mistakes are easy to make but difficult to spot after the fact and keeping track of training needs is a laborious and time-consuming task. Employing the use of a Training Record Management System (TRMS) can take the pain out of staying on top of training. Here we take a look at 5 of the most important factors that distinguish the best online training record management software of 2020.
1. Intuitive and Efficient Automation
Top-notch automation is one of the most important features of any Training Record Management System or Learning Management Software. It takes away the stress of having to set manual reminders – something which far too often leads to important tasks being overlooked. By incorporating a training record management system with intuitive and efficient automation to handle your training records, you'll reduce the chances of this happening. Look for a training record management system that can schedule reports to be generated automatically at specific intervals – for example, weekly or monthly – so that the relevant people are regularly and consistently kept up-to-date. It should also be able to automatically assign training to an employee when their existing training record expires to avoid lapses in certifications.
2. Detailed Reports
A good Training Record Management System will include a detailed reporting function. This will notify your managers and supervisors of expirations that are coming up so that they can ensure the necessary training is completed. You can also schedule custom reports to keep the relevant members of your team appraised on the specifics that matter to you. Gap analysis reporting allows you to follow up on training that has been assigned to your employees to make sure that it has been completed. It identifies anyone who is behind with their training needs, generating a report with their details and the training that they need to carry out.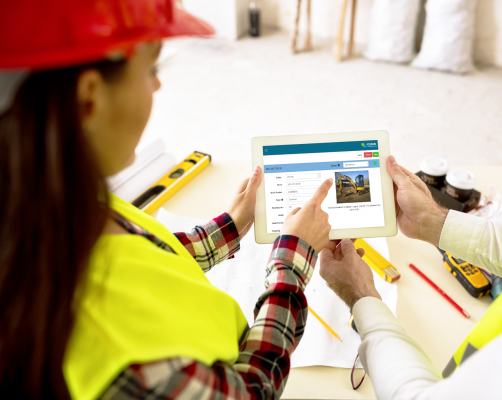 3. Robust Training Matrix
A solid training matrix allows you to customize the training for each role in your firm. You can draw up a list of all the individual roles – for example, construction worker, driver, forklift operator – and then list the training topics required for each one. The system will then generate a training matrix automatically for the whole company. Regulations and laws vary from one locality to another – a good Training Record Management System will allow training requirements to be customized by location. You can also specify the accepted training providers and format for each training topic. Not only does a training matrix help identify gaps in the training of existing employees, it means that when a new hire joins the company, you just need to add their role and location to the system and the required training will be automatically generated. This is hugely time-saving compared to drawing up a manual training plan – and also ensures nothing slips through the cracks.
4. Mass Uploads
The best online training record management software of 2020 allows for quick and easy mass uploads, saving hours and hours of tedious manual data entry work. You can create hundreds of users and import thousands of training records and certificates directly to the system by uploading Excel files. This is a quick and easy process that is usually completed within minutes. Once uploaded, you can then easily locate and sort records by various fields, such as name, training course, or expiration date. Images of certificates can be imported easily by dragging and dropping the image directly to the record.
5. Free Trial
Signing up for a TRMS – or switching from one to another – is a big decision. Therefore, it's important that you have the chance to test drive the software to see whether it's right for your company. A top-quality TRMS provider will always offer a free trial or demo account so that you can get a feel for the features outlined above. If a provider does not offer this option as standard – or is reluctant to agree to it – then this is a definite red flag. Reputable software companies are happy to let you try out their systems before you make the leap – so be sure to take them up on it.
A Training Record Management System can transform the way you handle and manage your training records immeasurably. It allows you to gather all of the necessary data and certificates in one place where everything can be easily located and cross-referenced. You no longer have to worry about remembering to assign training or letting certifications lapse as the system will take control of the whole process including scheduled custom reports to keep everyone in the loop. It's important, however, that you choose the right TRMS for your company, so take advantage of free trials to find out which one works best for you.