5 Workplace Safety Myths
Safety Myths
What keeps companies from having safer workplaces? We probably can agree that OH&S regulations can be complex and managing safety documents can be confusing at first. Many companies still have the wrong idea about safety, which doesn't let them improve. If you want to implement a new safety program with success, the first step is getting rid of safety myths and misconceptions.
The concept of workplace safety didn't exist a few centuries ago, and workers were simply expected to stay safe without help. However, the Industrial Revolution created many new workplaces in a short time, and some were very dangerous! Governments recognized the need to protect workers with legislation, and the 1884 Ontario Factories Act was the first of many safety regulations in Canada.
Have you heard comments like "safety is too expensive" or "regulations are a waste of time"? Anyone who thinks like that probably hasn't dealt with major accidents. Accidents consume a company's time and resources, and they often cause crippling injuries and fatalities. A safe workplace makes employees more productive and helps companies avoid hefty expenses and legal consequences.
When it comes to safety, there is no magic solution, and each company requires a unique approach. However, preventing accidents is easier when you have adequate training and maintenance programs, and software systems to keep track. The first step to changing your safety program and mindset is being aware of and changing your viewpoint on these common safety misconceptions.
Safety Myth #1: Accidents Are Unavoidable
What do your employees think about accidents at work? Are accidents viewed as something they can control, or an unavoidable risk? Some accidents are truly unavoidable, since they give no warning signs and they happen even in the safest companies. However, many accidents can be prevented by following a safety program. Employees should always be on the lookout for hazards, identifying and reporting them or whenever possible, eliminating them completely. This can be done by daily hazard assessments, adequate PPE, and general awareness.
You can't have a safer workplace if employees believe they can't do anything about accidents. A well-designed safety program and ample training can help them feel in control; and your employees will also be better prepared for those rare accidents that are unavoidable.
Safety Myth #2: Safety Costs Too Much Money
Yes, being safe costs money. But let's remove the words "too much". Safety may seem expensive until you deal with a major accident, which makes safety costs seem like pocket change in comparison. In fact, there have been several industry studies that compare safety costs vs. accident costs, and the numbers speak for themselves:
University of Wolverhampton (UK): Every £1 invested in workplace safety saves £3 in accident costs.
US National Safety Council: Every $1 invested in prevention saves $2 in accidents, according to 60% of CFOs surveyed.
European Commission: The benefit-cost ratio of accident prevention is up to 2.18.
Saying that a major accident can bankrupt a company is not an exaggeration. There are not only material losses, but also disabling injuries and potential casualties. Consider all the expenses a company deals with after a serious accident: emergency medical attention, WCB claims, potential lawsuits and fines, shutdowns, etc. Investing in employee training and safety programs are far less expensive when looking at the bigger picture.
Safety Myth #3: Minor Incidents Don't Need to be Recorded
All incidents matter, even small ones where nobody gets hurt. Near misses and minor accidents are often warning signs of hidden issues, and they give you an opportunity to react before a major accident occurs. However, minor incidents often go unreported, and there can be several reasons:
Employees may hide near misses and minor incidents because they're afraid of being blamed, or even losing their job.
There are poorly-designed safety programs that only focus on the numbers, instead of actually solving problems. Employees may hide small accidents to make the numbers look better in their department.
Employees may not understand the importance of small incidents and think reporting them is just a waste of time.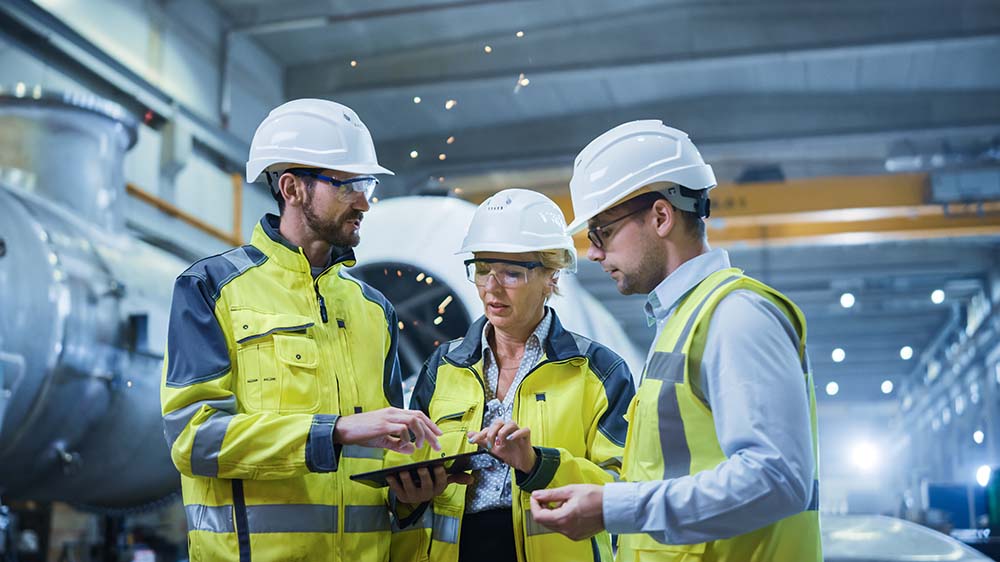 Construction team reviewing safety program.
Regardless of the exact cause, you have a communication problem if minor incidents are not being reported. This is valuable information that can be used to improve your safety program, and fix underlying issues before they cause serious accidents.
Myth #4: We Don't Need a Designated Health and Safety System
Some companies recognize the importance of safety, but they believe a safety program is not worth the time and effort. However, to improve workplace safety, first you must know where your company is currently standing. For example, managers may believe that a workplace is safe, but the reality is that nothing gets reported.
A safety program should improve constantly to keep up with changing regulations and emerging technologies. Industries are always changing, and what works today will not necessarily work in the future. Your safety program ensures that new and old employees get the training and tools required to stay safe.
Myth #5: Safety is Boring
Any topic can be boring, it is dependant on how you approach it. When a company has endless forms that are printed and scanned every day, we can't blame employees for thinking that safety is boring and redundant. The same could be said of a "safety course" that is a 100-slide presentation filled with OH&S regulation text. However, safety can also be fun and interesting with the right approach.
Instead of saturating your employees with text-filled slides, you can use interactive courses. And instead of filling out the same paperwork everyday, find a digital software that streamlines the process for easier and quicker completion. For example, an inspection form can simply be filled from a smartphone, with no printing and scanning required.
Conclusion
You can design an excellent safety program but putting it into action is difficult if employees have the wrong picture of safety. For example, employees who believe that accidents are unavoidable may think that safety programs are useless, since accidents will happen anyway. Safety is often regarded as a boring and rigid topic, but you can make it fun and interesting with the help of technology and interactive courses.
Companies should adjust their view point that safety is an expense with no ROI. Actually, safety can be considered a lucrative investment when the costs you assume are much lower than the accident costs you avoid.
Employees need to understand that a safety program is there to help them, not to make their job harder. Reporting all incidents is important, no matter how small, since this helps prevent the larger accidents while improving constantly. By increasing the knowledge around all the benefits of safety,
Incident Management System
In the event there is an accident, how you deal with it after is how you prevent it from occurring in the future. A strong incident management system can help!