6 Features of the Best LMS
Ask any business leader and they will tell you – having a well-trained workforce leads to a more productive organization. Which is why finding the best LMS should be a top priority for every company. What is an LMS? A Learning Management System is software used to create, deliver, and track online courses and training programs.
Of course, not all LMS systems are created equal. In most cases, Learning Management Systems are used to deliver training programs to employees. This helps ensure they stay informed of safety protocols, while any required certifications are kept up to date. The obvious result is a decrease in injuries and fatalities. However, a recent Linkedin study found that it also contributes to employee retention – a wonderful side effect!
When looking for the best LMS software for your company, here are six features you need to consider:
1) Reporting and Analytics
One of the most powerful components of great LMS software is its ability to deliver quality reporting and analytics. To determine if your training program is being effective, you need measurable results. Tracking progress can be difficult in large organizations, especially when there are hundreds of employees spread out over various offices, multiple cities, or different countries. The best LMS programs include advanced reporting and analytics functions, which provide a clear picture of a companies' health and safety in real-time.
A powerful LMS can be used to track training for individual employees, groups of employees based on job types, or employees in a specific location. It can assign specific training courses to the relevant people and can track their progress through the courses. When certifications need to be renewed, a strong LMS system can automatically notify the employee as well as the manager. For any organization, large or small, this tracking function is a massive timesaver.
When an LMS is used to generate reports, you can keep on top of training to ensure employees do not have expired certificates and prevent employees from missing required training that could help prevent injuries. Need to identify areas of weakness in your training? Track upcoming certificate expirations? This is where strong reporting and analytics truly shine.
2) A Training Matrix
A training matrix is a great tool for taking the administrative work out of your training program. It's also great for auto-assigning the training to new employees, as well as employees who get promoted or change roles. With a training matrix, you can upload unique company roles and training topics, set the training requirements and courses, and assign them to thousands of employees at once based on the role they have within the company.
Have employees at different job sites or office locations who may need different location-based training? A training matrix worth its salt should be customizable to distribute that exact location-based training to the very people working at those locations. The best learning management systems on the market will include a training matrix that is integrated fully with their training software, so keep an eye out for it when reviewing different LMS options.
3) Secure Exam Engine
Exams are an important aspect of training as they determine if course content is truly being converted into knowledge. Depending on the industry, exams can also be considered a safety feature, since they help you determine who is ready for a task that involves risks. And you can review the results of these tests on a global basis to determine specific areas where the training has been successful, and areas that need improvement.
A robust LMS system will also offer a secure and reliable exam engine. Some of the best systems will allow you to add short or long-answer questions that can be a valuable addition to multiple-choice questions to get a better feel for whether the information has been retained.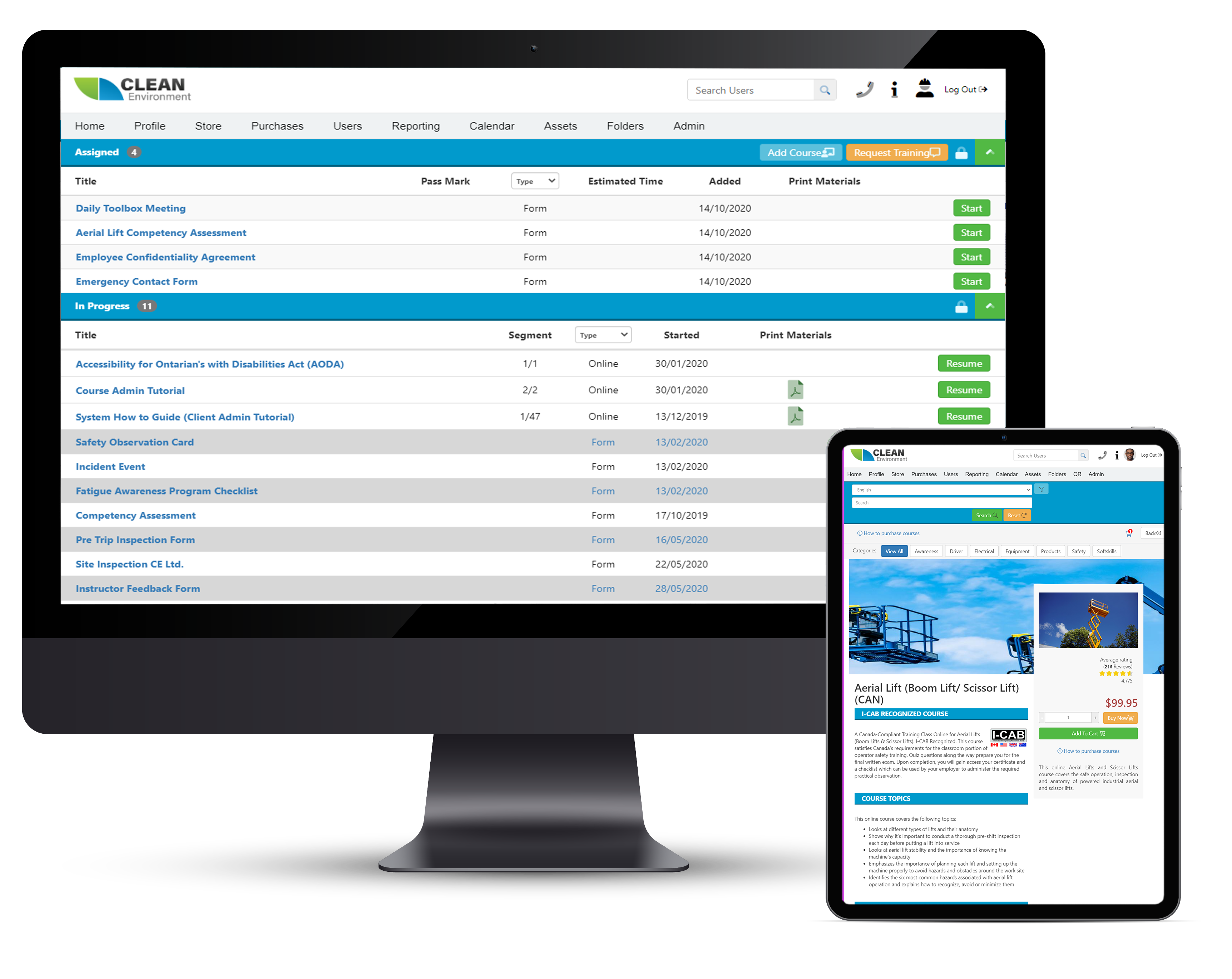 4) Certificate Generator
Training certificates can be created for every successful course completion, allowing employees to provide proof they are qualified for specific roles or tasks. In a great LMS, a certificate generator can automatically send a certificate directly to the employee once their training is finished. The certificates should have a unique course ID and image and should be available for employees to download directly to their mobile devices or to print out as a hard copy. The top LMS programs will also add QR codes to certificates so you can scan them for additional information. Having a built-in certificate generator can streamline operations for both employers and employees.
5) Document Uploader
Scanning and uploading documents manually is a repetitive and time-consuming task, and documents may lose readability and compatibility in the process. Choose LMS software with document uploading capabilities, as this makes the process automatic while conserving quality and formatting. This is especially helpful when many employees have completed training and individual certificates must be generated and stored.
An LMS with an automatic document uploader also eliminates the need for printed documents and the associated paperwork. No more searching through stacks of papers when specific files are required since the LMS can find and open them within seconds. Store documents in the cloud for easy accessibility, and never misplace a written report again!
6) Virtual Proctoring
A common complaint with online learning involves maintaining the integrity of both the course delivery and the testing environment. Put more plainly – how do you prevent a student from playing on their phone instead of watching the course or stopping them from cheating on an exam?
A robust LMS program has the answer to this concern – Remote Proctoring. Remote proctoring, or Virtual Proctoring , uses a combination of a government-issued ID and biometric software to ensure the correct person is taking the course or exam, and that they are engaged and paying attention throughout.
The only time a human will view the video is if the system flags the account because the student was not present, not paying attention, or attempted to let someone else take the course or exam for them. Virtual proctoring can help eliminate cheating, ensuring the exam taker is working from their own knowledge and without assistance from others.
Remote proctoring may be necessary for courses or exams that cover critical safety topics, where even slight errors can lead to fatal accidents. It may also be necessary to receive certificates from external parties, who want to ensure that anyone getting the certificate has full knowledge about the topic, such as a LEED Green Associate certification.
The Value of Choosing a Great LMS System
There are many types of Learning Management Systems, ranging from basic platforms designed for lite users to advanced systems for large corporations. However, the features above are some of the most valuable that you can have in LMS software – they help your company convert courses into useful knowledge and skills.
In the end, decide which components are the most valuable to your company, and choose the best Learning Management System based on these needs. When the education and safety of your employees is paramount to your organizational success, it's worth investing in a truly robust system.