Training Management Software
A company with well-trained employees will be more productive and competitive and the risk of workplace accidents is greatly reduced. Depending on the industry sector and job position, training may be necessary on an ongoing basis to keep up with regulations. Training software can help companies track their courses and learning requirements more easily while creating a customized program for each employee.

Training management software makes compliance simpler; safety documents like training certificates and licenses are stored in digital format and any information required by an OHS officer can be found in an instant. The software can keep the training records of each employee, displaying the current completed courses and active certificates. This is especially useful in heavy industries like construction and mining, where workplace hazards are more abundant and regulations are very strict.

If your company is looking for training management software, the following are five important features to look for:
Automation, to reduce administrative tasks
Mass uploading functions
Free trial opportunities
Mobile device compatibility
Detailed reports
Below, we will discuss how each of these features benefits your organization.
1) Automation
Ideally, your employees should be able to focus on training instead of wasting time and effort to manage the process. Training software can automate several tasks, saving valuable time for your employees. For example, documents can be digitized to reduce paperwork, and the software can track the expiration dates of training certificates. Automation can motivate employees to learn more since they are not bothered by tedious tasks. For example, there is no need to print forms and fill them out by hand or to search for specific documents in a stack of folders. Training software can even assign courses automatically, based on the roles of each employee and previous training received.
2) Mass Upload
File uploading and data entry can consume plenty of time when carried out manually. Large companies may even need to hire full-time employees for administrative jobs unless they use software that is capable of mass uploading. Documentation requirements increase along with headcount, and a large corporation can generate thousands of new training records in a short time. Training management software should have the ability to pull large amounts of records from an Excel spreadsheet or an existing database. Otherwise, many hours of data entry may be required to update information and employee profiles. Software can accomplish this within seconds, while sparing employees for tedious work and eliminating human error.
3) Free Trial
Before purchasing a software, you will want to try its main functions and decide if it meet the needs of your company. Having a free trial is a sign that the software provider feels confident about the product. You should be careful when choosing software; some options can seem like an excellent deal, but they may come with hidden charges. The basic version of the software may be offered at a low price, but you must then pay higher prices to unlock important functions.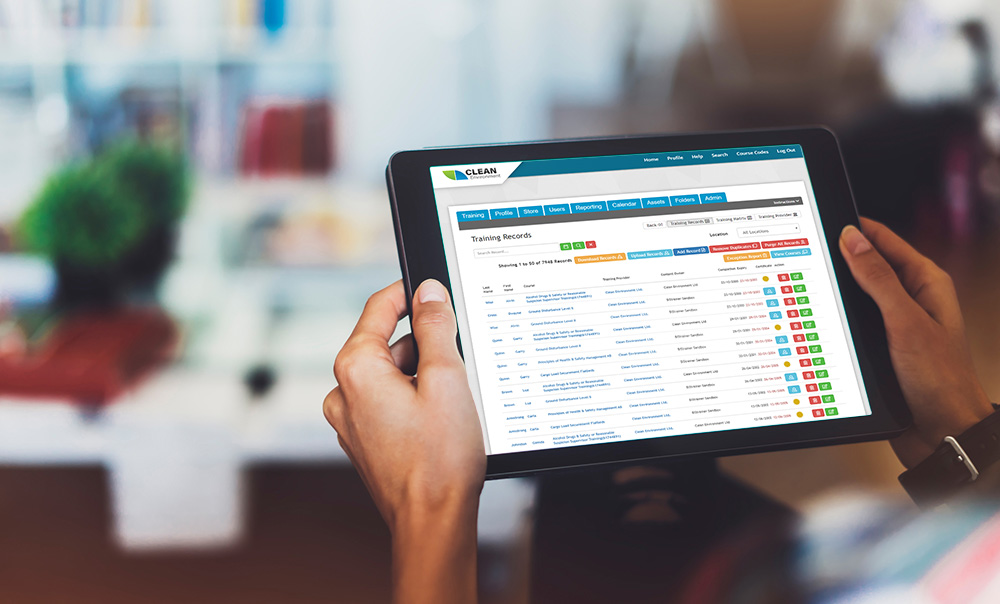 4) Mobile Compatibility
Software that depends on specific devices has limited usefulness since it cannot be accessed easily by your employees. For this reason, mobile compatibility is one of the most important features to look for. The best software fortraining management can be accessed easily regardless of the device – smartphone, tablet, laptop, desktop, etc. The SafeTapp app has a very useful feature for companies operating on remote sites. SafeTapp can be used even when there is no mobile network coverage, and records are updated immediately when connectivity is restored.
5) Detailed Reports
Training Software eliminates physical documents, but the amount of data managed remains the same. The best software can also generate detailed reports with this information, which are useful for planning future courses and other management decisions. Automatic reports can also be used for gap analysis, helping companies identify their weaknesses and the skills they must develop further. Detailed reports can be used for compliance since they can filter the information needed by an inspector in an instant – there is no need to collect information and prepare reports manually.
Conclusion
Software can help companies improve their learning processes, but it must have adequate features to be useful. Automation and mass uploading functions save plenty of time, so employees can concentrate on their training. Having a free trial is also helpful, since you can decide if the software is a good match for your company. Mobile compatibility and automatic reporting make training management software even more useful. Your employees can access the system without depending on specific devices, and large volumes of information can be filtered into reports that are useful for safety managers, decision-makers, and OHS officers. A training record management system can help your company stay up-to-date on compliance and ensure your team is safe.