Picking the Best Training Record Management System
Today, with ever-changing industrial standards and regulations, managing employee training records is a common, and necessary, practice. Proper training and certification for employees is essential and needs to be available to be accessed. Naturally, companies have often relied on Excel to get the job done. But keeping track of your employees' training via spreadsheets comes with some serious flaws – data entry is time-consuming and prone to errors. Employing the use of a Training Record Management System, however, can mitigate the challenges of tracking employee training records and certificates. Let's examine 5 of the most important factors used to select the best online training record management software of 2021.
1. Top-Notch Automation
When considering a Training Record Management System or Learning Management Software, automation is by far the most important feature. Wondering why? Well, it removes the stress of having to input reminders of expiring training records and certificates. Oftentimes, this task is overlooked. A training record management system with efficient automation can handle your training records and stop expirations from happening. Always check to see if a training record management system can automatically schedule reports at specific intervals – for example, weekly or monthly – before picking software. This way, you'll know that the right people are regularly and consistently updated. Capable software should be able to automatically assign training to an employee when their existing training record expires to avoid lapses in certifications. Top-notch automation can save your company time and resources while ensuring your employees are up to date.

2. Comprehensive Reports
Another important feature of a Training Record Management System is a comprehensive reporting function. By generating detailed customized reports, you can keep the relevant members of your team informed of any training requirement. Need to find out who has missed or is overdue for training? Gap analysis solves this problem by allowing you to follow up on any training for any employee. By identifying anyone in need of training, gap analysis can generate a comprehensive report on the training required so no employee is left behind.
3. Robust Training Matrix
A robust training matrix provides you the freedom to customize training for all your employees, regardless of occupation. This freedom is provided by the ability to list all roles – for example, electrician, carpenter, or mason – and then assign individualized training topics required for each. A Training Record Management System will then produce a training matrix that automatically covers all roles in your company. As you are well aware, training requirements vary between jurisdictions – a robust Training Record Management System customizes your training needs for each jurisdiction. Not limited to just location, but you can also specify where to receive the training and type of training delivery for every topic. When a new hire joins the company, all you need to do is simply add their role and location to the system and it will take care of the rest. The system will automatically create a training plan for the new hire, which saves you precious time.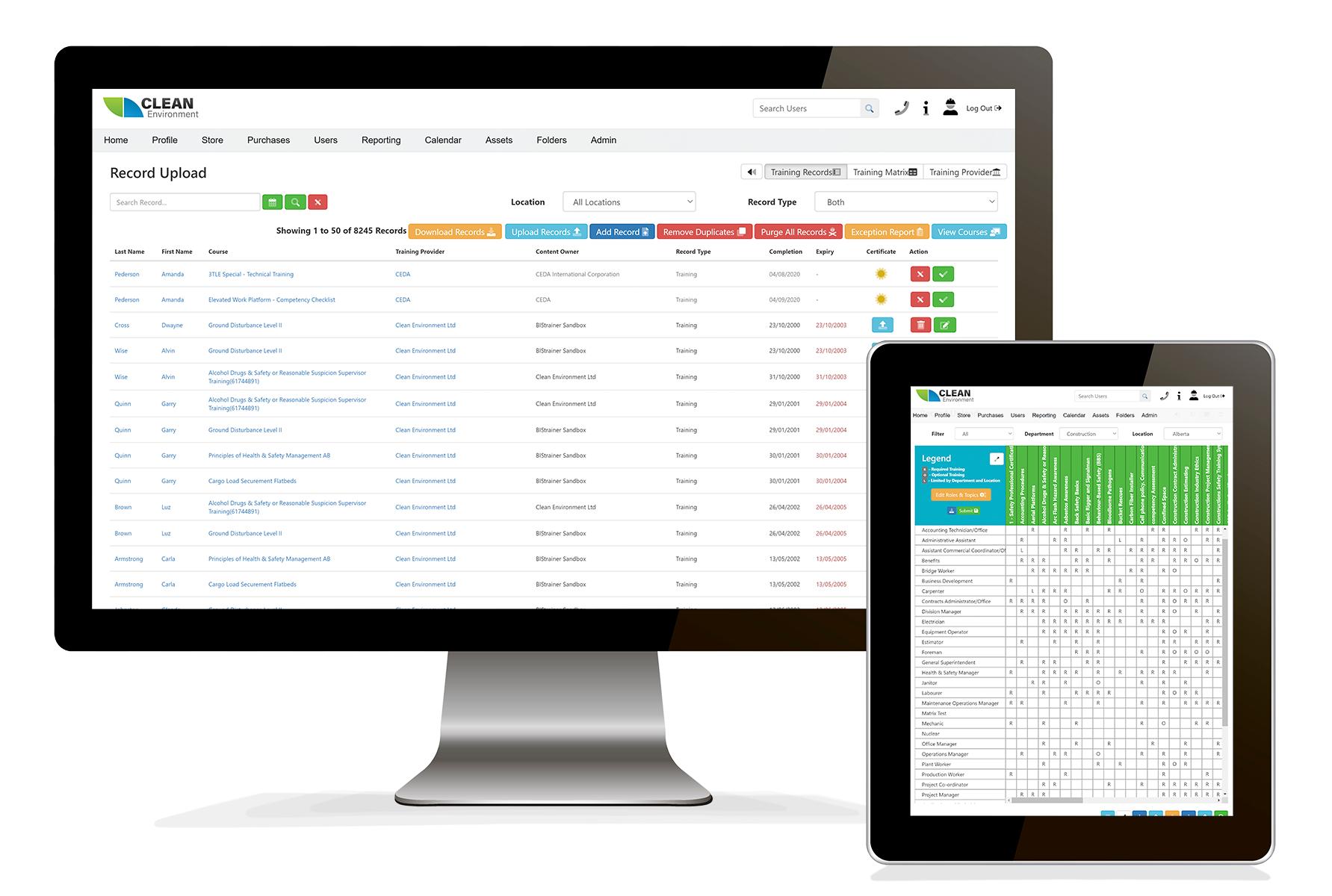 4. Mass Uploads
The best Training Record Management System allows for fast and efficient mass uploads, saving hours of tedious data entry. With a top-rated system, you have control over the creation of user accounts, importing training records in the thousands, and rewarding employees with certificates directly uploaded to the system. All of this can be completed within minutes. After a mass upload, you can further manipulate data into various fields, such as name, training course, or expiration date. By simply dragging and dropping the image directly to the record, you can ensure each employee received their certificate of completion.
5. Try it for Free
Signing up for a Training Record Management System can be a big decision. Therefore, it's important that you have the chance to test drive the software to see whether it's right for your company. A top-quality Training Record Management System provider will always allow you to play in their "sandbox" and let you get an understanding of how it works. Providers that are not confident in their software will be reluctant or refuse to let you test it for free. Most trusted software companies offer free trials of their systems before you commit to purchasing them
In Summary
A Training Record Management System immediately transforms the way you handle and manage your training records. In one place, you can gather and cross-reference data, track training assignments, provide completion certificates, and automatically keep all employees up to date on their required training. It's important, however, that you choose the right Training Record Management System for your company, so utilize the free trials that are offered to decide which system will work best for your organization.