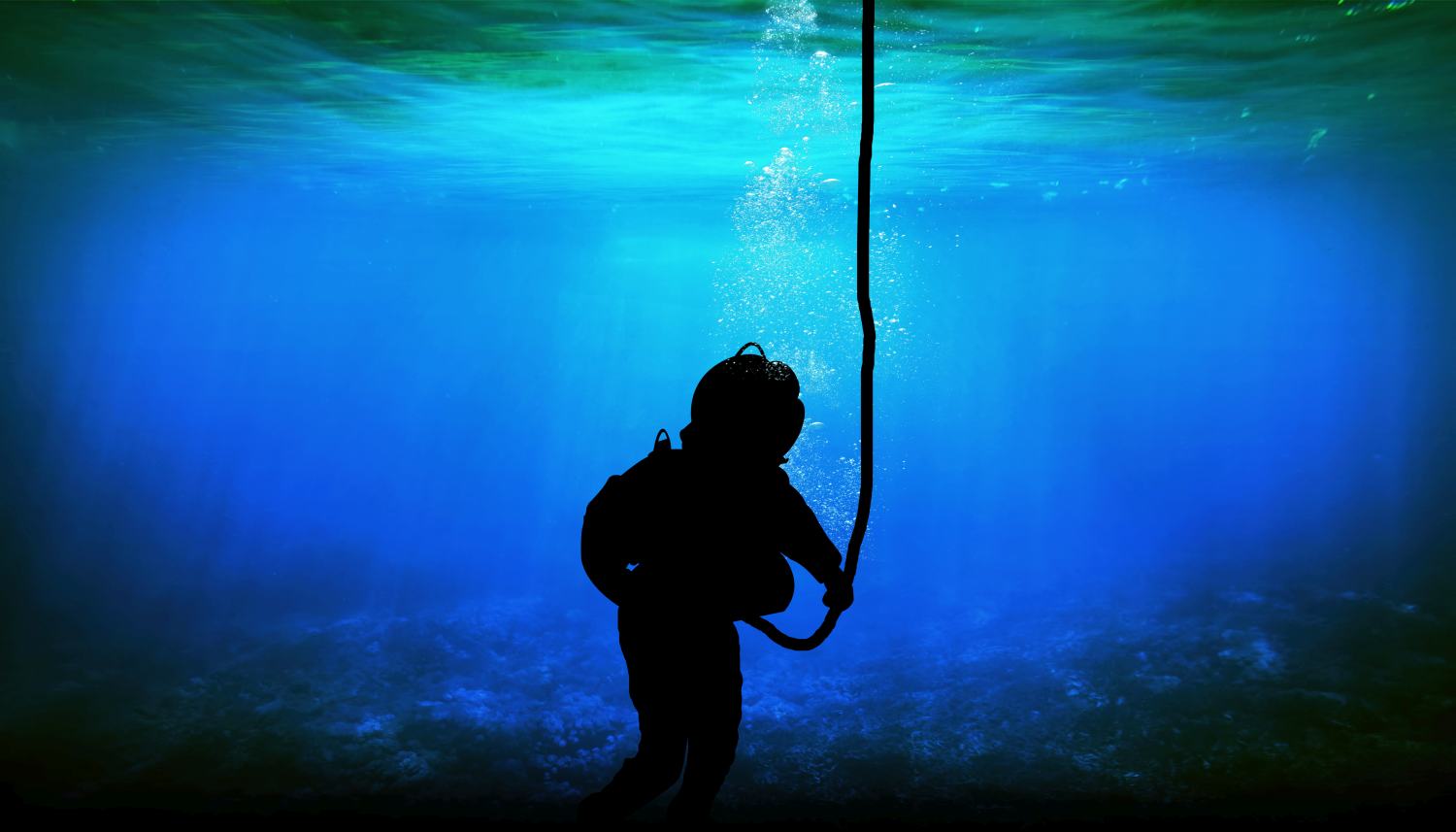 Commercial Diver Safety with Guest Professional Speaker
Commercial Diving is a complicated procedure that only the pros know how to pull off safely. So we reached out to the professionals at CMC Subsea for an enlightening interview on how commercial divers work underwater safely.
Our expert claims there are many misconceptions around the job. So with that in mind, we'd like to dive into commercial diving, and how the pros stay safe in the dark murky conditions.
Explore this Article
Commercial Diving Hazards
According to our expert, low visibility is one of the many dangers commercial divers face. Without sight, they can tangle their breathing hose, trip, get stuck, or walk into many other simple problems that are magnified when you're underwater. Divers call low visibility dives "diving by brail" because they are often using their hands to feel around obstacles.
However, visibility is far from the only problem commercial divers face daily. There are so many, it's amazing the occupation boasts few incidents. But even though there are fewer incidents than say offshore fishing, when there is an incident, it can quickly turn fatal. So with that in mind, let's carefully descend into commercial diving hazards:
Umbilical/Tether Management is the management of the tether that supplies air. When commercial divers work, they must constantly consider where their umbilical is and keep it from twisting, pinching, and tangling.
Differential pressure is water equalizing with its surrounding. Water can pull ships into voids it's filling, let alone divers. Imagine a hole opens in a kilometer-long pipeline and all that water begins to rush into the gap. Any divers in the area are in extreme danger of being sucked in with the flow. Damns, wrecks, and other objects can also hold air, therefore they can hold a void water is eager to fill. Commercial divers use

many different methods to track differential pressure such as feeding rope into the current to pinpoint where it is exactly

. Regardless though, they stay well away from violent equalizations.
Lift bags are airbags for lifting objects in the water. These bags can flip, twist, and pull divers to the surface. They can also spill their entire contents onto the commercial diver below. Commercial divers develop intricate dive plans and execute them to the letter to avoid lift bag accidents. They also rely on salvage masters, engineers and their supervisors to work with lift bags safely.
Gas bubbles can form from a variety of underwater work. Broco cutting, or cutting torches can create pockets of hydrogen that can build up and explode. This can concuss a diver or worse.  
Current is another huge hazard. Divers use lead weights, magnets and rope to assist them in work. However, many stress to never attach a harness to a moving object that's not in your dive plan or fully aware of the work being performed.
Marine life can poison, puncture, or attack commercial divers. Divers must watch out for sea urchins, jellyfish, and other animals while working. Interestingly enough, sharks don't often bother divers on the seabed. Yet, that depends on many factors and should be respected regardless.
Tunnel Vision i

s

something

that

commercial divers

deal with constantly due to the narrowing of perception from dawning the dive hat

.

 Our expert says that these environments disorient and confuse many if not all who commercial dive. This is why supervisors keep an eye on divers from video footage piped in from the umbilical. The supervisor can observe from a dry place and guide divers through jobs.
Decompression sickness (the bends) is what occurs from breathing compressed air at depth, creating nitrogen bubbles in the body. Experts use dive tables to help them safely flush the nitrogen bubbles out of their bodies through decompression stops. 60 feet a minute is a common ascent rate in commercial dive tables. However, other gas mixes and chambers can be used in deeper depths to change dive lengths and decompression tables used.
Dehydration oddly enough is another hazard for divers. It's hard to get a drink of clean water while you're working so divers drink more than enough before they start work.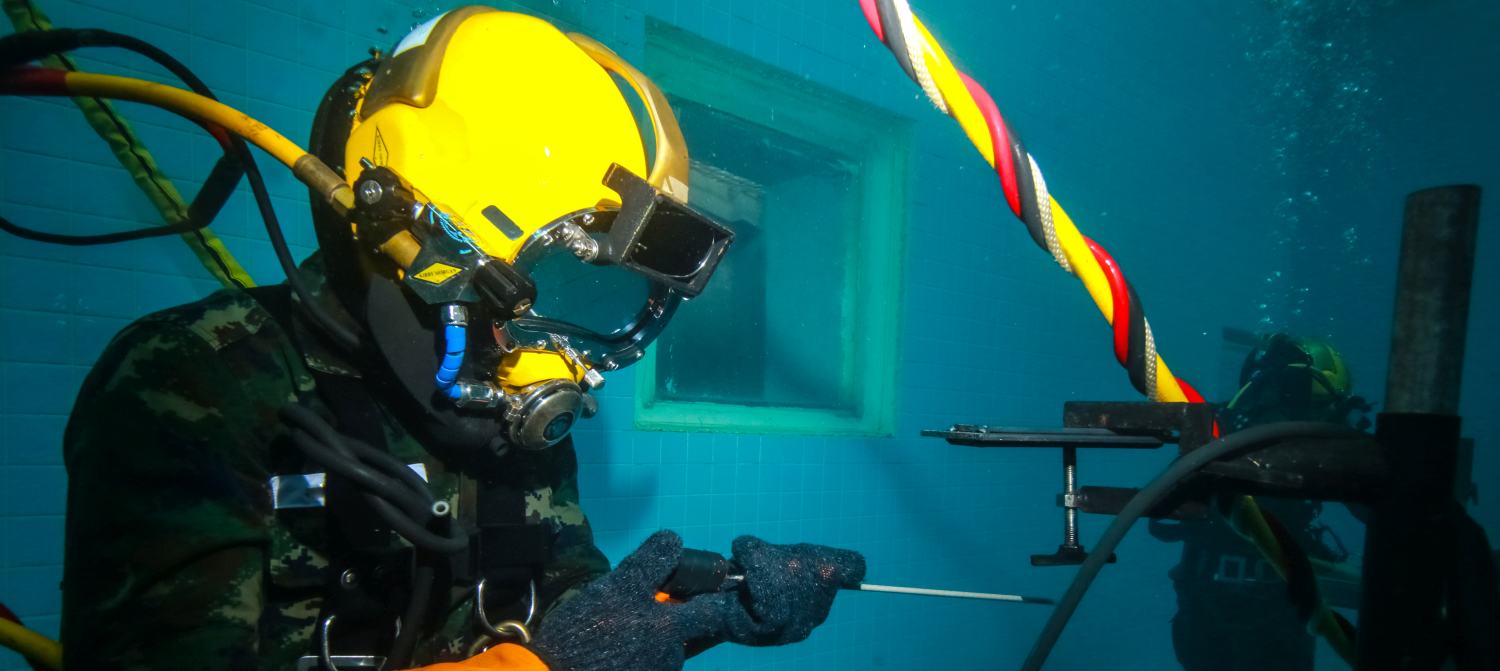 All Safe Dives Start with Dive plans
Dive plans mitigate panicking, confusion, and stress. Hence why commercial divers are adamant planners. A successful dive depends on well-thought-out plans. And well-thought-out plans depend on information.
For these reasons, it's fairly common for a dive to be halted when new variables are discovered. For instance, if a large air pocket is found, weight shifts, or even visibility is decreased. These can all change the procedure and rather than stressing the diver with more and different work, teams reconvene to re-evaluate and agree on a new plan. This is the safest way to dive. Divers should not be overburdened and have a clear understanding of what work they will perform.
Just like a spacewalk, these plans are there so the specialist working can focus on one thing at a time. They can bring the exact tools required and really focus on what they're trying to achieve. Again, the environment is unforgiving for us humans, and keeping it simple saves lives.
Dive plans stipulate where commercial divers are standing, the weights used, the tools used, and all the work being performed. The more detailed the better.
How Commercial Divers Stay Safe
Supervisors are crucial for safe commercial diving. All safe commercial divers dive with constant supervision. A supervisor can watch the umbilical, advise on positioning, and keep a better eye on the proceedings. Supervisors are ideally veteran divers themselves, otherwise, there's not much point. To become a certified dive supervisor in Canada, you need 5 years' experience.
The goal is to have someone unhindered by the underwater environment and cumbersome gear providing insight.
Dive Tables are a strict set of guidelines that commercial divers follow on dives. These tables relay ascend rates, bottom times, and decompression schedules to help mitigate decompression sickness. The experts at CMC Subsea use DCEIM dive tables for their dive operations.
Vent Holes are holes divers cut above where they are broco cutting (torch cutting) to let out gasses. These are to prevent gas build-ups and subsequent explosions.
Current Detection Devices are what divers use to measure changes in differential pressure while they dive. Yet divers should know about the current and more obvious factors in advance of the dive. This tape only gives them real-time data they could not measure before the plunge.
Tides and Weather are often considered for safety. Depending on depths, there will always be a preferable tide, be it low or high. And waiting for calm weather can help with visibility due to debris being less agitated. In fact, weather is absolutely essential to monitor for commercial divers, not just for visibility.   
Dive Plans—as we said above—are extremely important. Our expert claims these are crucial to safety and should be executed to the letter.
3 Ways to Enhance Commercial Diving Safety with Software
Digital Folders – Before making dive plans it's great to have local environmental data. Digital folders can be assigned to employees that contain information from previous jobs in the area. These folders can be viewed on the specialists' mobile devices and the information could save a lot of guesswork. These folders can contain any digital documentation you have, so dive tables, current info, and prior writeups can all be included, giving your team a clear picture before entering a mirky environment.
Learning Management System – LMSs or Learning Management Systems can provide training and track credentials allowing commercial divers to keep their tickets up to date.
Mobile Safety Forms – Mobile Safety Forms or Digital Forms can provide or track any information teams can pull in the field, or the water. Using the mobile safety forms, commercial divers can track oxygen supply, equipment maintenance, water temperatures, and anything they can write on paper. They just use mobile devices to jot down the info and the cloud computing software organizes it. These organized forms can then produce trend data and excel documents at the click of a button.
Commercial Diving Safety in Summarized
Commercial diving is not easy. Our experts couldn't stress enough the snowball effects that can occur when things go wrong under the waves. Dive plans must be adhered to, and anything that makes the planning and recognizance easier should be considered. Furthermore, divers should be given time and space to effectively do their job. Commercial divers deserve our respect and when it comes to work under the waves, their opinions shouldn't be debated.
Resources