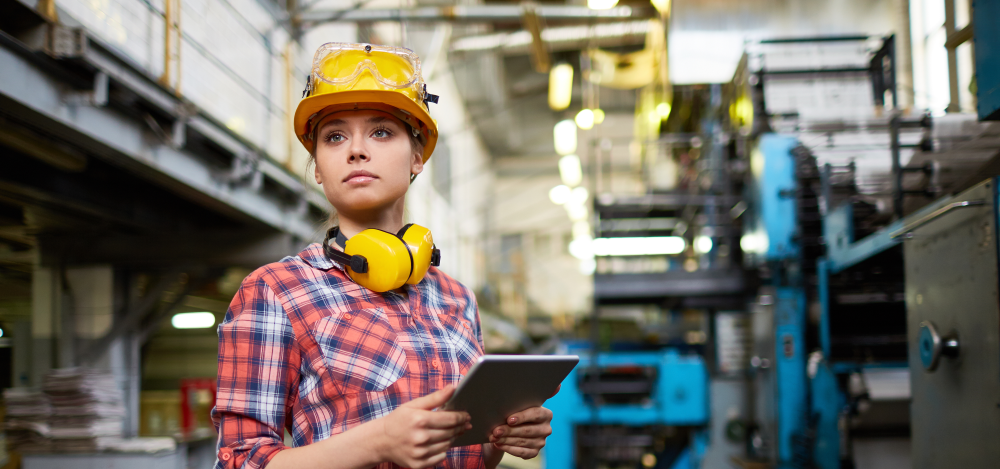 Working Alone Safely
Industry-Specific Tips and Examples for Lone Workers
"Lone Worker" or "Working Alone" typically refers to anyone who is working alone and out of view of anyone who could assist in a time of crisis. Working alone can be both rewarding and challenging. Whether you're a farmer making your last rounds in a bursting field, a construction worker building a better world, or a specialist working late on a plasma cutter, there are specific safety measures you should consider.
For these reasons, CCOHS and OSHA require Employers to stay in regular contact with their employees so they know they are safe. There are many ways to achieve this without calling your employee every fifteen minutes. So with that in mind, let's explore how industries have made working alone easier and safer for everyone involved.
Explore this Article:
Working Alone Tips and Tech for Manufacturing
Manufacturing workers often find themselves in situations where they have to work alone, which can present unique challenges and safety concerns. Over the years, the industry has embraced technology and implemented various techniques to mitigate these risks, let's review the dangers and solutions.
Dangers of Working Alone in Manufacturing:
Working alone in manufacturing can exacerbate certain risks. Some of these dangers include:
Accidents: In the absence of immediate assistance, accidents like slips, trips, and falls can lead to serious injuries.
Equipment Malfunctions: Machines can malfunction, leading to unexpected breakdowns or even catastrophic failures without someone nearby to address the issue promptly.
Lack of Communication: Isolation can hinder communication, making it difficult to call for help in emergencies.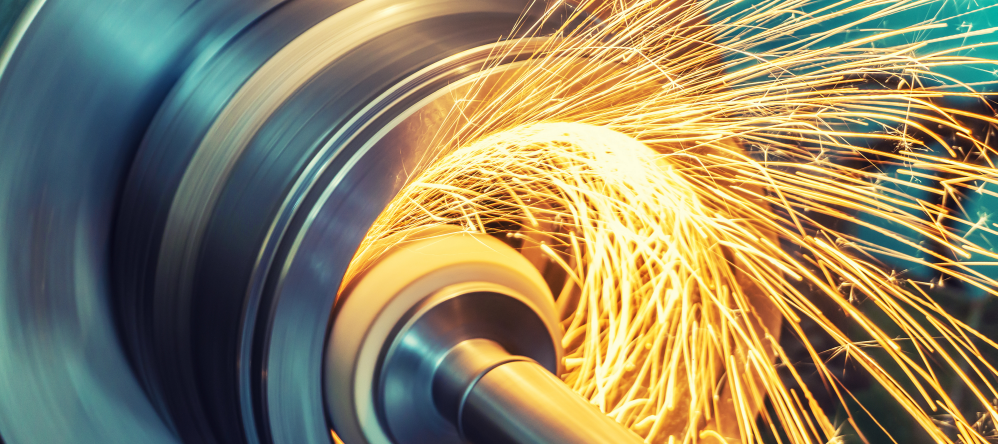 Lone Worker Safety Techniques Employed by Manufacturing Companies:
To address these challenges, manufacturing companies have adopted several techniques:
Remote Monitoring through EHS Software: Many manufacturing plants use remote monitoring systems that allow operators to keep an eye on equipment and processes from a central control room. This ensures that issues are spotted and addressed swiftly. EHS software is often used as it will often incorporate a lone worker app that can give assurance and peace of mind to supervisors and specialists alike.
Emergency Stop Buttons: Workers often have access to emergency stop buttons located strategically throughout the facility. These buttons can shut down machinery in emergencies, preventing accidents from escalating.
Scheduled Check-Ins: Some companies implement scheduled check-in protocols. Workers are required to report their status at regular intervals, ensuring that their well-being is continually monitored.
Training and Awareness: Comprehensive safety training is provided to workers, emphasizing the importance of following protocols and recognizing potential dangers. Employees are encouraged to report any concerns promptly.
Improved Communication: Communication tools like two-way radios or smartphones are provided to lone workers. These devices allow for immediate contact with supervisors or colleagues in case of emergencies.
Working Alone Tips and Tech for Farming
Farming is one of the oldest professions known to humanity, and it's a job that often involves working alone in remote fields. Over the years, farmers have adopted various technologies and safety measures to make their solitary work safer and more efficient. In this blog, we'll delve deeper into the challenges faced by farmers working alone, the introduction of specific technologies, and the techniques employed to mitigate risks.
Dangers of Working Alone in Agriculture:
Working alone in farming presents several unique dangers:
Equipment Accidents: Farm machinery can be dangerous. In case of an accident, a solo farmer might have difficulty seeking immediate help.
Medical Emergencies: In remote fields, a farmer might experience a health issue or injury, with no one around to provide immediate assistance.
Isolation: Spending long hours alone can lead to feelings of isolation and loneliness, affecting mental well-being.
Lone Workers Tools and Tech for Agriculture:
To address these risks, farmers have adopted various technologies and techniques:
Mobile Phones: The widespread use of mobile phones has been a game-changer. Farmers can now call for help in case of emergencies.
Satellite Communication (Late 1990s): For areas with poor mobile coverage, satellite phones were introduced in the late 1990s. These phones provide a reliable means of communication in remote regions.
Automated Machinery (Ongoing): The ongoing development of automated machinery allows for more tasks to be completed without direct human intervention, reducing the need for long hours of manual labour.
Safety Alarms: Some farmers use safety alarms or wearable devices that can send alerts in case of accidents or falls.
Remote Monitoring: Remote monitoring systems can keep an eye on equipment and livestock, sending alerts if something goes wrong.
Community Initiatives:
Farmers often rely on their tight-knit communities for support and safety:
Neighborly Assistance: Neighbors often help each other out during busy times like harvest season.
Farm Safety Workshops: Many farming communities organize safety workshops to educate farmers about potential hazards and preventive measures.
Emergency Response Plans: Farmers, especially those working alone, develop emergency response plans in collaboration with local authorities.
Tips for Lone Workers in Construction
Construction sites can be bustling with activity, but at times, workers find themselves labouring in isolated areas. Over the years, the construction industry has introduced various technologies and safety measures to address the unique challenges that working alone can pose.
Risks For Lone Workers in Construction:
Working alone on a construction site can amplify certain risks. For example:
Accidents: In the absence of immediate assistance, accidents like slips, trips, and falls can become more dangerous.
Medical Emergencies: Health issues or injuries can be exacerbated when there's no one around to provide immediate aid.
Equipment Failures: Malfunctioning equipment or machinery can pose serious threats when there's no one nearby to notice or help.
Ways to Mitigate Risks to Lone Construction Workers:
To mitigate these risks, construction companies have adopted several strategies:
Emergency Response Plans: Companies have established clear emergency response plans. These plans include detailed procedures for dealing with accidents or medical emergencies, ensuring that workers know what to do even when they're alone.
Safety Training: Regular safety training programs emphasize the importance of situational awareness. Workers are trained to recognize potential hazards and respond appropriately.
Digital Surveillance: Many construction sites are now equipped with digital surveillance systems. These cameras can monitor isolated areas and alert supervisors to potential problems in real time.
Check-In Protocols: Some companies have instituted check-in protocols, requiring workers to report their status at regular intervals. If a worker fails to check in, supervisors can initiate a response.
Personal Protective Equipment (PPE): Workers are provided with PPE like personal locator beacons or wearable technology. These devices can send distress signals in case of emergencies.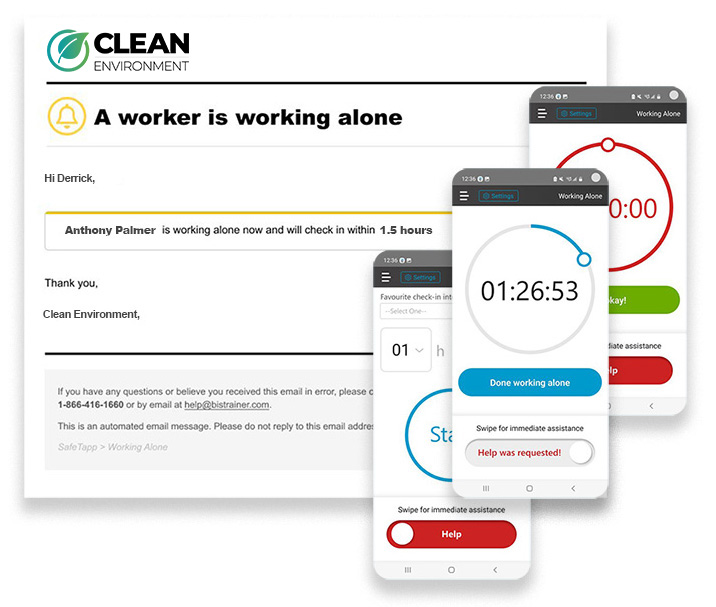 Wearable Safety Tech:
In recent years, wearable technology has gained ground in construction safety. For instance:
Smart Helmets: Some construction workers wear helmets equipped with sensors that can detect falls or sudden impacts. If an accident occurs, the helmet can automatically send an alert.
IoT Devices: Internet of Things (IoT) devices are being used to monitor vital signs of workers. These devices can detect unusual fluctuations in a worker's heart rate or body temperature, signaling potential health issues.
Mobile Apps: Construction companies are developing mobile apps that allow workers to access safety information, call for help, or even receive safety reminders while working alone.
Lone Working Tips and Techniques for Healthcare Employees
Risks for Healthcare Workers Working Alone
Healthcare professionals sometimes work alone during night shifts or in remote clinics and can be exposed to a range of human emotions capable of bodily harm.
Wearable Tech:
Many healthcare facilities now equip their staff with panic buttons or wearable devices that can instantly alert security or colleagues when activated. These devices provide a quick and discreet way for healthcare workers to call for help in case of aggressive patient behavior or other emergencies.
Enhanced Security Measures for Lone Workers and Patients:
Over the last 15 years, many hospitals and clinics have invested in enhanced security measures. This is due to reductions in staff and a rise in psychiatric problems. Healthcare workers are frequently at risk of theft or assault, especially during night shifts when fewer people are present in the facility. Isolated areas like parking lots can also pose risks.
To address these dangers, healthcare institutions have improved their security systems. This includes:
installing security cameras in common areas and parking lots
hiring security personnel for night shifts
implementing strict access control measures to prevent unauthorized entry
Training and De-escalation Techniques:
Hospitals and clinics now provide training programs that teach healthcare workers how to defuse tense situations. This training includes techniques for effective communication and understanding non-verbal cues, allowing workers to manage potentially violent situations more safely.
Protecting Retail Workers When They Work Alone
Lone Working Retail Risks:
Retail workers often find themselves working alone, especially during evening shifts or in smaller stores. When working they are also exposed to a wide range of human behaviour.
Retail Lone Worker Safety Solutions:
Over the years, several technological advancements and safety measures have been introduced to address the unique risks retail employees face and enhance their safety.
Panic Buttons for Late Shifts: Late-night shifts in retail can be particularly risky due to reduced foot traffic and increased vulnerability to criminal activity. To counter this, many retailers have introduced panic buttons. These small devices can be discreetly activated by employees in distress, immediately alerting security or the police. This technology provides a quick response in potentially dangerous situations.
Surveillance Cameras: Retailers have been using surveillance cameras for years to deter theft and monitor store activities. These cameras not only discourage potential criminals but also provide evidence in case of incidents. Advanced camera systems with remote access allow managers to monitor the store in real-time, even when they are not physically present.
Safety Training: Retailers invest in safety training for their employees, especially those working alone. This includes teaching employees how to de-escalate tense situations with customers and providing guidance on what to do in case of emergencies. Employees are encouraged to stay calm and call for help rather than taking unnecessary risks.
Buddy System for Opening and Closing: Opening and closing the store are often tasks performed by a single employee. To reduce the risks associated with these activities, retailers have implemented buddy systems. Two employees work together during these shifts, ensuring that no one is alone when handling cash or locking up the store. This not only enhances safety but also acts as a deterrent to potential criminals.
Mobile Apps for Check-Ins: Some retailers have introduced mobile apps that allow employees working alone to check in at regular intervals. If an employee fails to check in as scheduled, the app sends an alert to store management or security. This ensures that someone is aware of the employee's whereabouts and can take action if needed.
Improved Store Layouts: Retailers pay close attention to store layouts to reduce the risk of theft and other incidents. This includes ensuring that cash registers are visible from outside the store, providing clear sightlines for employees, and strategically placing mirrors to eliminate blind spots.
Regular Store Inspections: Retail managers conduct regular store inspections, even during off-hours. This practice helps identify potential safety hazards, such as faulty lighting or broken security features and ensures that the store remains secure for employees working alone.
Lone Worker Tech
Advancements in technology have played a pivotal role in making lone workers safer across various industries. These technologies provide individuals, companies and institutions with tools and systems that help monitor their well-being, stay connected to others, and receive rapid assistance in case of emergencies. Here's an expanded look at the technology used to enhance lone worker safety.
Lone Worker Alarms and Devices:
Personal Safety Alarms: These small, portable devices come equipped with features like GPS tracking and motion sensors. When a lone worker faces danger or incapacitation, they can activate the alarm. It sends an alert to a central monitoring station or designated contacts, providing real-time location information.
Wearable Devices: Wearable technology, such as smartwatches or custom-designed safety wearables, can serve as personal safety alarms. These devices often include panic buttons that can be discreetly pressed to alert authorities or a monitoring service. They may also have sensors that detect falls or unusual movements, triggering automatic distress calls if necessary.
GPS and Location-Based Services:
GPS Tracking: GPS technology allows both workers and employers to track the exact location of a lone worker in real-time. This is especially crucial for industries like transportation, where drivers may be on the road for extended periods.
Geofencing: Geofencing technology enables the creation of virtual boundaries around specific areas. When a lone worker enters or exits these predefined zones, automated notifications can be sent to supervisors or safety teams. This helps ensure that workers remain within safe areas or alert authorities if they enter hazardous locations.
Mobile Apps and Communication Tools:
Voice and Video Calling: Access to mobile phones with voice and video calling capabilities is vital. These tools enable lone workers to report incidents, seek assistance, or provide real-time updates on their situations.
Satellite Communication:
Satellite Phones: In remote areas with no cellular coverage, satellite phones become a lifeline. They allow lone workers to communicate with emergency services or their employers when conventional phones are unavailable.
Emergency Beacons: Personal locator beacons (PLBs) and Emergency Position-Indicating Radio beacons (EPIRBs) are devices that can send distress signals to search and rescue teams via satellite. These are commonly used in outdoor and maritime industries.
IoT and Wearable Sensors:
IoT Sensors: The Internet of Things (IoT) technology has introduced smart sensors that can monitor various aspects of lone worker safety. For example, environmental sensors can detect changes in temperature or hazardous gas levels, sending alerts if conditions become unsafe.
Health and Wellness Sensors: Wearable sensors can monitor a lone worker's vital signs, including heart rate and body temperature. This data can be transmitted in real-time to a central system, allowing for early detection of health issues or fatigue-related risks.
Check-In and Monitoring Systems:
Automated Check-Ins: Some industries implement automated check-in systems. Workers must check in at specified intervals using their devices. If they fail to do so, the system generates an alert to ensure their well-being.
Central Monitoring Stations: Many companies have central monitoring stations staffed with professionals who continuously oversee the safety of lone workers. They can respond promptly to distress signals and coordinate emergency assistance.
Data Analytics and Reporting:
Data Analytics: Data collected from lone worker safety devices and systems can be analyzed to identify trends and potential areas for improvement. This data-driven approach helps organizations refine safety protocols and reduce risks proactively.