Driver Management Made Easy
If you have a fleet of company vehicles or heavy equipment, you already know the importance of good record-keeping and proper maintenance. But what about your drivers? Do you have a great system for organizing their documents, or keeping up to date on their certifications? Maintaining current information about the drivers operating your equipment can be overwhelming.
Not to worry – we hear you, and we're here to help. Our driver management software allows you to keep track of all the important information, including the relevant driver documents, and any training that is required or has been completed. Our system will help you stay organized by tracking:
• Drivers Licence
• Drivers Abstracts
• Medical Records
• Training Certificates
• Accident Reports
• Traffic Violations
In many sectors (such as logistics, or construction), a large company can have hundreds of drivers among its staff, and keeping track of all their documents and training requirements in printed format is both time-consuming and prone to error as physical copies can be easily lost or damaged. Capturing this information in a digital format will help make the information more accessible. Combine that with a software system that allows you to keep track of everything and you are on the path to a much-improved workflow.
At BIS Safety Software we understand the challenges you face with fleet management and employee tracking, and we have updated our Driver Management Software to help you be more organized and effective.
New and Improved BIS Driver Management Software
We have updated our Driver Management System to deliver the best results for your company. When your company uses our driver management software, your drivers will always have their updated documents at hand. The platform is also fully integrated with BIStrainer – our learning management system – which means you can also use it to manage driver courses and training certificates.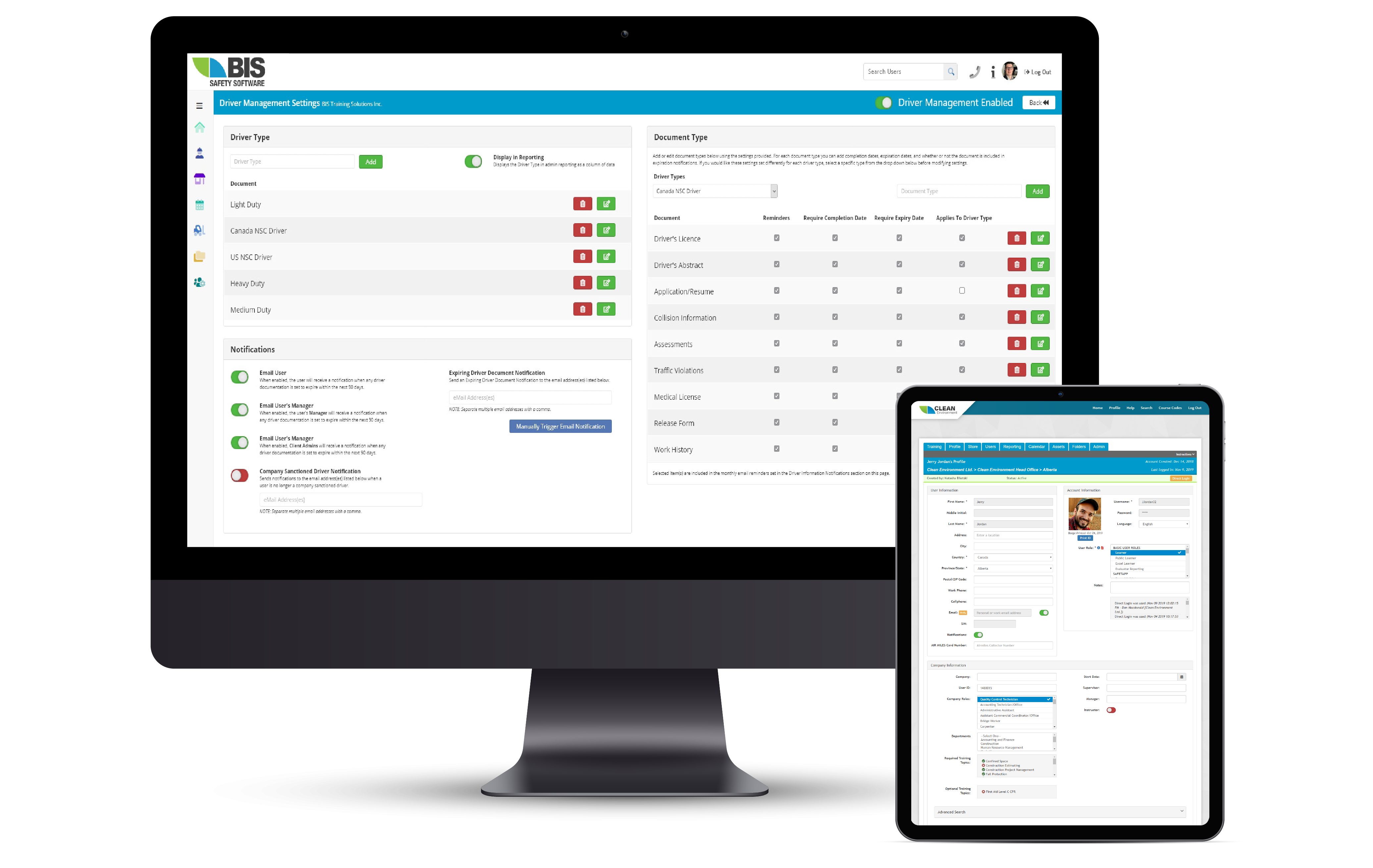 Our driver management software can keep track of any information required, including:
• Licence numbers and expiration dates
• Medical certifications
• Hazardous materials (HAZMAT) endorsements, when applicable.
Whenever a driver's license is about to expire, the system will send you an automatic notification 90 days in advance, by default. You can configure your own notifications of course, if you want more control of the delivery timelines. These notifications are not only sent to drivers but also their supervisors and managers – never miss an expiry date again!
Manage Driver Information with Ease
The BIS Driver Management Software also simplifies document management and file sharing. You can upload any type of driver information, and the platform is compatible with multiple formats. The document types that can be uploaded include the following:
• Driver's abstracts issued by the local government
• Licence numbers and expiration dates
• Work history
• Medical information and certifications
• Collision records and traffic violations
• Annual assessment results
• Vehicle use agreements
Our software is compatible with multiple document formats, including Excel, Word and PDF. You can even upload images in JPG or PNG formats.
System administrators can generate automatic reports with the driver information contained in the platform. The software can automatically generate an Excel sheet with any information needed: driver name, licence type and expiry, location, risk profile, etc.
Improve Your Driver Training and Certification Program
The BIS Driver Management Software can also be used to manage driver courses and training certificates, since it connects seamlessly with our LMS. The training matrix feature can create course lists and assign them automatically to drivers, based on their job description. For example, commercial truck drivers could automatically be assigned courses that cover Hours of Service Regulations, or Daily Pre-Trip Inspections.
If you are already using BIStrainer, the driver management software is available as a built-in feature. That way, you can create a customized training program for each driver, and keep track of progress. Any training certificates that are generated after completing are automatically added to the corresponding driver profile.
Try our Driver Management Software
Driver Management Software is a wonderful tool for managing the training and documentation of your drivers. Compliance with local regulations becomes easier, you receive automatic notifications about upcoming license expirations, and document storage and accessibility are easily managed in one central location. Make your workflow more efficient and reduce the stress of your asset and employee management with the help of our newly updated software!