OSHA's Top 10 Safety Violations in 2021
OSHA issues citations for safety infractions every year. They also keep track of which infractions occur the most. Each year they release the Top Safety Violations list and this year once again fall protection is seen twice in the list. OSHA does this to spread awareness of the issues.
The following are the top ten safety violations in 2021:
Fall Protection – General Requirements, Number One in OSHA Violations 2021
The Fall Protection General Requirements category often refers to fall arrest gear infractions. Training and scaffolding violations have their own category.
This category's infractions are usually involving poor tie-off points, failing harnesses, or a lack of fall arrest altogether. The number of citations this year tells us there are a lot of companies who are confused about fall protection or "working on heights" regulations. 
In total, there were 5,295 fall arrest infractions in 2021. Fortunately, that number's down from 2020 (5,424). Yet there's still plenty of room for improvement.
Respiratory Protection, Number Two in OSHA Violations 2021
The second most cited violation in 2021 was Respiratory Protection (General Industry). 2,527 respiratory infractions were reported by OSHA in 2021.
Respiratory Protection violations occur when an employee is not provided the required respiratory PPE. This can be anything from a dust mask to a positive air respirator.
Ladders, Number 3 in OSHA Violations 2021
Ladders are still as useful as they are hazardous. That's why there are so many rules regarding their use. OSHA documented 2,026 violations improper ladder use in 2021. Some of the most common violations are "Ladder use only for its designated purpose" or "Not using top step of stepladder as a step". The stepladder is a common infraction because people don't worry about a four-foot drop off a stepladder. Yet despite popular belief, many life-threatening accidents have occurred with stepladders. 
Ladder awareness courses are becoming more popular for this very reason. People need to be aware of the risks of reaching and doing physical work ladders, and their tipping points. 
Scaffolding, Number 4 in OSHA Violations 2021
OSHA has many standards that seek to eliminate the risks with scaffolding. It's true they can be strict, but they've also seen time and time again what can go wrong. In 2021 they documented almost two thousand infractions. Many of these violations occurred with companies using custom scaffolds and unpredictable designs.
Hazard Communication, Number 5 in OSHA Violations 2021
Fifth, we have hazard communication. OSHA recorded 1,947 signage violations recorded in 2021. Hazard communication refers to everything communicated about a hazard. For example, both missing safety data sheets (MSDS) and insufficient signage are Hazard Communication violations.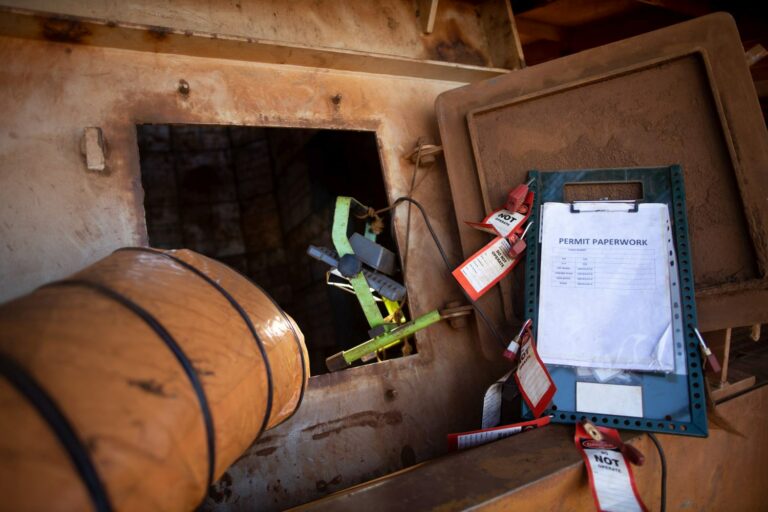 Lockout/Tagout, Number 6 in OSHA Violations 2021  
2021 saw many lockout citations. Lockouts are one of the few ways workers can guarantee their own safety. It is a procedure in which an employee or maintenance specialist is given their own lock in which they can lock a machine from activity during the task. There are many new regulations for lock out procedures, but they are there to ensure someone's safety isn't reliant on communication, and that person has control over the hazard. OSHA is insistent on lockout procedures because they can completely eliminate risks in some tasks — especially with electrical repairs. 
Fall Protection Training Requirements, Number 7 in OSHA Violations 2021
The second fall protection violation category to make the list is training requirements. Training requirements for fall arrest have been required for some time. However, during the pandemic, many in-class fall arrest courses were canceled. This may have contributed to the lack of training this year, despite the availability of online fall arrest training.
Personal Protective and Lifesaving Equipment, Number 8 in OSHA Violations 2021
Personal protective equipment is tough to stay on top of for both employees and employers. Yet the vast majority of companies are staying on top of PPE, so it's obvious it can be done. This category specifies "eye and face protection" as the biggest contributor to the violations. OSHA is once again stressing the importance of safety glasses/goggles or face shields, especially with tools like die grinders and other high RPM equipment.  
Powered Industrial Trucks, Number 9 in OSHA Violations 2021  
There were 1,420 powered industrial truck violations in 2021. A powered industrial truck in regard to OSHA refers to forklifts and many other towing devices. Power trucks have many regulations designed to mitigate the high rate of incidents they cause. The forklift seems like a small innocuous device and people often get complacent with them after years of use. However, it should always be regarded as a tool that can severely injure if not respected.
Machine Guarding, Number 10 in OSHA Violations 2021  
Just sneaking in at number ten is machine guarding violations with 1,113 recorded infractions. The machine guarding category covers hazard controls on machines. This is a massive category consisting of many different types of conveyor belts, saws, and other types of unique manufacturing technology.
Many of these unique machines require unique guards and controls. Some of which did not satisfy OSHAs requirements. For more information on OSHA machine controls see OSHA Machine Guarding.