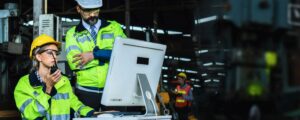 How to Use a Training Matrix, and Why It's Important
No matter how big your business is or what industry it occupies, training your employees can have a powerful effect on moving your company forward. Employee training should go way beyond basic orientation; in fact, a well-managed training program could last for as long as an employee stays with your company. If you want to increase efficiency, improve employee retention, and even save money on training costs, it's time to talk about how large companies automate their training with a training matrix.
Explore this article:
How a training matrix works
One of the main purposes of a training matrix is to bridge the gap between actual and required skill levels in your employees. It works by automatically alerting your administration or employees of training they require. If you pair it up with a Learning Management system and Training Record Management system, then your employees will even be notified which courses they need to rectify. They can then rectify these at a moment they choose.
When you have a fully integrated training matrix, your:
Safety is enhanced – A training matrix can automatically alert staff of missing training requirements freeing up administration duties
Compliance is satisfied – A matrix can tell you what credentials are required for whichever country you're working and be tailed per job site giving you more details about job sites
Weak points are identified – This could pertain to strategy development, employee training and certification, and so on. Areas of the organization that require additional resources or development are also pointed out.
Strengths are highlighted – Even as you're in the process of identifying weak points, you should also establish the strengths of your team members. This gives you a more solid foundation for the changes that'll be made later on.
Expectations are clarified – Once the team members know not only what they can do, but what they're expected to do, everyone can work together more efficiently because they're all on the same page.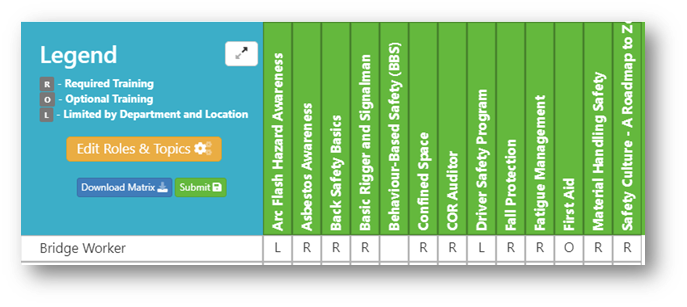 Software vs. spreadsheets
If you like taking the DIY approach, you might feel inclined to start out with a spreadsheet-based training matrix. After all, doesn't training matrix software provide detailed spreadsheets too? Sure – but the software can go way beyond that.
Training matrix software puts all your information in one place, and status changes are automatically updated as well. You can access employee data in real time, regardless of which part of the company it's coming from. It goes the other way too – employees can be automatically assigned training courses, digital forms and folders, and more based on position and location.
If you opted to use a spreadsheet, you could run into issues with conflicting versions, outdated or missing data, or basic entry errors. It's also just a lot more work. A comprehensive training matrix contains a ton of data, and that could translate to hours spent updating the spreadsheet every week.
What would a practical application of a training matrix look like?
Let's say there's a company that manages a string of warehouses across the US. The facilities are used for storing various types of material, so each team of employees would need their own set of certifications. Some teams would mainly need forklift certifications, while others must maintain certifications for handling hazardous materials. In addition to obtaining their initial certifications, subsequent renewals or refresher courses should be completed on time as well.
Training matrix software would track all of this information for each employee, in each warehouse. You could see at a glance which certifications an employee needed, which ones they had, and when they'd need to renew them (if applicable). The training matrix could also identify which employees would benefit from extra training, and update location-specific certification requirements for employees that move to a different state.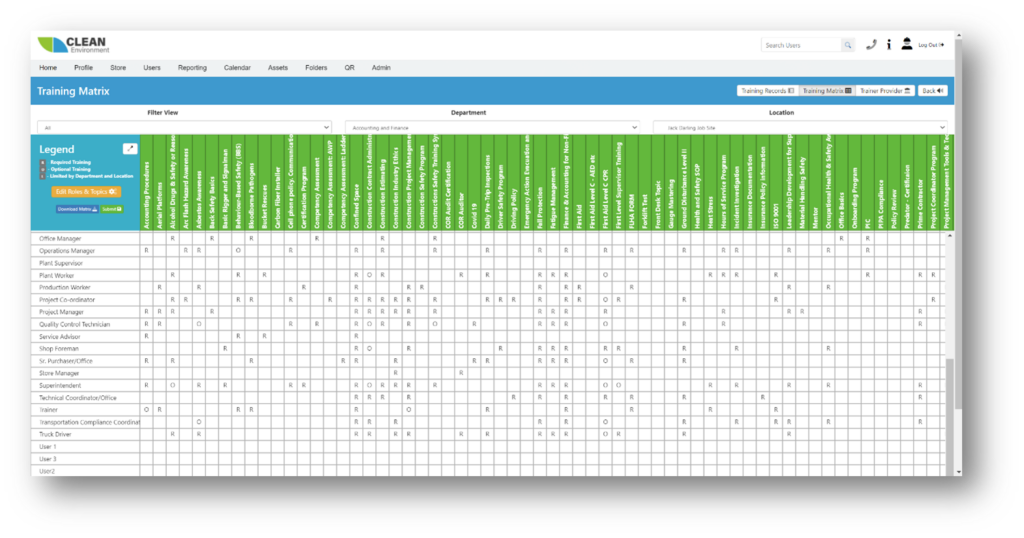 Which employees would benefit from a training matrix?
Which employees wouldn't benefit from a training matrix? You don't have to focus just on specialized skills or certifications; any employee, at any level, could benefit from a training matrix. It isn't just about delivering the bare minimum of training; you can also use a training matrix to develop the professional potential of your employees.
What a training matrix could do for your organization
If you aren't familiar with how to use a training matrix, you might not be completely sold on the advantages of using one. That's understandable, but here's something to keep in mind: a training matrix does more than just keep your employees' certifications current. It can also have a significant positive impact on everything from employee satisfaction to your profit margins. This is where the rubber meets the road. Is using a training matrix actually worth it? The research says it is.
Did you know that it costs about 20% of a minimum-wage employee's salary to train a replacement? That's for someone making about $40,000 per year; the higher an employee's salary, the more it costs to replace them. Even if your turnover rate is hovering around the national average, that's a cost that you could work on driving down with the help of a training matrix.
Here's another fact: providing opportunities to learn more work-related skills can help improve employee retention rates. If employees feel like their company is investing in them, they're more likely to invest in the company instead of leaving in search of greener pastures.
The takeaway
The decision to use a training matrix can be a game-changer for just about any business. This tool can help you build a more agile, skilled team, and drive growth in your company for years to come.