Top 5 Most Dangerous Heavy Equipment Machines
Many worksites use and operate heavy equipment on a daily basis. It is also common to have multiple pieces of heavy equipment operating simultaneously, which can amplify the potential dangers and risks that they pose to workers and pedestrians. Heavy equipment can have critical failures that cause severe injuries and/or fatalities to workers. An equipment management tool can provide comfort and peace of mind to know that your heavy equipment is being maintained and inspected properly and routinely. Maintenance aside, it's good to be aware of the most dangerous equipment and common hazards to avoid. So, what are the top 5 most dangerous pieces of heavy equipment machinery that workers encounter? Let's take a look.
1) Forklifts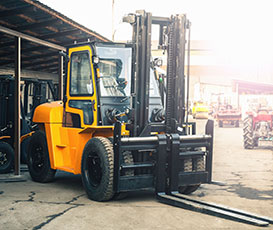 Evidence claims forklifts have a 90% chance of injuring someone in their life span, and a Safety In Numbers study claims that 70% of these accidents can be avoided with proper training and awareness. Forklifts are very common pieces of equipment that come in various different models and styles, this coupled with complacency makes them the most common hazard in warehouses.
Forklift operators bear the responsibility of safely operating and maneuvering their lift around pedestrians, materials, blind spots and tight aisleways. Forklifts can tip over from improper lifting and trying to move material, as well as operating at unsafe speeds. Pedestrians and workers near forklifts need to make eye contact with the operator before entering its potential path so the operator can safely maneuver. Falling loads can pose unpredictable hazards to pedestrians and workers near forklifts.
2) Skid Steers
Skid Steers pose a heavy hazard on a landscaping job sites. They can pose a risk of people getting trapped beneath or the operators face the risk of getting trapped inside of them if the equipment rolls. Many have perished while being pinned between the bucket and the frame which sadly results in a 65% mortality rate. Not to mention, workers and pedestrians can get run over if they are not paying attention to the equipment, or if they are in an operator's blind spot.
Operators need to be extra cautious operating a skid steer near workers and pedestrians and use spotters when necessary to maneuver safely through the job-site. Just like other heavy equipment, skid steers should only be operated by trained operators. They should also be limited to slow speeds. Operating a skid steer on an incline or decline needs to be taken cautiously as the risks of a tip over occurring are significantly increased.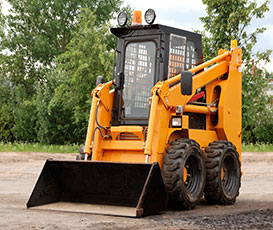 3) Cranes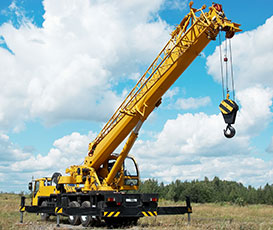 Cranes, although large and easy to avoid, can pose a great risk to anyone around a construction site. 50% of crane related injuries are the result of a worker being struck by a load (lifted material, machinery, cement bins). Naturally, these injuries are often inflicted on workers who operate near them (riggers, cement workers, iron workers). Crane operators need to be very skilled in safe lifting of materials and they must know and understand their crane's safe lifting capacities. Furthermore it's the riggers and crane operators responsibility to make sure the load is secure and does not sway dangerously out of control, so cooperation is essential.
Cranes are often required to perform critical lifts, which is when a specific safe lift plan must be developed prior to performing the lift. Critical lifts include operating near buildings, other fixtures, pedestrians, other workers, and machinery. Nearby workers need to remain actively aware of the potential for falling loads. Cranes sometimes have to lift loads very high in the air and that can create a large radius of a potential falling hazard to workers.
4) Dump Trucks
In 2016 alone, there was 8,206 Dump Truck accidents. Dump trucks pose many risks just like a tractor trailer or other heavy equipment. The operator of a dump truck needs to remain aware of the possible hazards of their equipment when operating. Dump trucks pose additional risks where they elevate portions of the equipment to offload material. Offloading material from a dump truck involves the use of air and hydraulics. An electrical or mechanical error in the system can cause the dump truck's elevated body to suddenly fall. The unexpected fall of a dump truck body can cause fatal injuries to nearby workers, especially to workers who perform maintenance on this heavy equipment.
Dump trucks pose another risk when they offload material, because material can bounce, roll or be moved in unexpected patterns or directions. Nearby workers need to remain alert when a dump truck is unloading material and they should stay out of the pathway of the intended place for the material to land.
5) Excavators/Backhoes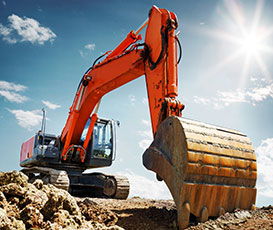 In the 90s alone, 346 deaths were caused by backhoe loaders in the United States. Like other heavy equipment, a backhoe or excavator can tip over and cause a serious injury or fatality to an operator. A key additional hazard that backhoes and excavators create, is the potential to strike underground utilities, as well as cause an excavation hazard, ground disturbance courses can save lives and property and should always be mandatory when digging. Marking underground utilities is a critical step to safely operating a backhoe and excavator prior to digging.
Operating a backhoe or excavator near an excavation site or a trench should be done cautiously, as the machinery can fall into the trench and onto the workers if it is too close to the edge. Backhoes and excavators use many different attachments to complete the desired job, and these attachments can create pinch points or crush, and strike workers. Using attachments in unintended ways can increase risk dramatically and should never be done.
In Summary
Vehicles like forklifts and skid steers are a common sight which can promote complacent and irresponsible behavior around them. For these reasons they remain incredibly dangerous and should always be respected. It's essential when operating this machinery to remember your surroundings and likewise to give wide births to anyone operating.
Dump trucks, backhoes, and cranes propose a different risk. These machines are big therefore they can influence wide changes in the environment. Exceptional training and awareness can mitigate many incidents and injuries and should always be encouraged. Always give the right away to a piece of heavy machinery. They not only contain many blindspots but carry large mass which has trouble stopping quickly.