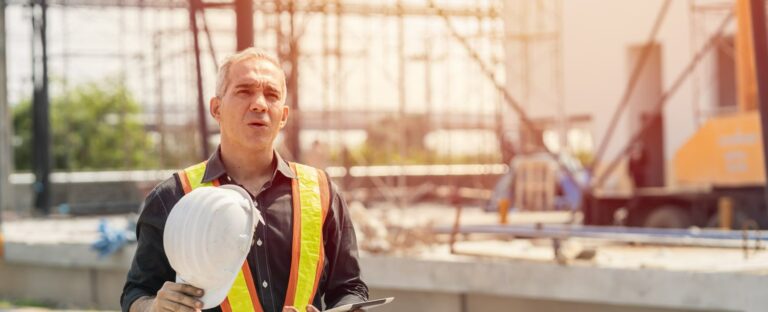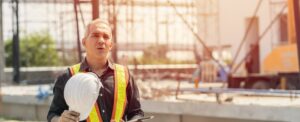 Working in Heat: A Summary of CCOHS, Albertan, and OSHA Recommendations
The health effects of working in the heat can last for weeks, months, or even a lifetime. Every year, many people even pass away from heat-related illnesses, particularly during the first hot week of the summer.
According to OSHA, 50–70% of heat-related deaths occur within the first few days of working in warm environments. Poor acclimatization, unusual heat (bakeries, factories, steel mills), and humidity are some of the biggest factors. Special precautions should be made if your team is working in these circumstances, especially if you have new hires who aren't accustomed to the environment. Today, we'll summarize the recommendations made by CCOHS, Alberta, OSHA, and industry professionals.
Heat-Related Illnesses: Symptoms, Warning Signs, and Treatments
Plans and Preventative Measures for Working in Heat
Federally Recognized Thresholds for Working in Heat
Personal/Environmental Heat Factors
Additional eLearning Courses and Resources for Working in Heat
Heat-Related Illnesses: Symptoms, Warning Signs, and Treatments
Heat Cramps
Heat cramps are a sign of over-exposure to heat. They are common during heavy exertion and sweating and have also been described as heat spasms.
Symptoms of Heat Cramps
Aching arms and legs
Pain
Spasms
Treating Heat Cramps
Remove from heat and allow rest
Offer water
Avoid activity for two hours.
If symptoms do not diminish within an hour, seek medical attention
Heat Exhaustion
Heat exhaustion is seen as a major concern, since it can result in heat stroke and dehydration. In environments with high humidity and strenuous activity, heat exhaustion is common. There are two types of heat exhaustion. Salt depletion, one of the two kinds of heat exhaustion, is frequently accompanied by nausea, vomiting, and dizziness. The other is water depletion, with symptoms such as weakness, thirst, and headaches.
Symptoms of Heat Exhaustion
Fatigue
Dark urine
Nausea
Muscle cramps
Pale skin
Rapid heartbeat
Profuse sweating
Headache
Treating Heat Exhaustion
Remove equipment or restricting clothing
Provide water or cool drinks
Provide a cool environment
Rest
Rhabdomyolysis
The effects of rhabdomyolysis can be deadly or severely disabling. It's a word used in medicine to describe the leakage of injured muscle tissue into the circulation (proteins and electrolytes). The kidneys and heart may be harmed as a result. In addition to over-exertion and trauma, "Rhabdo" can also be brought on by excessive heat.
Symptoms of Rhabdomyolysis
Muscle cramps, soreness, pain
Weakness
Discoloured urine (darker than usual)
Treating Rhabdomyolysis
Bring victim to a cool area to rest
Provide fluids
Heat Stroke
When it comes to heat-related illnesses, Heat Stroke is the worst by far. Every year, around 600 people in the United States alone pass away from heat stroke. Heat stroke occurs when the body temperature rises beyond 40 degrees Celsius, or 104 degrees Fahrenheit. The brain and other important organs can suffer damage from heat stroke, which can be fatal.
Symptoms of Heat Stroke
Unconsciousness
Seizures
Irregular heartbeat (faster)
Slurred speech
Sweating profusely
Warm or hot skin
Treating Heat Stroke
Bring victim to shade
Alert or get someone else to find medical aid while you stay with victim
Use anything you can to cool the victim (ice, cold packs, hose water)
Give victim cold water if they are alert and capable of drinking
**Note** If you have properly identified heat stroke, emergency personnel or skilled medical assistance should be called in as soon as possible. It's critical to understand that you are facing a potentially fatal condition. The sufferer should ideally be taken to a cooler or shaded area while another person seeks medical attention for the victim.
Plans and Preventative Measures for Working in Heat
Every task should be carried out in a cool, well-shaded environment when possible, however, we all know this is impossible in some industries. Lack of space and heat from production can make choosing cool operating areas difficult.
The following strategies or supplies can minimize any heat-related ailments:
Acclimation
Accessible water stations
Circulation
Sunburn protection
What is Heat Acclimation?
Let's explore acclimation in more detail and how it improves working in heat. The process of familiarising one's body with a new environment or temperature is known as acclimation. This process regarding hot environments can significantly decrease the chances of heat-related illnesses.  
Exertion has a significant impact on the body's heat index so new hires should be carefully monitored in the hottest areas. This is known as heat acclimation, a period when you are allowing your new staff to work at a slower pace than what is expected of your experienced employees and bringing them up to speed under supervision.
Furthermore, the warning indications of heat sicknesses should be taught to new employees who are exposed to it. A knowledgeable worker is far less likely to pass out from the heat than one who is supervised.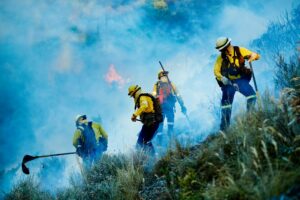 Federally Recognized Heat Thresholds
Due to OSHA having the most documentation on dangerous heat levels, we're going to go with their numbers. These numbers represent the danger zones when working with heat and even stipulate between acclimated and new employees.
Under 21°C – Both acclimated and new staff are at low risk for heat-illnesses
21°C-25°C – Heavy exertion will put unacclimated staff at risk of heat-illnesses
25°C and above – Heavy exertion will put both acclimated and new staff at risk of heat-illnesses
Personal/Environmental Heat Factors
Numerous variables might elevate the temperature and increase the chance of contracting heat sickness. Danger can be raised by attire, acclimatization, sunshine, humidity, and workload.
CCOHS and OSHA advise using a wet globe (WBGT) monitor to assess the ambient heat in the workplace. Consider the variables we've stated previously in federally recognized heat thresholds when you're factoring the overall heat your workers will be exposed to. Experts advise you to get a device that can monitor radiant heat if your business has heat radiating equipment such as ovens, engines, or reactors. Wet globe instruments that detect radiant heat, evaporative cooling potential, and ambient air temperature, are ideal but expensive, and difficult to find. 
If you do not have access to a wet globe thermometer, pay special attention to things like the humidex and areas of the weather where they stipulate what it "feels like". This will tell you what the ambient air feels like for your team, but it will not factor in local variables like your own monitor would.
Clothing
According to CCOHS and OSHA, clothing has a significant impact on body temp. In order to get an accurate depiction of your staff's temperature, you need to add the clothing factors below. 
+2.7°C – Coveralls
+10.6°C – Limited-use vapor-barrier coveralls
Work/Labor
Unacclimated staff are at risk of heat illness if they exceed these temperatures under the associated workload.
Light work 28°C
Moderate work 25°C
Heavy work 23°C
Very Heavy 21°C
Acclimated staff are at risk of heat illness if they exceed these temperatures under the associated workload.
Light work 30°C
Moderate work 28°C
Heavy work 26°C
Very Heavy 25°C
Additional eLearning Courses and Resources for Working in Heat
Written by Jordan Kovacsik – BIS team member, author, and safety enthusiast who worked in the steel industry for a decade.