Company Spotlight: McStrong Safety Services
Traffic Control Experts
A family-owned and operated business since 2004, McStrong Safety Services has evolved from a small flagging company on the backroads of Hinton, Alberta, to a nationwide safety services provider. McStrong provides traffic control, piloting, rentals, safety audits, training, and more to the transportation industry. Angela Strong, owner, and operator at McStrong Safety Services started the company after a workplace accident in 2002 shook her to the core. Never wanting anyone to experience what she did, Angela forged a safety services program with her family to inform and protect individuals across Canada. Their passion for safety was quickly noticed by transportation corporations in Alberta as McStrong became a reliable source for safety training in the industry.
Building their business around private traffic control has thoroughly tested the mettle of McStrong and is a major reason for their success. Angela explains that traffic control is "high stakes," and if they do not train properly and do their job right, the consequences can be devastating. So, to be successful, they are always ensuring they are operating in compliance. Angela explains that "the rules don't always present themselves as black and white. The bottom line is that you need to know what you're doing and justify why." There is a lot of planning that goes into traffic control, and poor planning is what gets people killed. McStrong makes sure to prepare people for the dangers of the road.

A tight-knit company culture is what moves McStrong forward. At McStrong, everyone looks out for each other, and their integrity is contagious. If something is not being done correctly, employees will point it out to ensure safety is the top priority. Integrity is a huge value to their company and Angela believes, "if you don't stand for something, you'll fall for anything. Things must be done correctly, honestly, and fairly."
Promoting safety in a large organization can be challenging, but for McStrong, it is just the way they do things. Their team is diligent, and their operations are more a way of life than a chore. When clients interact with McStrong they are always impressed with their dedication to safety. Often, people do not understand the life-changing results of improper vehicle inspections or training. At McStrong, they want to give people the tools and knowledge to complete a 15-minute vehicle inspection, rather than fixing the catastrophic outcomes of an incident.

To the younger generation coming into the workforce, "take the time it takes to learn and do things right. If you aren't sure, ask. There's no such thing as a stupid question and there's absolutely no job that's worth your life, so be safe." A lot of drivers do not understand the dangers of driving because it is a part of daily life. Truck drivers need to understand that even the smallest of accidents can be life-threatening. Every time someone starts a vehicle, they should plan what actions they are going to take and how this can be done safely. After all, Angela believes that planning is 65% of everything you do.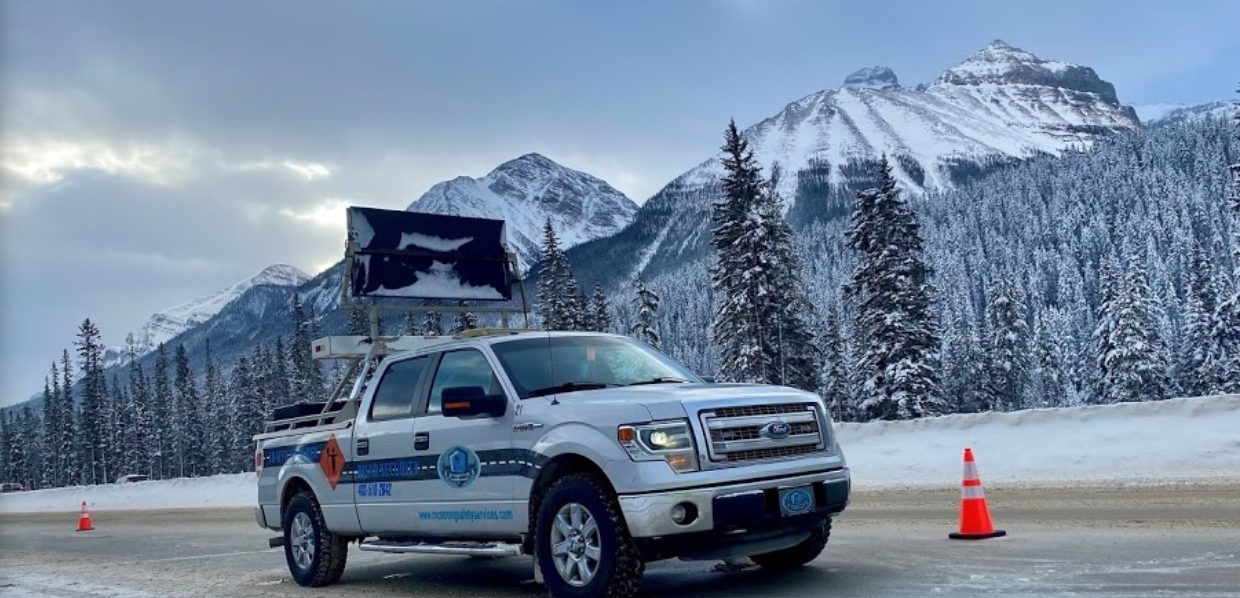 "It's the 10-2&1 Rule…You have 10 fingers, 2 eyes, and 1 life, take them home with you."
-Angela Strong, Owner of McStrong Safety Services
McStrong Safety Services lives and breathes safety. They take great pride in their business and always strive to go above and beyond safety regulations. Owing to their confident and experienced team, McStrong has gone from a small flagging company to the traffic control experts in Alberta. The family-owned and operated business has generations working hard together to prepare everyone for a safe drive.