Fashion in Safety
Safety and fashion are not terms that are typically linked with each other. However, fashion plays an important role in how we feel and act which can guide our safety choices when working in the field. Long ago, safety wear only served one purpose; to keep us safe. It didn't matter how clunky, or ugly it was, as long as it protected your person. Now, as fashion and style have become increasingly important, workers have an expectation that they can look and feel good while staying safe.
Since workers can now don personal protective equipment (PPE) that is, dare I say, stylish, it helps them create a connection to the clothing they wear. Not only does this encourage workers to actually wear their PPE, but it helps to bring some enthusiasm into their work. A parallel example, think about how few teenagers wear bike helmets because they look dorky and mess up their hair.
On a note specifically about PPE, there is no "one-size-fits-all" solution. There are hundreds, even thousands of options available depending on the season, nature, and danger of the work being completed. Finding the right PPE for each job is important and can make a huge difference to your safety.
Make Sure it Fits!
The fit of your PPE is not just a fashion choice. Ill-fitting protective equipment can be more of a danger than the hazard itself. Most of us know how important the fit of a respirator is, but other loose gear could create a tripping hazard or get caught on heavy equipment and lead to a terrible outcome. Make sure your equipment is the right size and fits relatively snug to your body.
This can be particularly difficult for women as most safety gear, like vests and reflective clothing, is traditionally created to fit a male's body (as they historically made up the majority of the blue-collar workforce). Due to obvious shape and size reasons, a lot of PPE does not fit women quite as well. Addressing these fit concerns with employers and making sure proper fitting PPE is available is a great step toward creating a safer work environment.
Another less obvious "fit" concern is making sure protective equipment fits the season. In the Summer, wearing heavy layers and jackets made of non-breathable fabric can bring on heat stroke or exhaustion issues. Same with the Winter, not being properly insulated, especially in the hands and feet leads to freezing and frostbite. Dressing for the season is just as important on the worksite as it is on the runway.
Fashionable Industrial Safety Equipment:
Good fashion can be important even in the safety field. Everyone likes to look good, and let's be honest, bright orange vests and hard hats aren't flattering on anyone. It is especially important to the younger generation to feel and look good, and they are more likely to skip on safety gear if they don't feel comfortable in it. The younger generation that has less experience in their new field may not understand the risks that are prevalent on a worksite and may not see the importance of proper safety equipment. For this exact reason, companies are making more of an effort to create nicer looking safety gear and PPE in hopes that it will encourage employees to think twice about overlooking it.
New Technologies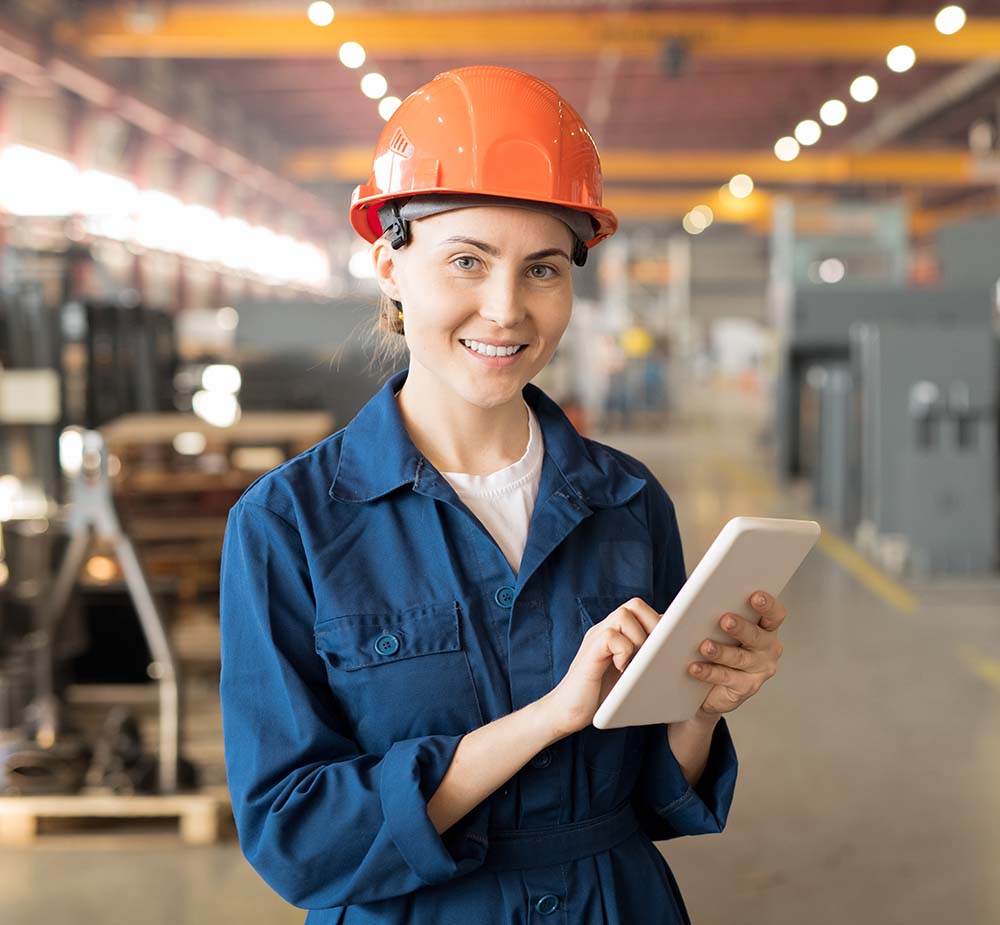 Image of woman in fashionable safety gear.
It's an exciting time in the health and safety industries. Safety is becoming gradually more important and viewed as a critical component to a company, rather than a chore or unimportant facet to an organization. The introduction of smart PPE is accelerating the process into having safer worksites. Smart PPE is smart, wearable equipment that can deliver information to companies. There is a wide variety of different data that smart PPE can divulge including body stats and movements that are related to safety concerns such as heat exhaustion or even improper lifting. Technavio is a global technology research company, and in 2020 they released a report that predicted the global smart PPE market will grow by $2.25 billion from 2020 to 2024. Although smart PPE has not been widely adopted yet, it is gradually becoming more popular, especially in larger industries. New technology in protective equipment does not just mean computer-based technology. There are other protective fabrics, or innovative materials that are being created that help better protect workers. Here are just a few examples of new technology:
• New Safety Glasses: There is development in new lens technology that helps with glare reduction and chemical resistance. These lenses better protect workers eyes and can help them have less eye fatigue and danger.
• Innovative Materials: A variety of different fabrics can be used in personal protective equipment. There is lighter, more breathable designs and fabric that can help to reduce heat exhaustion, or chemical resistant clothing that protects workers in the event of hazardous chemical spills or splashes. This is just the tip of the iceberg, there are always advancements in the creation of clothing.
• Wearables: A watch that sends body stats of remote workers to supervisors, a hard hat that has a sensor in case of impact, or safety glasses with heads-up display… The possibilities are endless with wearable technology. It aids in personal safety and can give employees another set of eyes on them while they're working to make sure they are protected.
Smart PPE is hopefully a driver to creating a more connected, safe, and effective workforce.
Closing the Show
So, you probably thought before, "there's no way fashion and safety have anything to do with each other", right? But now you see that what you wear to the worksite can make all the difference in getting home safe each day. Safety gear is becoming more advanced in terms of fit for different genders and body types, technology, and how it looks in general. Providing options that workers of all walks of life can feel good about putting on their body is a great step in making safety effortless. Making the simple changes to clothing can make your worksite safer, while making you feel (and look!) good too.
Online Toolbox Talk Software
Use your next Toolbox Talk to discuss the importance of proper PPE and how you can keep your employees safe!