How Cranemasters Used the BIS Platform to Take Their Rigging Courses Online
Cranemasters - Rise Above Risk
Cranemasters was founded in 2007, and in 14 years have grown to become the top rigging training provider in Western Canada. Rigging generally requires theory and practical training and therefore is provided in person. The COVID-19 restrictions became a major obstacle. Cranemasters was forced to adapt their courses to an online format and thanks to the availability of a Learning Management System (LMS) became very successful.
To learn more about Cranemasters journey towards virtual training, we interviewed Rick Sikora, President & CEO at Cranemasters, as well as Linda Sikora (CRVP and LMS Specialist) and Tony Ragusa (Instructor and Consultant), who are co-owners alongside Rick.
Before starting Cranemasters, Rick and Tony accumulated ample experience as overhead crane technicians. At first, they were planning to launch a crane service company, but realized there was a major need for training in the industry, especially training surrounding better crane operation and rigging practices.
"There is no standard for rigging training in Canada, so we created a curriculum that could be relatable and adaptable for the crane industry," Sikora said. "Our goal is not only to provide training, but also to make sure that students can apply what they learn," he added.
Cranemasters slogan of "Rise Above Risk" speaks for itself. Many companies have improved their safety thanks to Cranemaster courses, helping to lower the maintenance costs of lifting equipment. Cranemasters has worked with large business clients such as Syncude, Suncor Energy and Finning. In addition to rigging training, they also provide audits and consulting services.
Rick explained that the key to Cranemasters success was the platform he they were able to use to put their courses on. "The BIS platform has given Cranemasters the ability to put a blue-collar course online and give learners the tools, such as a digital non-judgemental competency assessment forms that can be used to assess a workers experience. The only reason why Cranemasters program is successful is because of this platform."
Key Elements of Success at Cranemasters
"There are many risks in all occupations, and team members should do their best to avoid them," Sikora said. "However, many workers feel pressure or fear of speaking out, and work goes on in spite of the risks."
According to Sikora, having a strong customer service approach has been a key element of success at Cranemasters – adapting the learning process according to the needs of the client, and focusing on the student's experience. In addition to his experience as an overhead crane technician, Rick has provided consulting services in sectors like oil & gas, pulp & paper, fabrication & processing facilities. He has also trained OH&S officers, while participating in the writing of CSA standards and OH&S publications.
Cranemasters in-person instruction
Sikora also considers that creating your own training content adds great value, despite the steep learning curve involved. Cranemasters provides the big picture, and instructors then develop the details – all of their instructors are subject matter experts. Cranemasters focuses on not only providing knowledge through rigging courses, but also making sure that students can apply that knowledge.
How to Make Rigging Training Virtual?
The COVID-19 pandemic forced many companies to take their operations online. However, in heavy industries like construction and mining, the areas of business that can become virtual are very limited. With respect to the training process for equipment operators, theoretical information can be learned online. However, they must practice with actual equipment before going to worksites. Crane operations come with many risks and proper rigging is critical for safe lifting.
Before the pandemic, Cranemasters exclusively offered in-person training and only used learning software as a tracking system. With the onset of COVID-19 restrictions, (March 2020) their ability to provide training was suddenly limited. "Our management and trainers were brainstorming about how to go online," Sikora said. "However, Linda was familiar with the online course builder and Tony realized he could adapt the training procedure to be virtual."
What was once a temporary practice, is now an everyday learning tool. More than a year has passed since Cranemasters started offering online rigging courses and virtual learning has become the norm. "At first, we would need an entire morning just to explain the platform and get everyone logged in," said LMS Specialist Linda Sikora. "But now it's different – people have gotten used to the digital world."
When asked about his experience moving to online training, co-owner Tony Ragusa admits that he was skeptical at first. "Previously, I never thought that online training would work, but with COVID-19 our business was suddenly down by 90% and we had to do something about it. We worked hard to develop an online course with a learning management system and it has really been an eye-opener."
Tony was not alone with his initial hesitation towards online learning. Many students had doubts at first, but their opinions quickly changed after their first course. "They could now learn from the comfort of their home, when they were previously flying in from all over Canada," Ragusa said. "Online training also opens the door to reach more companies. We have a lot of new clients from British Columbia, since the online course saves them travel expenses and overtime."
Sikora shared how many of their new clients operate from remote locations and are capitalizing on the convenience offered by online training. They can train their personnel without dealing with all the logistics of sending employees away from their worksites.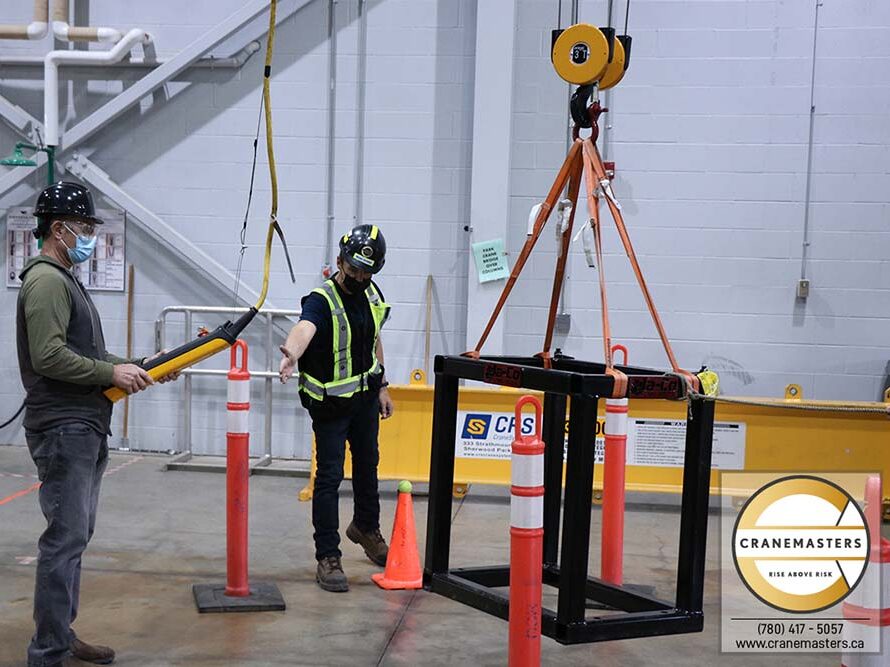 Practical exam for student
Overcoming the Main Challenges of Virtual Learning
We asked Rick, Linda, and Tony about the main challenges when taking their rigging courses online, and they shared valuable insights. "It took us 10 weeks to develop a great online course," Rick said. "However, when it comes to crane safety and rigging, there is no room for error."
Rick commented on how rigging is a physical motor skill, which adds a layer of difficulty when developing an online course. However, with an online platform they can provide clients with the tools to validate skills in-house, with their own equipment.
"Competency has three elements: qualifications, training, and experience," said Rick. "The rigging course provides training, and our follow-up services and tools are used to confirm experience," he added.
As the LMS Specialist at Cranemasters, Linda shared her experience guiding students through the online learning process. Often the individuals who enrol in Cranemasters rigging courses are used to working with heavy equipment and tools, but many of them have never used computers for training or work. "Our building was closed, and online training was very challenging during the first six months," Linda said. "Getting everyone connected to Zoom was time-consuming and there were often language barriers."
Linda also mentioned the challenge of guiding students when you can't see their screen directly. "Some of our course material is designed for computer screens, but students were trying to open it on smartphones and tablets, or they were using the wrong web browser. We were going into the Learning Management System, manually setting up their questions, and walking them through everything."
Tony mentioned how getting students to interact and stay engaged was difficult at first. Combined with the challenge of walking them through the platform, "many students were reluctant to turn on their cameras at first, so we were only looking at blank screen with their names," he mentioned.
"To make students feel comfortable with participation, we would ask them about their experience when starting the course," Ragusa said. "This also gave us an idea of their background and skill level, which is very useful when giving the course."
Tony discussed the challenges of competency evaluation when teaching a practical skill through an online platform. "We asked ourselves how we could conduct practical evaluations when the courses are virtual" he said. "However, thanks to technology, we can guide our clients to conduct evaluations with their own equipment."
Tony also mentioned how the competency assessment forms are also useful for documentation purposes. "We build forms that are user-friendly and based on the competencies prioritized by our clients. Employers can use these forms to assess workers in the future and they can also be stored for validation and audits."
How a Learning Management System Is Used at Cranemasters
Cranemasters had already been using the BIS platform for student records and other administrative purposes, but 100% of their rigging courses were in person. "Before the pandemic started, we were training 3000 students per year," Sikora said. "Our first attempt at online course development was a PowerPoint presentation with voiceover. However, this approach didn't work very well since students normally speak 25% of the time when taking our courses."
Rick decided to develop a course with 100% video content and interactive instructors, anticipating the most common questions, and making sure they were covered. "The flexibility offered by online learning management software has been very helpful," Sikora stated. "I believe that going online would not have been feasible with a traditional development approach, building our own platform from zero."
Rick also mentioned how software has helped Cranemasters develop follow-up tools for their clients. "Software systems can be very intuitive, and I could build the forms on my own," he stated. "Our employers use these forms to document experience, and this takes work off the plate of supervisors and safety managers."
Linda pointed out the usefulness of being able to share video content through Learning Management Systems. "We created demonstration videos for rigging obstacle courses, along with competency assessment forms," she said. "These forms are designed to be non-judgmental, and they can be easily filled out by a supervisor or peer."
Tony commented on the usefulness of videos as an engagement tool. "We show 45-second clips about different applications of rigging, and they keep students interested throughout the course. The timing is also different with online courses. The first time I went online as an instructor, an 8-hour course was shortened to only 4 hours."
What Is the Future of Practical Training?
Rick believes that online training is here to stay. "On average, we have 6 to 12 students logged in per course, but we often have groups of more than 30. I believe that in-person training will continue to be used for large courses, but recertification will most likely stay online."
Rick pointed out the importance of adapting to new learning styles. "Learning has changed, and 30 years ago people were exposed to more practical skills when growing up. The newer generations have a shorter attention span, they are very skilled at finding information quickly, and not used to memorizing."
When it comes to motor skills like rigging, Linda believes that virtual training with an interactive instructor is the second-best thing after in-person training. However, she mentioned the convenience of online training, especially the schedule flexibility for students while eliminating the distance barrier.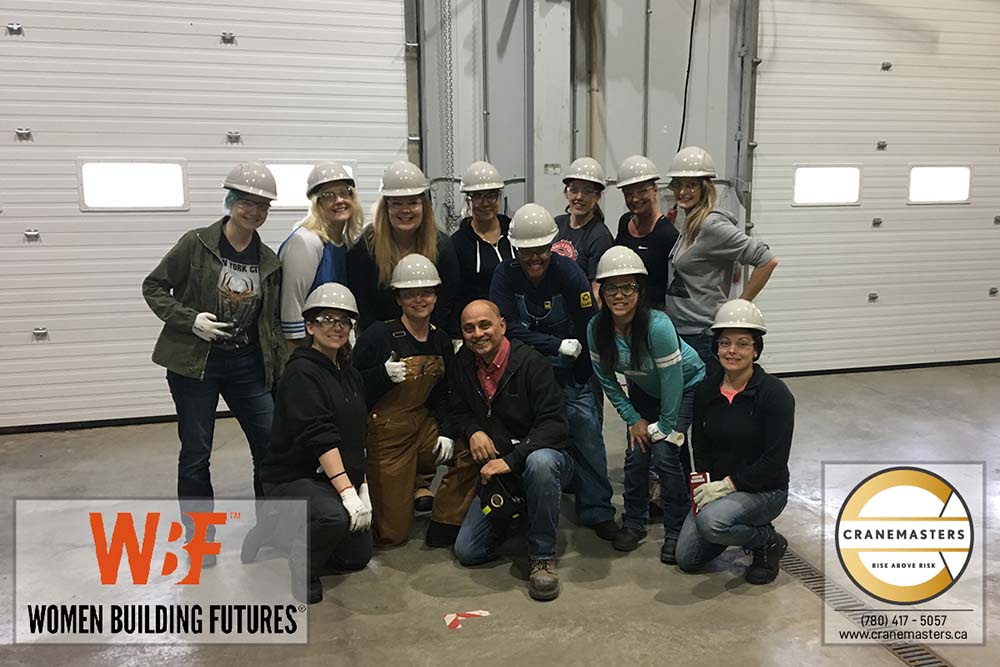 Women Building Futures program at Cranemasters
"Training will become more virtual and less in-person, especially with new technologies like virtual reality. It could become like online gaming."
-Linda Sikora, CRVP and LMS Specialist, on The Future of Virtual Training
Tony believes that the adoption of online training will drive innovation, and the learning experience will be constantly improved by new products and technologies. He also believes that companies who have relied on conventional training will start looking for alternatives, creating a greater demand for virtual courses.